Competitive Translation Services You Can Trust
Are you looking for quality and competitive translation services between English and French, English and Chinese, English and Japanese, as well as many other languages? Look no further than Stepes. In today's highly competitive marketplace, businesses are under constant pressure to reduce operating cost by taking advantage of efficiency gains within a range of business processes, and translation is no exception. At Stepes, we use technology innovations to enable, rather than replace, human skills to lower the cost of professional translation services while providing our clients with top quality translations they can depend on for multilingual communication success. We offer one of the most affordable translation services the language industry has to offer. In addition to providing our clients volume-based discounts, we use translation memories extensively across a variety of content types to reuse translated sentences and paragraphs for improved linguistic consistency, fast turnaround, and cost savings.
Stepes has automated many of the non-essential manual touchpoints within the localization workflow such as file analysis, translation quotation, TM leverage, project tracking, and content delivery. Our dedicated account management team has in-depth experience in localization best practices and works with our clients to ensure the most efficient possible execution of each and every translation project. Our proactive project management methodologies allow our team to prevent or reduce translation quality issues, eliminating unnecessary rework that invariably leads to wasted time and money. Stepes takes pride in providing our clients with competitive translation services at no expense to our translation quality. We don't believe in cutting corners in order to save costs. Instead, we use technology innovations and process improvements to gain localization efficiency and share the cost savings with our customers. Don't just take our word for it. Talk to one of our business development managers today and see how Stepes can help your organization save on translation costs.
Read More Read Less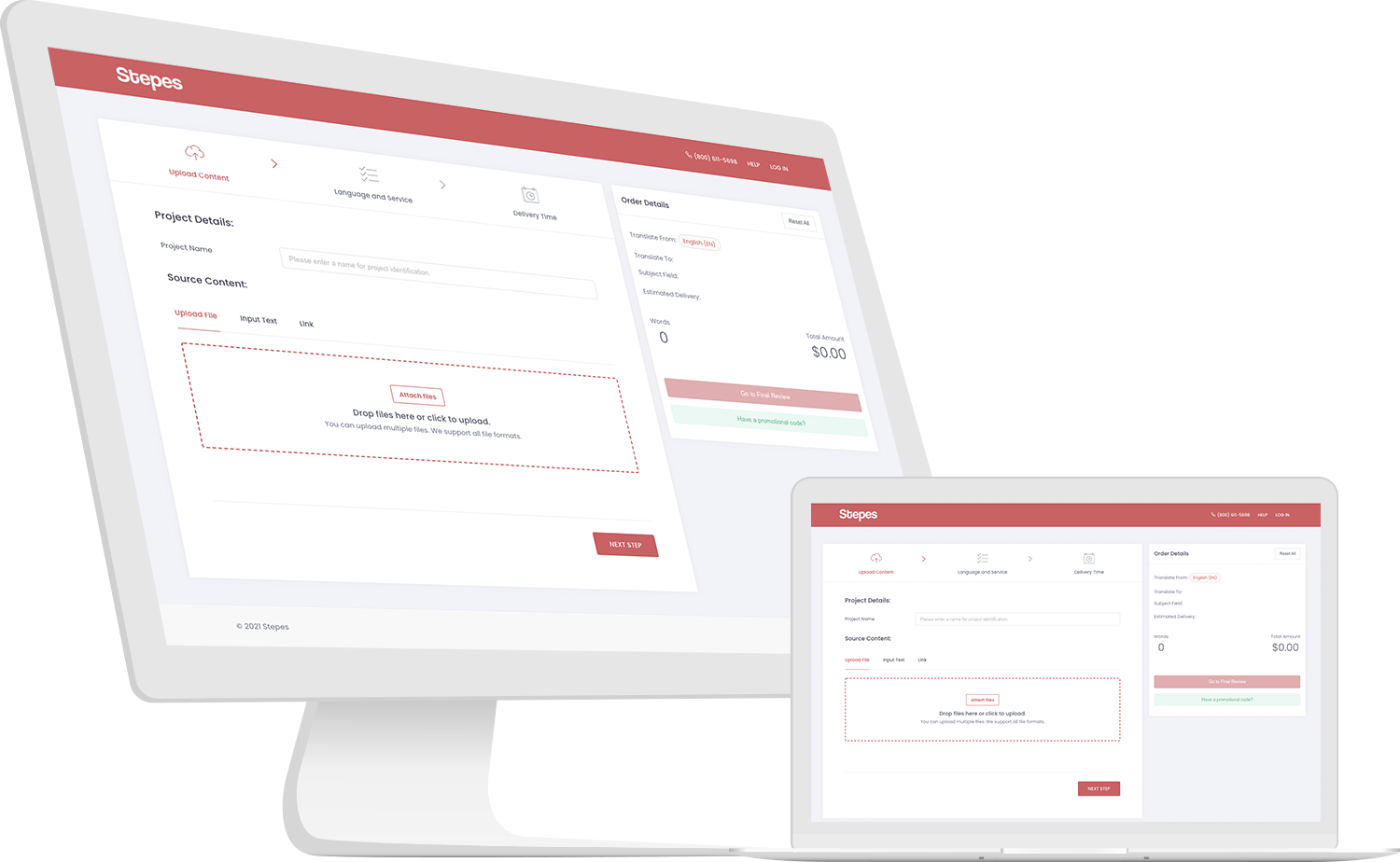 How It Works
We've streamlined the translation workflow onto the cloud so getting your documents professionally and affordably translated is just a few mouse clicks away. Simply drag and drop your documents (such as PDF, Word, InDesign) to our online portal and select the desired languages and related subject field (optional) to obtain an instant translation estimate. Upon your confirmation, Stepes immediately assigns our dedicated professional linguists with the right subject matter expertise to begin translating. Download your translated files with the click of a button. For enterprise clients, we also run translation memory in real time for each project and only charge a fraction of new word rates for fuzzy matches.
Drag & Drop
Monitor Progress
Download
Affordable Translations in 100 Languages
Stepes provides low-cost translation services in all European, Asian, Latin American, and most African languages. The following is a list of languages we support.
Arabic (AR)
Chinese, Simplified (ZS)
Czech (CS)
Danish (DA)
Dutch (NL)
English (EN)
English, UK (UE)
Finnish (FI)
French (FR)
German (DE)
Italian (IT)
Japanese (JA)
Korean (KO)
Norwegian (NO)
Polish (PL)
Portuguese, Brazilian (PB)
Russian (RU)
Spanish (ES)
Swedish (SV)
Thai (TH)
Vietnamese (VI)
Afrikaans (AF)
Albanian (SQ)
Amharic (AM)
Armenian (HY)
Azerbaijani (AZ)
Basque (EU)
Belarusian (BE)
Bengali (BN)
Bhutanese (BT)
Bihari (BH)
Bosnian (BS)
Breton (BR)
Bulgarian (BG)
Burmese (MY)
Catalan (CA)
Chinese, Hong Kong (ZH)
Chinese, Traditional (ZT)
Croatian (HR)
English, Australian (AE)
English, Canadian (CE)
Estonian (ET)
Faroese (FO)
Filipino (TL)
French, Canadian (CF)
Frisian (FY)
Galician (GL)
Georgian (KA)
Greek (EL)
Guarani (GN)
Gujarati (GU)
Hausa (HA)
Hawaiian (HW)
Hebrew (IW)
Hindi (HI)
Hungarian (HU)
Icelandic (IS)
Igbo (IG)
Indonesian (ID)
Interlingua (IA)
Irish (GA)
Javanese (JW)
Kannada (KN)
Kashmiri (KS)
Kazakh (KK)
Khmer (KM)
Kirundi (RN)
Kurdish (KU)
Laothian (LO)
Latin (LA)
Latvian (LV)
Lingala (LN)
Lithuanian (LT)
Luganda (LG)
Macedonian (MK)
Malagasy (MG)
Malay (MS)
Malayalam (ML)
Maltese (MT)
Maori (MI)
Marathi (MR)
Moldavian (MO)
Mongolian (MN)
Montenegrin (ME)
Nepali (NE)
Norwegian Nynorsk (NN)
Pashto (PS)
Persian (FA)
Persian, Dari (DR)
Portuguese (PT)
Punjabi (PA)
Romanian (RO)
Rwandan (RW)
Scots Gaelic (GD)
Serbian (SR)
Sesotho (ST)
Shona (SN)
Slovak (SK)
Slovenian (SL)
Somali (SO)
Spanish, Latin American (XL)
Sundanese (SU)
Swahili (SW)
Tajik (TG)
Tamil (TA)
Tanchangya (TC)
Telugu (TE)
Tibetan (BO)
Tonga (TO)
Tswana (TN)
Turkish (TR)
Uighur (UG)
Ukrainian (UK)
Urdu (UR)
Uzbek (UZ)
Valencian (VA)
Welsh (CY)
Yiddish (YI)
Yoruba (YO)
Zulu (ZU)
More Languages Fewer Languages
Competitive English-Spanish Translation
Stepes has one of the largest teams of Spanish native translators and bilingual subject matter experts who are professionally trained to provide linguistically fluent and technically accurate language translations at affordable prices. We have extensive experience translating technical documents, websites, and marketing collateral from English to Spanish or from Spanish to English. Our industry-leading localization technologies allow our English-Spanish linguists to deliver quality Spanish translations without sacrificing efficiency or speed. Stepes is trusted by leading brands in the life sciences, legal, financial, and manufacturing industries, owing to our track record of consistently outperforming the competition in terms of quality, speed, and price. To learn more about Stepes' professional Spanish translation services, please click here.