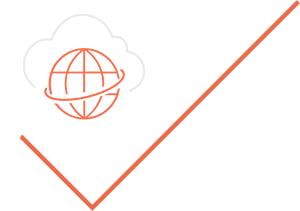 Translate Your Medical Content Faster and Smarter
Global life science companies increasingly require fast and accurate multilingual services for clinical data (content) for each stage of the drug or medical device development lifecycle in order to respond to rapidly growing international patient care and accelerated overseas clinical trials. Ordinary translation services are too slow and static to meet these challenging language service requirements with efficiency and scale, resulting in delayed time-to-market and lost international healthcare opportunities. This is why you need Stepes. Our AI-powered translation management solutions go beyond the traditional database approach to translation memory and terminology management. It applies machine learning and artificial intelligence to the entire language translation process to autonomously make the most intelligent translation execution decisions for significantly improved language quality and production efficiency.
Combined with our translation automation solutions for a fully centralized, streamlined, and continuous medical translation workflow, Stepes enables our professional medical linguists and life science subject matter experts to translate better and faster on a consistent basis. We help our life science clients accelerate international business success with confidence. To learn more about Stepes AI-powered translation solutions, please click here.
Read More Read Less
3
Stepes

Towards Your Medical Translation Success
Stepes provides professional medical document translation services in French, Simplified Chinese, Spanish, and 100 other languages with quality and speed. We do this by employing the world's most experienced medical translators and localization experts who are supported by our industry leading language technology solutions and best-in-class processes. We understand the importance of linguistic and technical accuracy to our life sciences clients bottom-line within a highly regulated industry. The good news is we've simplified quality medical translations into three easy steps.
A Few of Our Life Sciences Customers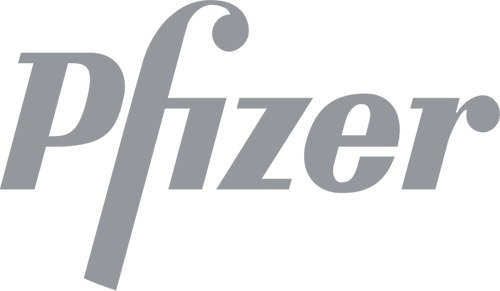 Stepes – The World's Premier Medical Translation Services
Quality medical translation requires both linguistic accuracy and technical precision. On top of that, it requires expert knowledge of global Regulatory Compliance for international markets like the US, China, the European Union, and Japan. As an ISO 9001:2015 and ISO 13485:2016 certified company, Stepes delivers the highest level of quality Medical Translation Services, including translating IFUs (Information for Use), patient response forms for FDA submissions, medical devices manuals, and packaging for in-vitro instruments. Having translated medical terminology for the world's leading pharmaceutical companies, we have the life science industry expertise and localization technology solutions to deliver unrivaled language quality and streamlined processes.
Professional Medical Translation, On-Demand!
Stepes brings multilingual medical experts to life science translation with our experienced translators who truly understand medical sciences and regulatory compliances. For the first time, Stepes' Uber of Translation model brings quality medical translation services to multilingual subject matter experts in medicine, pharmaceuticals, healthcare, CROs, medical device manufacturers, and more. With Stepes, you can trust that your content will always be translated with complete accuracy and quality, by people who know linguistics and the life sciences industry, inside and out.
Read More Read Less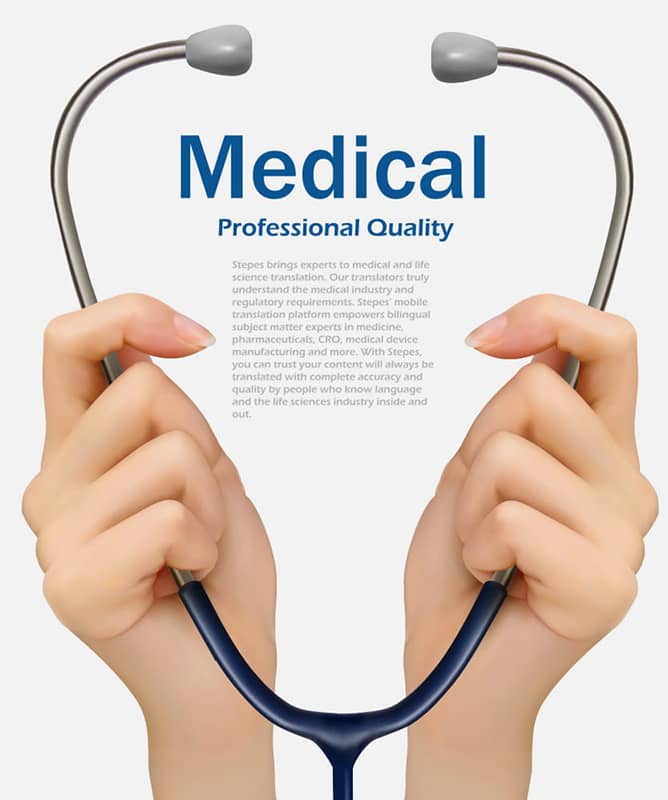 Certified for Translation Accuracy by Medical Professionals.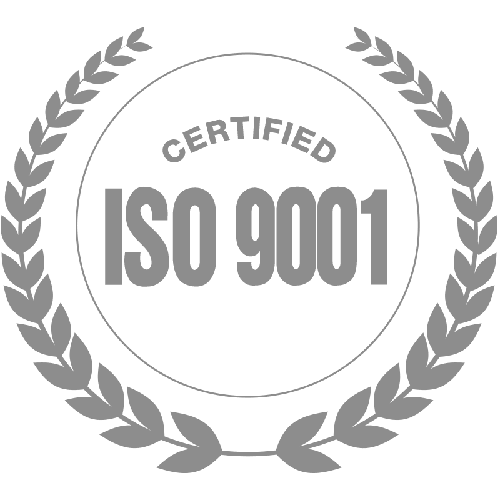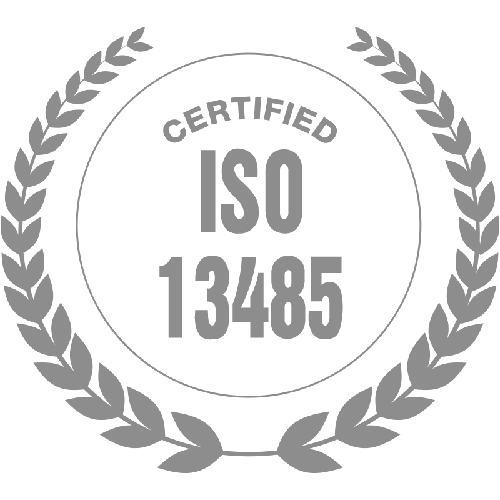 We understand medical content demands the highest linguistic accuracy and technical precision. This is why we provide certified Medical Translation Services for our clients in medical devices, pharmaceuticals, and healthcare industries, as well as contract research organizations (CROs). We have both the quality standards and deep industry experience and knowledge to provide our life science customers with translations they can trust.
Case Study: Translating a Medical Dictionary for Pfizer
As a showcase of Stepes' expert medical translation capabilities, we are proud to have helped Pfizer translate a dictionary of technical terminology (120K terms) covering a broad spectrum of medical disciplines. The multilingual medical dictionary provides medical translators and professionals with standard translations of technical terms approved by international regulatory authorities, for the highest level of linguistic quality and reliability. To request a copy of this case study, please contact support@stepes.com.
We Translate These Documents Into 100+ Languages:
Medical Device Manuals
Information for Use (IFU)
Advertising and Promotional Materials
Clinical Studies and Reports
Product Training and User Manuals
Clinical Trial documentation
Product Packaging and Labeling
International Patents
Product Websites
Patient Diaries
Product Data Sheets
Patient Consent Forms
Patient debriefing and follow-up documentation
Outcomes Research Documentation
Patient Outreach Documents
Medical Research Documentation
Contract Research Organizations (CROs)
Stepes supports CROs in all aspects of their day-to-day operations. Stepes understands the complexity of project management involving many critical stakeholders and strict regulatory oversight. Our streamlined translation and project management processes eliminate the hassle of coordinating your localization initiatives. Stepes works hard to ensure that your documents are delivered on time and with complete precision, so you and your clients can focus solely on your work at hand.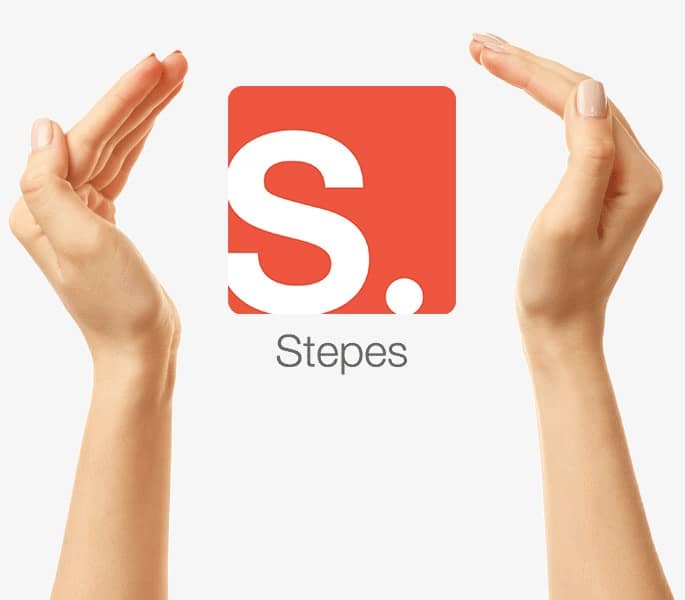 Clinical Trials Translation Services
Modern clinical trials are increasingly carried out across international borders and language translations are becoming an integral part of clinical trial processes. Whether you are a contract research organization (CRO), Institutional Review Board (IRB), or hospital that needs clinical trial translation services in Spanish, Dutch, Simplified Chinese or Afrikaans, Stepes has the linguistic expertise and language technology solutions to get the job done right with quality and speed. Stepes translates all types of medical research content including clinical protocols, studies, and patient consent forms.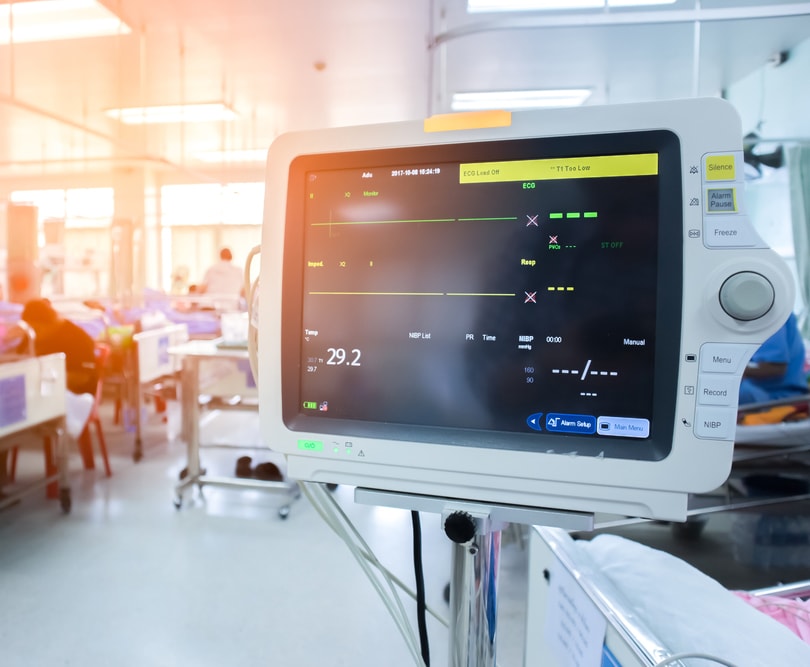 Medical Device Localization Services
Have an innovative medical device or existing device that can help people around the world?
Stepes can localize all aspects of medical devices and software while working creatively with you to achieve the best results possible. As a localization company with ISO 9001:2008 and ISO 13485:2003 certifications, we can promise high quality results to ensure that your product is localized for any global market. Whether it is user manuals, technical specifications, software interfaces, subtitles, or anything in between, Stepes can handle all your translation requirements.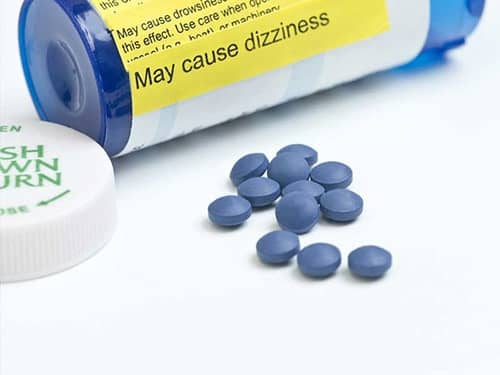 Medical Translations for a Globalized Pharma Sector
The pharmaceutical industry is witnessing rapid globalization in terms international drug research and development as well as global marketing of medical products and services. As a result, drug companies must translate a variety of content, from clinical research studies, drug discovery protocols, and informed consent, to regulatory submission documents, information for use, and patient success stories, to name just a few. Effectively translating such a large variety of materials in different languages requires more than linguistic experiences and skills, it also demands innovative translation management solutions that streamline and standardize the translation services process to ensure consistent and the most efficient multilingual results.
Stepes cloud powered translation management system centralizes all of our clients' multilingual content in a single location for easy reference, search, and archive. At the same time, it allows for translation reuse for future content updates so we can achieve faster project turnaround time with reduced cost and improved language consistency. Stepes innovative translation solutions are powered by the latest AI, allowing our team to leverage the best of machine-human capabilities.
Read More Read Less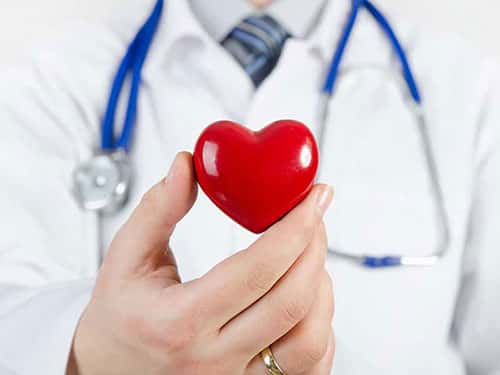 Healthcare
Stepes excels in medical translation services for the healthcare industry including managed healthcare organizations, government programs, hospitals, clinics, and home care agencies. We have the linguistic skills and deep industry knowledge about international healthcare laws, directives, and regulations to ensure the highest quality language output for all your healthcare translation and interpretation needs.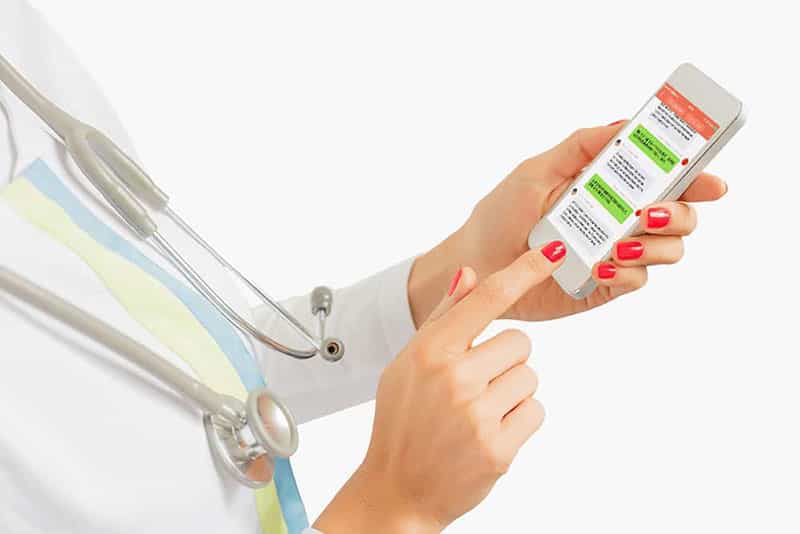 Let Doctors Translate
Stepes is a unique translation platform in that it directly utilizes medical experts for the translation process. Medical experts are the most knowledgeable about domain specific terminology, and they understand the way an industry speaks about its subject matter. However, for the most part, medical experts have been unable to participate in the translation process. Stepes gives life science experts a way to contribute to public knowledge and global development by translating industry-specific content. There is no better solution for improving translation quality than having people who are passionate about the subject matter field to do the translation themselves.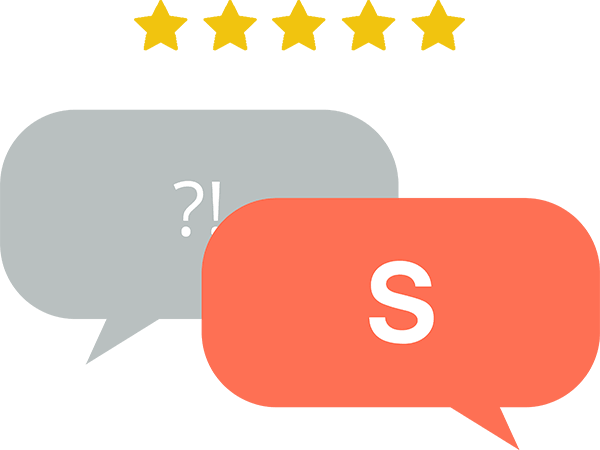 24/7 Customer Service
We understand quality translation often requires personal and timely customer service. Our dedicated customer support team is always standing by to ensure a satisfactory customer experience every time.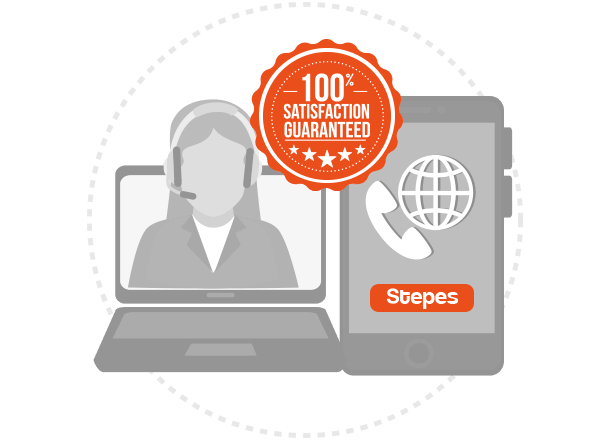 30-Day Service Satisfaction Guarantee
We're confident that you'll be happy with our medical translation services. We also want you to have the complete confidence in selecting Stepes, which is why we offer our clients a 30-day service satisfaction guarantee.
We're confident that you'll be happy with our translation services. We also want you to have the complete confidence in selecting Stepes, which is why we offer our clients a 30-day service satisfaction guarantee.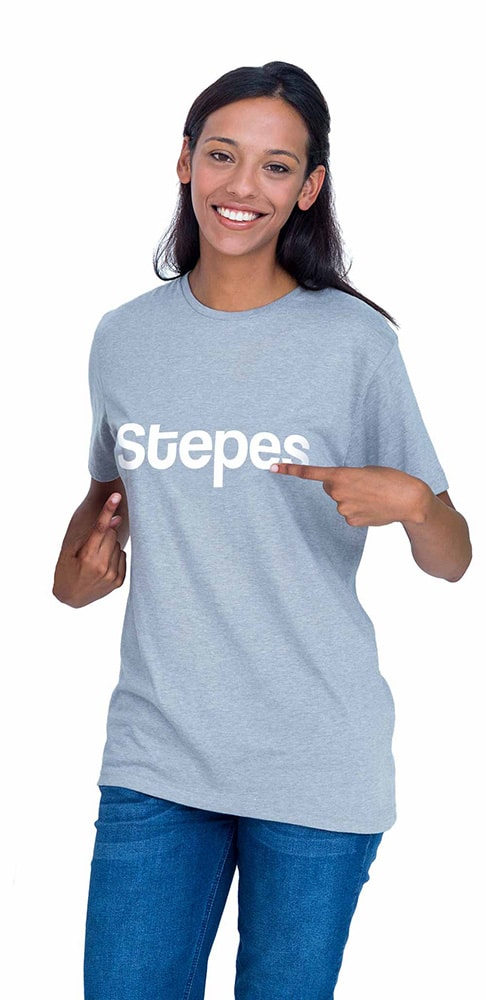 Need help with your life sciences translation?
Extremely fast project turnaround.
Unprecedented translation scalability.
Digital content and social media translation adept.
High quality with multilingual subject matter experts.
Competitive service through efficiency.
Mobile translation enabled.