Accurate Medical Translations You Can Trust
Is your organization in need of accurate medical translation services for clinical documents, healthcare reports, patient forms, medical device manuals, or medical interpretation? Then look no further than Stepes. We provide technically accurately and linguistically fluent medical translations in French, Spanish, Chinese, Haitian Creole and 100 other languages that help our life science clients achieve multilingual success. Stepes has one of the largest teams of professional medical translators and multilingual healthcare subject matter experts, delivering medically precise and culturally accurate translations for a variety of medical content. We help our medical clients engage international customers, doctors, and patients confidently, one quality translated medical document at a time.
Consistent, high quality medical translations require expert linguistic experience, health knowledge, localization best practices, and increasingly, modern translation technologies that harness the power of machine-human solutions. Stepes uses translation memory and terminology management within our cloud medical translation services to deliver the highest level of linguistic consistency and terminology accuracy, while shortening project turnaround and improving ROI. Better yet, our online translation management ecosystem allows life sciences organizations to manage all of their multilingual documents in one central location for the most efficient digital health operations on a global scale.
Read More Read Less
Medical Translation for Pharmaceutical Companies
The pharmaceutical industry is witnessing rapid internationalization in terms multinational drug research and development, overseas clinical trials, as well as global marketing of medical products and services. As a result, drugmakers depend on quality medical translation services to deliver multilingual content for a variety of medical documents such as clinical research studies, clinical outcome assessments, drug trial protocols, informed consent, regulatory submission documents, information for use, and patient reported outcomes. Effectively translating such a large variety of medical materials consistently and accurately in Spanish, Chinese, and German requires more than language knowledge, it also requires linguistic validation best practices and innovative translation management solutions that streamline and standardize the medical translation service lifecycle.
Stepes cloud powered translation management system centralizes all of our clients' multilingual content in a single location for easy reference, search, and archive. At the same time, it allows for translation reuse for future content updates so we can achieve faster project turnaround time with reduced cost and improved language consistency. Stepes innovative translation solutions are powered by the latest AI, allowing our team to leverage the best of machine-human capabilities.
To learn more about Stepes pharmaceutical translation services, please click here.
Read More Read Less
A Few of Our Medical Customers
Stepes is proud to serve some of the most successful medical companies and organizations.
Medical Translations for Healthcare
Hospitals, clinics, and nursing facilities around the world are all moving towards creating a paperless, mobile, and connected experience for patients, doctors and clinicians to meet modern day healthcare needs. This rapid digitization means the healthcare industry needs innovative translation solutions that deliver fast and accurate medical translation services anytime and anywhere, across all devices. This is why you need Stepes, the leader in next-gen, agile, and AI-powered language services for managed healthcare organizations, government Medicaid programs, hospitals, clinics, and home care agencies. We have the linguistic experience, technology platform, and deep localization industry knowledge about healthcare laws, directives, and international regulations to ensure fast and professional language services for all your healthcare translation and interpretation needs.
Medical Terminology Management
Terminology accuracy is one of the most critical elements of medical translation quality. Medical terms and words such as disease names and physical conditions often have highly precise meanings, and mistranslation of these nomenclature can lead to incorrect diagnosis, resulting in patient safety risks or even death. Medical terminology management is the process of precisely defining each term and then having them carefully translated and reviewed in each target language. The resulting multilingual terminology glossary is then used for medical content translation and localization. The following lists some common English medical terms translated into Chinese and Spanish.
Expand in Foreign Markets with the Best Medical Translations
Global life science companies increasingly require fast and accurate multilingual services for clinical data (content) for each stage of the drug or medical device development lifecycle in order to respond to rapidly growing international patient care and accelerated overseas clinical trials. Ordinary translation services lack the language technologies, and are too slow to meet these challenging language service requirements with efficiency and scale, resulting in delayed time-to-market and lost international healthcare opportunities. This is why you need Stepes. Our AI-powered translation management solutions go beyond the traditional database approach to translation memory and terminology management. It applies machine learning and artificial intelligence to the entire language translation process to autonomously make the most intelligent translation execution decisions for significantly improved language quality and production efficiency.
Combined with our translation automation solutions for a fully centralized, streamlined, and continuous medical translation workflow, Stepes enables our professional medical linguists and life science subject matter experts to translate better and faster on a consistent basis. We help life science organizations accelerate international business success with confidence. To learn more about Stepes AI-powered translation solutions, please click here.
Read More Read Less
Native Human Translators
AI & Machine Learning
Quality and Experience
Fast & On-Demand
Value For Money
3
Stepes

Towards Your Medical Translation Success
Stepes provides professional medical document translation services in French, Simplified Chinese, Spanish, and 100 other languages with quality and speed. We do this by employing the world's most experienced medical translators and localization experts who are supported by our industry leading language technology solutions and best-in-class processes. We understand the importance of linguistic and technical accuracy to our life sciences clients bottom-line within a highly regulated industry. The good news is we've simplified quality medical translations into three easy steps.
Stepes – The World's Premier Medical Translation Services
Quality medical translation requires both linguistic accuracy and technical precision. On top of that, it requires expert knowledge of global Regulatory Compliance for international markets like the US, China, the European Union, and Japan. As an ISO 9001:2015 and ISO 13485:2016 certified company, Stepes delivers the highest level of quality Medical Translation Services, including translating IFUs (Information for Use), patient response forms for FDA submissions, medical devices manuals, and packaging for in-vitro instruments. Having translated medical terminology for the world's leading pharmaceutical companies, we have the life science industry expertise and localization technology solutions to deliver unrivaled language quality and streamlined processes.
Professional Medical Translation, On-Demand!
Stepes brings multilingual medical experts to life science translation with our experienced translators who truly understand medical sciences and regulatory compliances. For the first time, Stepes' Uber of Translation model brings quality medical translation services to multilingual subject matter experts in medicine, pharmaceuticals, healthcare, CROs, medical device manufacturers, and more. With Stepes, you can trust that your content will always be translated with complete accuracy and quality, by people who know linguistics and the life sciences industry, inside and out.
Read More Read Less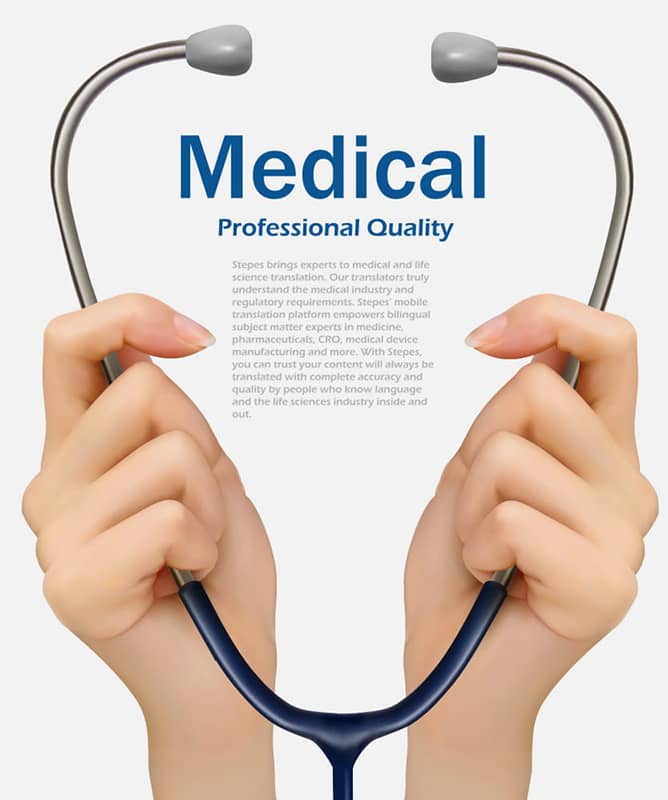 Industry Verticals We Support
Stepes provides accurate medical translation services for the following industry verticals. We have the medical linguistic experts, technical domain specialists, as well as cutting-edge technologies and processes to meet all your language localization requirements.
Pharmaceutical
Biotech
Hospitals
R&D Laboratories
CRO Companies
Health Clinics
Healthcare
Bio-Medical Suppliers & Engineering
Medical Technology
Biotech Labs & Institutes
Medical Research Centers
Pharma Manufacturing & Retailers
Medical Devices
Drug Development
Pharmacy Chain Stores
Medical Devices & Equipment Manufacturing
Medical Wholesalers & Distributors
Good Documentation Practices (GDP) Translated Right
Good Documentation Practices (GDP) is a set of procedures designed for the pharmaceutical and medical device industries to have a systematic and verifiable process in place for all product development related communications. Also referred to as GDocP, GDP mandates that life science companies maintain documented records throughout the product R&D lifecycle covering intended use, product specifications, quality reports, release notes, rejection notices, corrective and preventive plans, patient forms, and approval records among others. The US FDA and other international authorities regularly audit these paper trails in the required languages as part of the drug or medical device approval process. Quality medical translation services are an integral component of the good document best practice.
To most efficiently translate GDocP documents for international regulatory compliance, a translation vendor must have experience working with GDocP documents as well using a translation management system to seamlessly manage document version control, approval, and change management, as well as translating in a variety file types and formats.
Document Creation: The documents must be created concurrently with the appropriate product event they're describing. The documents must be checked for accuracy so they're error free. In the case of translation, the translated medical documents must be produced in a timely manner and be linguistically reviewed to ensure linguistic and technical accuracy.
Document Approval: Documents are explicitly approved, signed off, and dated by authorized individuals for each language.
Document Maintenance: Documents are regularly reviewed to ensure they're up to date and that they're valid for the appropriate timeframe. Documents are password protected, version controlled, and backed up securely.
Change Management: A revision history must be maintained for all document modifications. For each change, a reason for alteration must be recorded. The altered content must be available for future review. A well-defined process must be available to ensure superseded documents are not inadvertently used.
Much of the Good Documentation Practices are carried out using electronic document management systems. However, some of the GDocP contents may be in the form of handwritten entries or recorded audios/videos, making the language translation process more complex. This is why you need an experienced medical translation company like Stepes. We've developed the language industry's leading solutions for automated OCR processing of scanned documents as well as streamlined multimedia localization in addition to standard document translations. Our powerful translation management system offers the best solutions for GDocP documents across all European and Asian languages.
GDocP is now required and enforced by the Food and Drug Administration and a number of international regulatory authorities such as the EMA, TGA, Health Canada, WHO, and others. GDocP is also mandated for Good Manufacturing Practices that cover the FDA's Good Laboratory Practices (GLP), or regulations (21 CFR Part 58), and the FDA medical device directive (21 CFR Parts 211 and 820).
Read More Read Less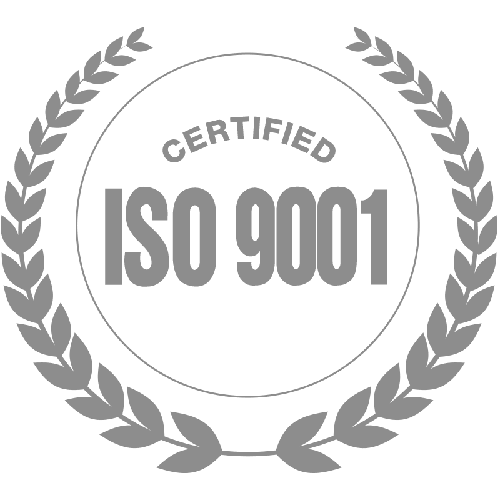 ISO 9001:2015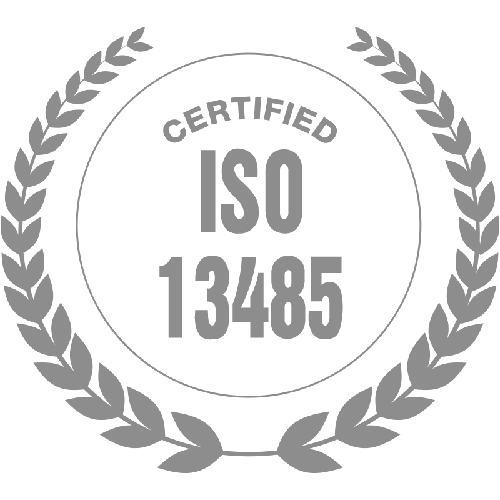 ISO 13485:2016
Certified for Translation Accuracy by Medical Professionals
We understand medical content demands the highest linguistic accuracy and technical precision. This is why we provide certified Medical Translation Services for our clients in medical devices, pharmaceuticals, and healthcare industries, as well as contract research organizations (CROs). We have both the quality standards and deep industry experience and knowledge to provide our life science customers with translations they can trust.
Pricing
We charge for medical translation services by calculating the number of words within your document. Our translation rates are based on new words, repeated words, and fuzzy matches. For enterprise customers, we support translation memory management so the same sentences are never translated twice for reduced cost. Please click here to see our full pricing information.
To obtain a medical translation quote for your medical documents, please click here.
Chinese Medical Translation Services
Having the world's largest population that's rapidly aging, China is becoming an important consumer market for global life sciences companies specializing in all medicines and medical devices, creating significant demand for Chinese medical translation services. According to industry studies, there will be 790 million Chinese patients with chronic diseases by 2030. Among them, over 100 million people are diabetes patients, and 300 million are HBV carriers. Each year, over 780,000 new Chinese patients are diagnosed with lung cancer alone. Life sciences companies specializing in treatment solutions for oncology, lung diseases, vascular diseases, and gastrointestinal diseases will have huge business potentials in China. However, to properly market your medical products and services in China, you need an established language services company with feet on the ground in China to serve you medical translation needs.
This is why you need Stepes. We have the largest presence in China within the language industry, with major language localization centers in all of China's major pharmaceutical and medical device hubs. We also have deep medical industry knowledge and regulatory experience working with China NMPA (formerly CFDA and SFDA). Stepes works with some of the world's largest life sciences companies translating all types of medical documents into Simplified Chinese. Our large team of professional Chinese medical linguists are supported by Stepes next-gen cloud translation management platform for unrivaled localization efficiency and quality.
Read More Read Less
Case Study: Translating a Medical Dictionary for Pfizer
As a showcase of Stepes' expert medical translation services, we are proud to have helped Pfizer translate a dictionary of medical terminology (120K terms) covering a broad spectrum of medical disciplines. The multilingual medical dictionary provides medical translators and professionals with standard translations of technical terms approved by international regulatory authorities, for the highest level of linguistic quality and reliability. To request a copy of this case study, please contact support@stepes.com.
Medical Documents Translated Right In 100+ Languages:
Stepes provides professional medical document translations in over 100 languages with certified quality. We use translation memory so we can leverage existing translations for improved linguistic consistency, cost savings, and fast turnaround. To learn more, please visit our Medical Document Translations page.
Medical Device Manuals
Information for Use (IFU)
Advertising and Promotional Materials
Clinical Studies and Reports
Product Training and User Manuals
Clinical Trial Documentation
Product Packaging and Labeling
International Patents
Product Websites
Patient Diaries
Product Data Sheets
Patient Consent Forms
Patient Debriefing and follow-up Documentation
Outcomes Research Documentation
Patient Outreach Documents
Medical Research Documentation
Contract Research Organizations (CROs)
Stepes supports CROs in all aspects of their day-to-day operations. Stepes understands the complexity of project management involving many critical stakeholders and strict regulatory oversight. Our streamlined translation and project management processes eliminate the hassle of coordinating your localization initiatives. Stepes works hard to ensure that your documents are delivered on time and with complete precision, so you and your clients can focus solely on your work at hand.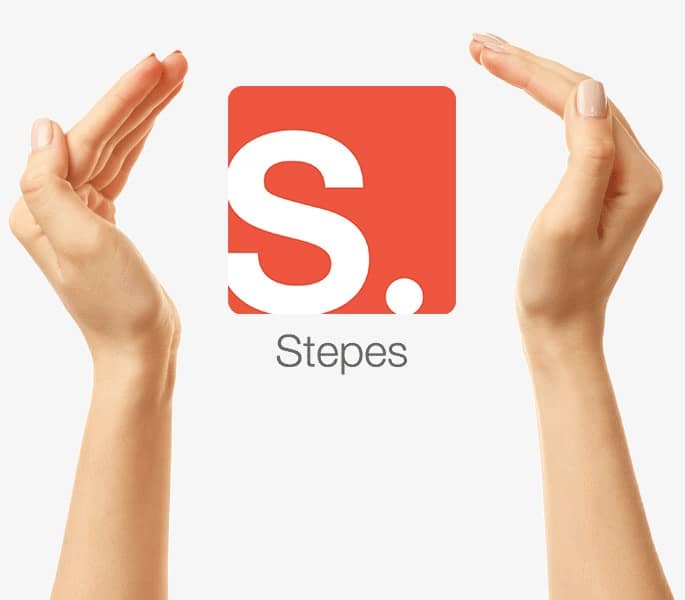 Clinical Trials Translation Services
Modern clinical trials are increasingly carried out across international borders and language translations are becoming an integral part of clinical trial processes. Whether you are a contract research organization (CRO), Institutional Review Board (IRB), or hospital that needs clinical trial translation services in Spanish, Dutch, Simplified Chinese or Afrikaans, Stepes has the linguistic expertise and language technology solutions to get the job done right with quality and speed. Stepes translates all types of medical research content including clinical protocols, studies, and patient consent forms.
Medical Device Localization Services
Have an innovative medical device or existing device that can help people around the world?
Stepes can localize all aspects of medical devices and software while working creatively with you to achieve the best results possible. As a localization company with ISO 9001:2008 and ISO 13485:2003 certifications, we can promise high quality results to ensure that your product is localized for any global market. Whether it is user manuals, technical specifications, software interfaces, subtitles, or anything in between, Stepes can handle all your translation requirements.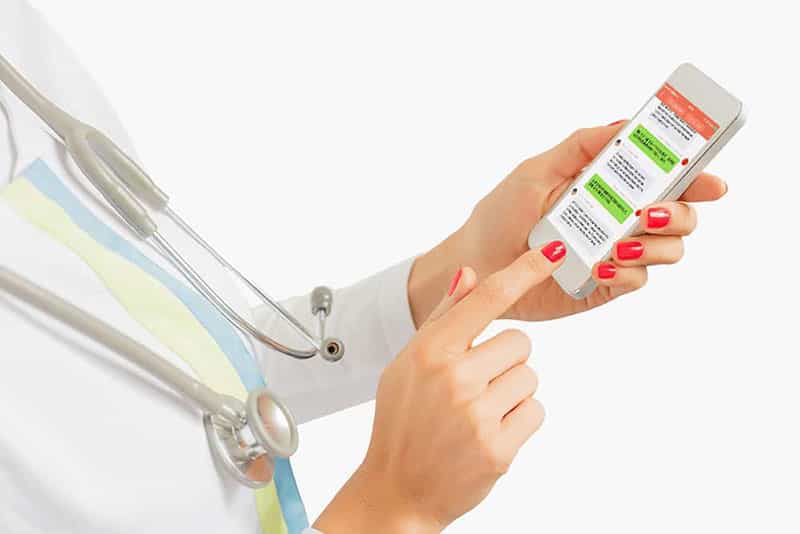 Let Doctors Translate
Stepes is a unique translation platform in that it directly utilizes medical experts for the translation process. Medical experts are the most knowledgeable about domain specific terminology, and they understand the way an industry speaks about its subject matter. However, for the most part, medical experts have been unable to participate in the translation process. Stepes gives life science experts a way to contribute to public knowledge and global development by translating industry-specific content. There is no better solution for improving translation quality than having people who are passionate about the subject matter field to do the translation themselves.
Medical Patent Translations
Are you a life science company in need of medical patent translation services for your business expansion or intellectual property protection in China, Japan, or Germany? Stepes specializes in medical patent translations by efficiently managing the linguistic process to enable our bilingual subject matter experts in both the legal and medical fields to translate better with terminology accuracy and speed. Stepes cloud-based translation management system allows medical enterprises to centrally manage multilingual patent documents online for the most efficient search, reference, and storage. Talk to our sales today for your specialized medical patent translation needs.
Medical Interpretation
Language interpretation is a major component of global medical translation services. Life science companies and healthcare organizations regularly require certified medical interpreters either over the phone (OTP) or on-site for clinical trials or other patient care needs. Traditionally, scheduling for language interpretation service has been a highly manual, tedious process with less than perfect results. This is why you need Stepes, the revolutionary and simplified medical interpretation solution. With Stepes, booking an interpreter is now as easy as booking a hotel room online. Better yet, Stepes mobile-powered interpretation solutions allow for OTP, over video, or on-site language services based on location for the best customer experience. For a complete discussion of our language interpretation solutions, please click here.
Need Fast and Professional Medical Translation Services?