ISO 9001 Certified
Native Human Translations
Customer Satisfaction Guaranteed
Quality and Speed
Best Value Services
Speed & Quality for a Digital Economy
Stepes delivers the fastest online translation services, allowing you to receive professional translation services in minutes, literally! No other language translating agencies come close. Our game-changing mobile translator services notify our linguists instantly of your translation requests and allow them to immediately translate anywhere and anytime, from both mobile device or desktop computers.
The digital economy has transformed many industries and demand for translation services is shifting online. Businesses now need leaner and more agile online translation services to meet their 21st century translation requirements. Next generation online language service providers like Stepes that combine quality translation services with process automation are poised to meet this growing translation demand.
Why Stepes
Offline Translation Services
Slow and Highly Manual Processes
Average Online Translation Companies
Faster Service But Non-Real-Time, Desktop Only
Stepes Online Translations
On-Demand & Fastest Service, Mobile Enabled!
Big
Stepes

Toward Faster Global Growth
Your international business expansion depends on quality translations at fast speed. Stepes disrupts the old localization models by transforming professional language services onto a fast, easy, and affordable online translation platform. Simply upload your documents, monitor progress, and download your translated files on-demand, anywhere and anytime. Take your global Stepes by harnessing the power of our expert online translation services and achieve big multinational success.

Real Time Online
Human

Translation
Loading Live Human Translation Widget...
Stepes for Business
No matter what your business is, getting enterprise translation services fast and on-demand can be challenging.  However, Stepes' AI-powered, cloud, and mobile translation technologies are redefining professional translation services. Stepes disrupts traditional business translations to help thousands of companies around the world accelerate international growth and increase global revenue. We have the linguistic resources and technological infrastructure to build custom, tailored online solutions to meet all of your language services needs for today and the future.
Simplifying Translation
Stepes is a leading online translation company providing global enterprises with quality translation services around the clock and the world. We have automated every step of the localization cycle (file analysis, quotation, translator assignment, linguistic review, job delivery, invoicing and billing) to deliver the best customer experience. Our online localization ecosystem is designed to ensure the most efficient execution of your translation projects with quality and agility. Traditional localization processes involve too many human touch points, resulting in lost translation efficiency and, all too often, missed project deadlines. By removing many of these costly human touch points, we are able to deliver one of the most efficient and affordable translation services to our clients.
Stepes is more than just an online translation service, it's also the world's first mobile translation solution allowing our large network of linguists to be instantly notified of new project requests. This enables them to immediately translate anywhere and anytime through their smartphones or computers. Stepes delivers a variety of real-time translation services with the fastest turnaround times within the localization industry.
Read More Read Less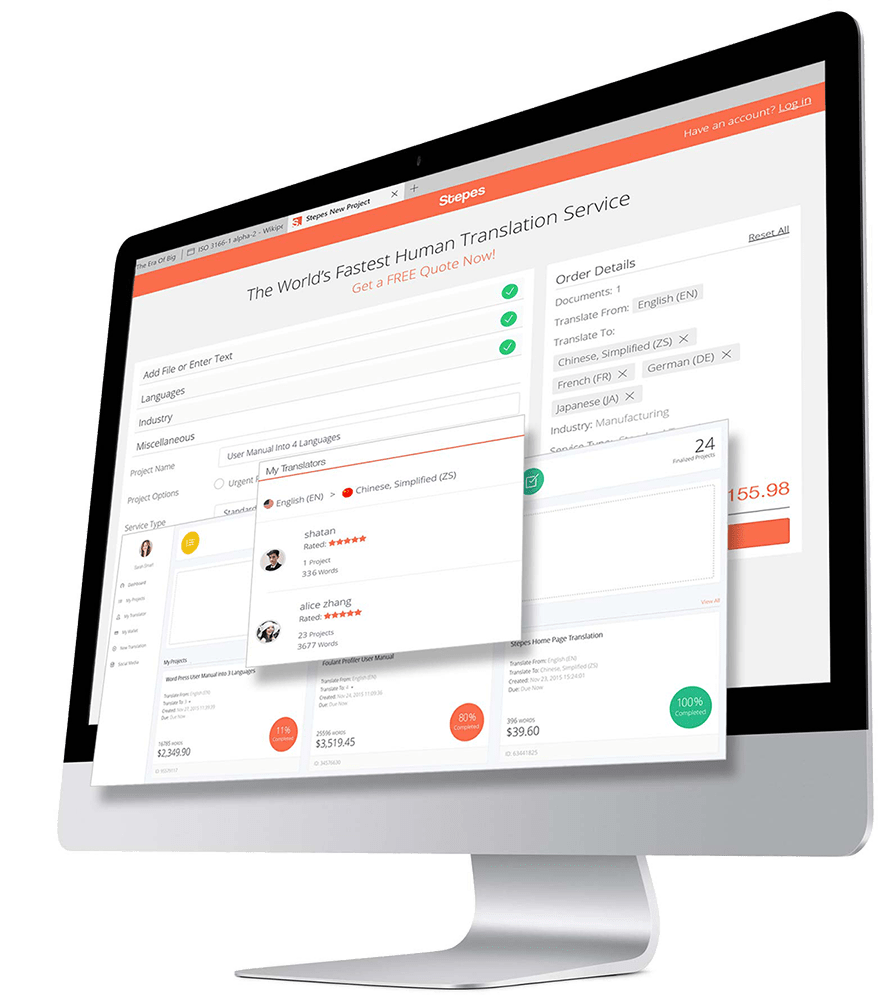 Translation Process Automation
Stepes' process automation is NOT about using machine translation (MT) to deliver language translation services. Instead, our cloud-based online translation ecosystem automates many of the human touch points associated with legacy offline solutions so we can provide you with fast and affordable translation services without sacrificing language quality.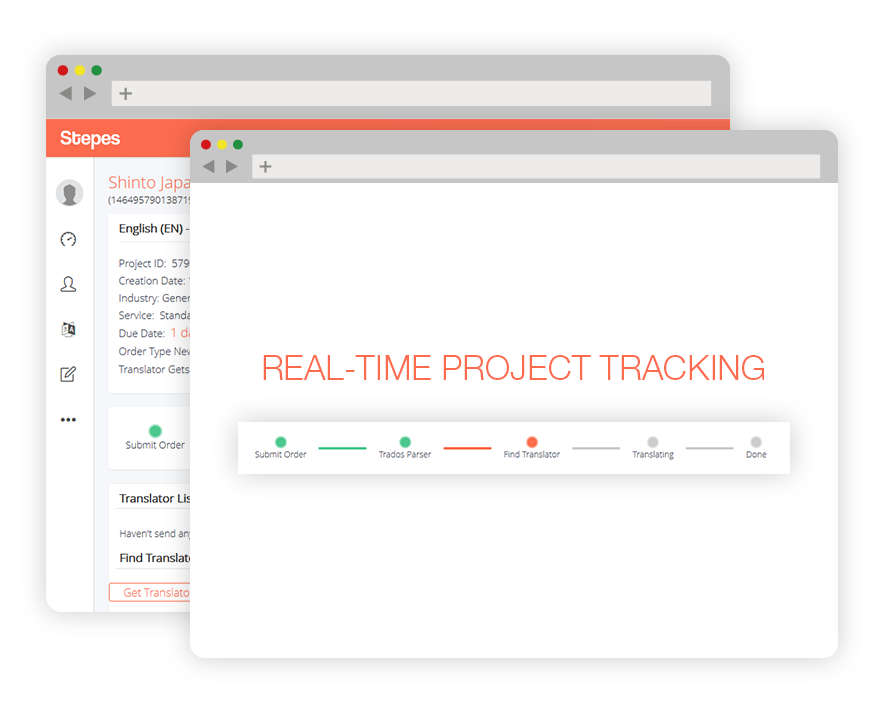 Real-time Project Tracking
With Stepes, it's easy to obtain up-to-the-minute project updates by logging into your project dashboard to view the progress of your translations in each target language. Since Stepes is a mobile centric translation ecosystem, you can track the progress of your projects anywhere and anytime through your smartphone. No other online translation services company comes close to giving you so much visibility and flexibility for your translation projects.
5 Star Translators
Stepes is a highly transparent system so you not only can view the percentage of words translated at any time, you can also see and interact live with translators working on your projects. Our unique transparent project management approach drives translator performance and accountability, and ensures better and more proactive communication. At the end of each project, you can rate your translator's performance to help ensure quality. With MyTranslator, your ratings help us to build you a dedicated linguistic team for continuous quality and language consistency.
How It Works
Simply visit our New Project page to upload files or enter text you need translated to obtain an instant quote. Once you approve the project, our linguists are instantly assigned to work on your translations. Upon completion, simply download your translated files.
Benefits of Online Translation Services
Compared to offline translation services, Stepes online model enjoys many important advantages, especially in today's fast-paced digital economy.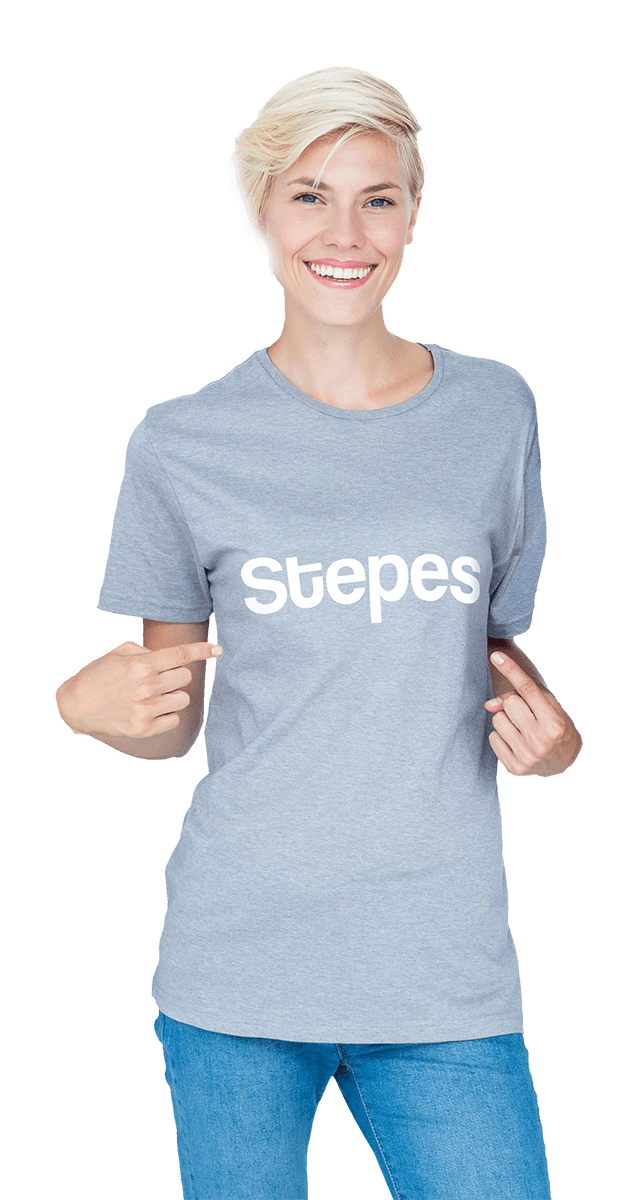 Need Online Translation Support?
Extremely fast project turnaround.
Unprecedented translation scalability.
Digital content and social media translation adept.
Higher quality with bilingual subject matter experts.
Competitive service through efficiency.
Mobile translation enabled.