Accurate AIoT Translations for Global Success
AIoT enabled home appliances and electronic devices are the future. They promise to deliver significantly improved user experience by learning people's everyday routines and preferences and then customizing services to better meet their needs. However, when it comes to international consumers, AIoT devices must be accurately translated in order to effectively communicate with foreign users in their native languages. Owner's manuals, software user interfaces, and customer support materials all need to be translated accurately with efficiency. This is why you need Stepes, the leader in professional language translation services for AIoT so your business can accelerate international success.
Stepes is one of the first professional translation companies to employ AI-powered language technology solutions to achieve improved linguistic quality and consistency while reducing turnaround time and project costs. Our intelligent translation management system is able to leverage translation memory, enforce terminology accuracy, and validate a variety of linguistic check points in real time so our translators can achieve the best translation performance on the cloud. Stepes has a large team of pre-approved, professional native translators who specialize in our clients' industry fields to deliver linguistically accurate and technically precise translations in over 100 languages. Don't just take our word for it. Try Stepes AIoT translations risk-free for 30 days. We guarantee complete customer satisfaction.
Read More Read Less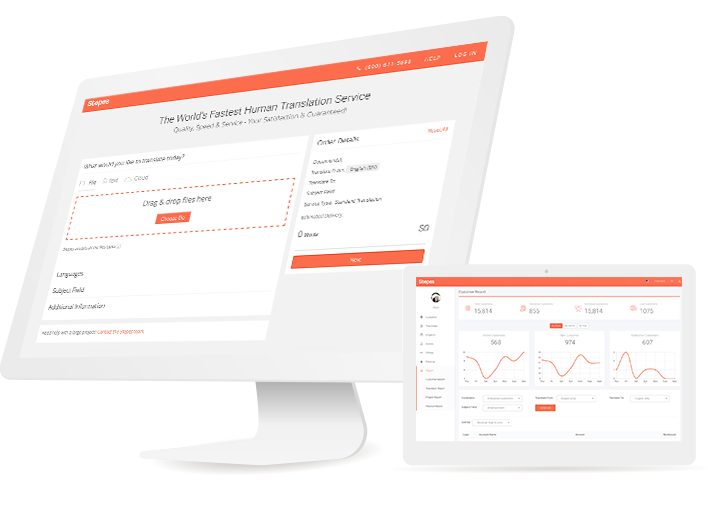 How It Works
AIoT enables network connected devices to deliver much more than just internet accessibility; it also allows products to learn the owner's preferences and usage habits in order to provide customized services tailored to each individual's needs. When it comes to language translations, Stepes has greatly streamlined the localization process using the same design philosophy so our clients can easily get their content translated fast with the highest quality. Simply follow three easy steps to get your documents professionally translated in over 100 languages.
Upload Documents
Track Progress
Download Translated Files
User Documentation Translation
Are you a manufacturer of AIoT appliances, electronic devices, or consumer products and need your user manuals or customer support documents translated in Spanish, Chinese, or French? Then look no further than Stepes, we deliver the highest level of linguistic accuracy on time and on budget. Stepes uses translation memory technologies so the same sentences are never translated twice to ensure language consistency while reducing translation costs. This means the more documents we translate, the lower the per word translation rates. We support user documentation developed in a variety of authoring tools such as MS Word, FrameMaker, InDesign, XML DITA, and more. Simply upload your files onto our project portal to receive an instant translation quotation. For enterprise customers, Stepes also learns from your past projects for automated language and industry selections for improved customer experience. Click here to submit a file for a translation quote today.
Product Website Translation
You've spent time and money developing your English website for AIoT products, the last thing you want is to work with an average translation company to localize it into Spanish, Korean, Japanese, and other languages. Stepes is a leader in next-gen proxy website translation solutions, providing our clients with a hassle-free website translation and localization process. We use CDN based technologies to automate the entire website translation process so you never have to worry about exporting the content for translations. Simply tell us your website URL, Stepes will take of the rest, including content extraction, translation, setup, launch, and hosting. Since we've automated many of the unneeded manual touch points, we are able to reduce website translation turnaround time as well as costs, and we share the savings with our clients. Click here to learn more about Stepes professional website translation solutions.
Glossary of Terms
AIoT: This term is an acronym for Artificial Intelligence of Things. It's derived from the predecessor term IoT or Internet of Things. AIoT is used to denote next generation smart devices that take advantage of machine learning and big data via the cloud to provide users with customized services that are tailored to their individual preferences and habits. AIoT has applications in a wide range of consumer products such as home appliances, self-driving cars, or even mechanical companions. In terms of language translations, AIoT devices must be properly localized in order to be marketed to international customers.
IoT: Also popularly called Internet of Things, these are electronic devices or digital machines that are connected to the Internet so they can exchange information with backend systems autonomously. IoT devices can be programmed, monitored, and operated remotely with or without human intervention. However, with the latest development in AIoT, IoT has become less discussed among technology manufacturers.