Achieve Business Success in the Balkans with the Best Albanian Translations
Stepes (pronounced /steps/) provides international companies with fast and professional Albanian translation services so they can confidently grow business in Albania and globally. We guarantee 100% customer satisfaction.
Fast and Accurate Albanian Translations for the Digital Age
The digital economy has radically changed customer expectations with regards to translation quality and speed. Professional Albanian translations must be linguistically fluent and technically accurate, while at the same time be delivered at fast speeds in order to meet modern enterprise language service requirements. This is why you need Stepes, the next-gen on-demand translation solutions on the cloud for unrivaled language localization performance. We're able to provide our customers with quality Albanian language services fast because we employ some of the most talented professional native Albanian linguists and support them with our cutting-edge translation technology so they can translate confidently.
Stepes only uses professional native Albanian translators with the right subject matter expertise to work on our customers' localization projects for the highest level of linguistic accuracy. At the same time, our AI-powered translation ecosystem goes beyond translation memory and terminology management to allow our Albanian linguists perform a variety of translating tasks such as concordance search, MTPE, and segmentation validation in real time. The result is highly accurate Albanian translation with the shortest turnaround time.
Read More Read Less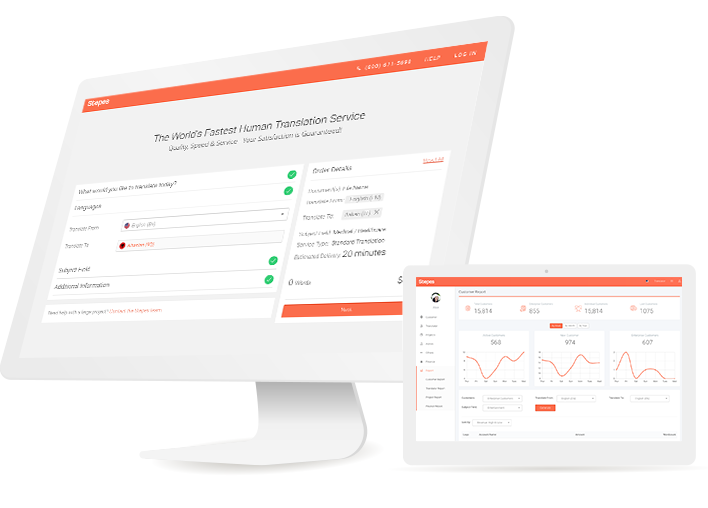 Online Albanian Translations
Finally, getting your documents translated between English and Albanian online and hassle-free is a reality. We've redefined professional Albanian translations so the entire localization process is conducted online for a simpler, faster, and more cost-effective translation execution. Stepes has done away with old manual file transfers with outdated FTPs, complicated email exchanges, or offline linguistic reviews with static files. Simply drag and drop your files onto our online dashboard to receive an instant quote. Start the project anytime with the click of a button. Our pre-approved Albanian linguists with the right subject matter expertise will begin translating immediately. Simply download your translated files upon completion. Better yet, our online platform automates invoicing/billing and project reporting so you never have to be bogged down with tedious project management tasks.
Drag & Drop
Track Progress
Automate Reporting
5-Star Albanian Translators
Stepes is the first translation company to adopt the modern star rating system for grading our linguists work. Our cloud based and highly transparent translation management system provides our clients full visibility of their project progress in real time. We firmly believe consistent quality language output is a product of expert linguistic experience, technical knowledge, and increasingly, a system that enforces accountability and rewards translation excellence.
Stepes employs one of the largest teams of professional native Albanian linguists and linguistic reviewers in Albania.
Professional Albanian Document Translations
Stepes translates a variety of business documents such as owner's manuals, financial contracts, IFUs (information for use), help systems, and user guides between English and Albanian. We provide full-service document translation services in Albanian that include content translation, terminology management, and desktop publishing (DTP). Our AI-powered online translation ecosystem extracts text from MS Word, PowerPoint, FrameMaker, InDesign, or MadCap Flare files automatically and then runs TM (translation memory) leverage in real time. Stepes Albanian linguists utilize our powerful online workbench to translate your documents in a highly transparent process. Stepes customers (or their designated language reviewers) and our translators can communicate live for linguistic queries via our online messaging window. Stepes automatically saves all translated sentences for future project leverage for cost savings.
We Translate for All Major Industries
Stepes large team of English-Albanian linguists specialize in a variety of industries and subject domains. They're further supported by our industry-leading terminology management platform that contains technical terms in all medical, financial, legal, agriculture, and manufacturing fields. We guarantee both linguistic fluency and technical accuracy for all of our Albanian translations.
Aviation
Architecture
Arts
Audio / Video
Chemical
Civil Engineering
Construction
Consumer and Retail Products
Cosmetics
Education
Electronics
Energy / Oil & Gas
Engineering
Entertainment
Environment
Fashion
Financial Services
Food & Beverage
Games
Government
Information Technology
E-commerce
Legal
Manufacturing
Medical / Healthcare / Pharmaceutical
Religion
Shipping
Software
Sports
Technology
Telecommunication
Transportation
Travel & Tourism
Albanian Website Translations
Stepes provides expert website translation and localization services in Albanian and 100 other languages. Our fully automated proxy translation solutions simplify the website localization process so you never have to worry about how to get the content translated and keep up with future updates. Stepes offers two different website translation models:
translation only
end-to-end website localization
We support websites developed in Drupal, WordPress, and other CMS systems using our own customized translation plugin and connectors. For full-service website translations, Stepes provides hassle-free solutions that ensure your Albanian website is up and running in the shortest amount of time. Most importantly, our proxy technology is able to provide on-going translations of future updates in a fully automated process. To learn more about Stepes website translation solutions, please click here.