Engage International Customers with the Best Armenian Translations
Stepes (pronounced /steps/) provides accurate Armenian translation services with speed so you can confidently grow your business in Armenia and globally.
Best-In-Class Armenian Translations
Are you looking for a professional translation company to translate your business documents, websites, and digital content from English into Armenian with quality, on time, and on budget? Then look no further than Stepes. We have the linguistic resources and industry leading localization technologies to deliver the best Armenian translation services that the world's top companies rely on for international success. Stepes has one of the largest teams of professional Armenian linguists and subject matter experts who are specially trained to deliver linguistically accurate and technical precise language translations between English and Armenian for a variety of industries, such as Legal, Financial, Life Sciences, Manufacturing, Technology, Retail, Advertising, and Government.
High quality Armenian translation services require experience, subject matter expertise, and increasingly, intelligent translation technologies and solutions that combine the best of machine and human capabilities for unrivaled quality and efficiency. Stepes innovative translation management system allows our professional native Armenian linguists to translate confidently while simultaneously supporting them with real time terminology lookup, translation memory leverage, linguistic consistency check, as well as other linguistic validation functions such as omission, mistranslation, grammar and spelling mistakes. When it comes to achieving the highest quality Armenian translations, Stepes sets the standard.
Read More Read Less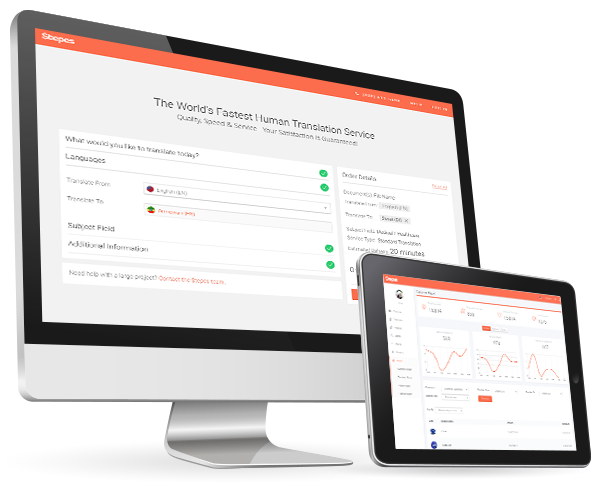 How It Works
We've simplified the Armenian translation process. Getting your documents translated accurately between English and Armenian is now as simple as dragging and dropping files onto our online portal and specifying your target industry. Stepes AI-powered translation management system automatically matches your translation job with our pre-approved professional Armenian translators for unrivaled localization efficiency. Then, simply download your translated documents with the click of a button. For enterprise customers that need translations on a regular basis, we also assign a dedicated client service manager to serve as a single point of contact.
Upload
Project Management
Download
Armenian Website Translation Services
Are you looking to translate your website into Armenian? Stepes has developed a robust technological solution to localize your website with quality and speed. In addition to translation, we can also help you set up the Armenian website automatically. This innovative website translation solution can save hours if not days of tedious, manual work and deliver better website performance.  Better yet, Stepes will monitor your English website for future updates and translate the updates on-demand so your Armenian website always stays up-to-date. Don't just take our word for it, see a live demo of our exceptional website translation solutions here.
Armenian Life Science Translations
As an ISO 9001:2015 certified translation company, Stepes provides highly accurate Armenian translations for a range of life science industries including: medical devices, healthcare, pharmaceutical, CRO, and biotech. Our professional Armenian medical translators are specially trained to translate life science documents with the highest level of linguistic quality and efficiency. We regularly translate a variety of healthcare documents such as informed consent forms, IFUs (information for use), clinical reports, product labels, medical patents, and regulatory submissions. Stepes is trusted by some of the world's most successful life sciences companies. To learn more about our medical translations, please click here.
Armenian Financial Services Translation
Stepes provide certified Armenian translations for the financial services industry. Our professional in-country Armenian linguists and subject matter experts specialize in a variety of financial fields such as banking, investment, insurance, and corporate finance to deliver linguistically fluent and technically accurate Armenian translations with speed. Stepes owns one of the world's largest financial terminology databases so we can consistently translate financial documents and technical content with precision. Stepes helps some of the world's top financial services companies expand business in Armenia and beyond with confidence. To learn more about Stepes financial translation services, please click here.
Armenian Legal Translations
Do you need to translate legal documents from English into Armenian and vice versa? Then look no further than Stepes. We have the linguistic experience and cutting-edge localization technologies to deliver the best Armenian legal translation services fast. We translate a variety of legal documents with quality and speed such as business contracts, privacy policies, technology patents, and litigation support documents. Many of our Armenian translators are legal professionals by trade, allowing Stepes to deliver the highest level of linguistic quality. To learn more about Stepes legal translations, please click here.