#1 Brochure Translation Service
Quality, Speed, and Service! Stepes (pronounced /'steps/) provides accurate marketing brochure translation services in Spanish, Chinese, French, Romanian, and 100 other languages. We help the world's leading companies engage international customers in Asia, Europe, and Latin America—one professionally translated brochure at a time.
Your Premier Brochure Translation Service
You've spent time and money creating the perfect English brochure, sell sheet, or pamphlet, and the last thing you want is to work with an average translation agency to localize your marketing collateral into Spanish, Japanese, and Italian with mediocre quality, and extended turnaround time. This is why you need Stepes. We're a premier marketing translation company with professional native translators and cultural experts who specialize in translating marketing brochures to best showcase your products and services in all languages. Stepes provides end-to-end brochure translation solutions that include content translation, multilingual terminology management, graphic design, and desktop publishing services. We also provide cultural consulting services so the localized brochures can prevent pitfalls in foreign markets due to inappropriate language expressions and/or color choices.
Stepes has greatly simplified professional brochure translations by moving the entire localization workflow onto the cloud. Our clients can simplify drag and drop PDF documents, InDesign IDML, or PowerPoint files to our online dashboard to obtain a real-time brochure translation quote in seconds. Our modern translation management system supports translation memory, terminology, and in-context linguistic review so the entire brochure translation process is highly streamlined and efficient. Stepes helps many companies, large and small, in the US, Europe, and Asia to confidently communicate with international audiences with expertly translated multilingual brochures that are delivered on-time and within budget.
Read More Read Less
Simpler, Faster, and Better Brochure Translations
Traditional marketing brochure translation workflows involve too many opaque processes that make it hard for the client to influence the desired outcome or communicate directly with the linguists working on their projects. This leads to subpar translations that can take rounds of review, proofreading and revisions to fix, resulting in costly launch delays. Stepes has revolutionized brochure translation services by managing the end-to-end translation workflow on the cloud. For each enterprise customer, we assign a dedicated team of marketing translation specialists who work on the company's translation requirements all the time to ensure knowledge retention and linguistic consistency. We also make it easy for the client's marketing managers to directly converse with the translators in real time so the translated brochures most effectively target the intended audiences with the right messages and linguistic tones. In addition to standard marketing translations, Stepes also provides transcreation services to better meet our clients' global brand campaign needs.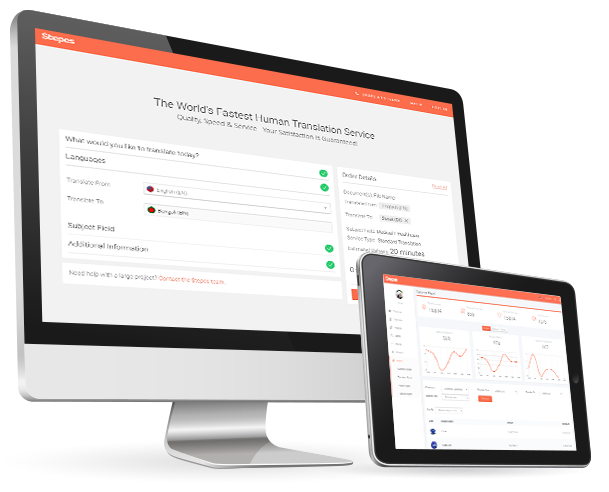 How It Works
Most clients send us PDF files for brochure translation estimate and production. This is due to several factors:
PDF files are easy to manage and distribute,
Lack of access to the original source documents,
Source brochure documents are too big, complex.
Stepes is able to translate PDF brochures by converting the files to MS Word, or InDesign format first. We then translate the content and perform post translation desktop publishing. While this process works for the most part to retain the original brochure layout, a more efficient approach is to work directly within the native source documents such as InDesign or Adobe Illustrator. To make it easy for clients to send us the source documents (such as zip package) for brochure translation services, we have developed our online translation management portal so it's able to intelligently sort out the uploaded files automatically and only work on the content files for localization.
Professional Marketing Translation
Stepes provides best-in-class marketing translation services for some of the world's top companies in a variety of industry fields. We have the linguistic resources, localization best practices, and modern language technologies to deliver multilingual brochures, press releases, email campaigns, social media marketing, websites, and marcom presentations in over 100 languages. Stepes helps our clients engage international audiences with linguistically accurate and culturally engaging marketing translations that deliver the best multilingual brand messages globally. To learn more, please visit Stepes Marketing Translation Services.
Need Professional Brochure Translation Services?