Enhance International Customer Experience with the Best Bulgarian Translations
Stepes (pronounced /steps/) allows you to effectively engage customers in Bulgaria with fast and accurate Bulgarian translation services. Easily.
Quality Bulgarian Translations You Can Trust
In today's globalized world economy, companies must be able to communicate with international customers in their own languages to drive customer satisfaction and achieve global business success overseas. For fast and professional Bulgarian translation services, look no further than Stepes, the language industry leader for on-demand and certified translations. We deliver English-Bulgarian translations that are technically accurate and at the same time resonate with customers culturally. We hire the best professional native linguists the industry has to offer and then support them with our cutting-edge technology to deliver both linguistic quality and localization efficiency. Don't just take our word for it, try us risk free for 30 days and see how Stepes can raise your localization performance to a higher level of international success.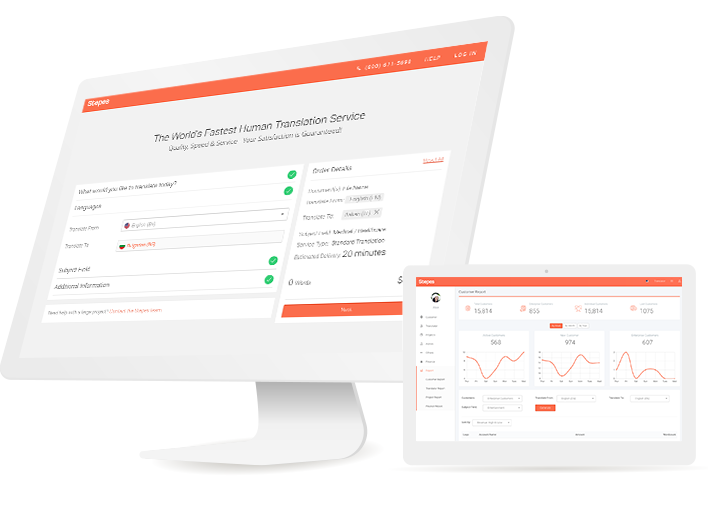 Bulgarian Content Translated Right—Online
The modern digital marketplace demands both translation quality and speed, at a fraction of the cost. This is why Stepes on-demand online translation model is such a game changer. We have automated many of the unneeded human touch points associated with the inefficient, offline translation process. Simply drag and drop your documents onto our online portal to receive an instant quote (instead having to wait for 24 hours or longer.) Next, start your translation project with the click of a button. Stepes is powered by a large team of professional English-Bulgarian linguists who specialize in a variety of technical fields such as medical, financial, legal, and manufacturing to deliver the most accurate translation results. Better yet, for our enterprise clients, Stepes also assigns a dedicated team of Bulgarian translators to ensure the most consistent language results on a continuous basis.
Stepes only uses professional native Albanian translators with the right subject matter expertise to work on our customers' localization projects for the highest level of linguistic accuracy. At the same time, our AI-powered translation ecosystem goes beyond translation memory and terminology management to allow our Albanian linguists perform a variety of translating tasks such as concordance search, MTPE, and segmentation validation in real time. The result is highly accurate Albanian translation with the shortest turnaround time.
Upload
Review
Download
Read More Read Less
ISO Certified Bulgarian Medical Translations
Are you looking for professional Bulgarian translations for your IFUs, medical device manuals, drug inserts, or clinical studies? Stepes is both ISO 9001 and ISO 13485 certified. We have a large team of professional medical Bulgarian linguists and life science subject matter experts who specialize in delivering highly accurate medical translations for pharmaceutical, medical devices, biotechnology, CRO and healthcare industries. Stepes also owns one of the world's largest medical terminology dictionaries with over 300K terms in 100+ languages. Finally, translating your medical documents with quality and speed doesn't have to be a drag on your international product development. To learn more about Stepes medical translation solutions, please click here.
Accurate Bulgarian Financial Translations
In today's global economy, the need to translate financial documents with precision is increasingly an indispensable component of running cross-border business operations, as well as meeting international regulatory compliance requirements. Stepes has both the linguistic experience and localization technology solutions to deliver certified English-Bulgarian translations that our clients depend on to grow business in Bulgaria and globally. Powered by our native Bulgarian linguists who specialize in a variety of financial services disciplines, Stepes provides international banking, insurance, and investment companies, as well as corporate finance departments with on-demand and accurate translations they can trust. We understand the importance of security to our clients' financial data and this is why we've developed a highly secure cloud-based translation platform with virtual data rooms. To learn more about Stepes financial services translations, please click here.
Bulgarian Legal Translation Services
Stepes provides a full suite of legal translation services to law firms and corporate legal departments. We translate legal contracts, privacy documents, patents, and litigation support materials from English to Bulgarian and from Bulgarian to English. Stepes Bulgarian legal translators and subject matter experts specialize in legal terminology to deliver the most precise language translations with efficiency. Our AI-powered translation management system supports translation memory so we can leverage existing translated text for consistency and cost savings. Simply drag your legal documents onto our translation portal to receive an instant quote. Upon your confirmation, our Bulgarian legal linguists will begin translating immediately. To learn more about Stepes legal translations, please click here.