Engage Customers in Canada with the Best Canadian French Translations
Stepes (pronounced /steps/) provides the world's leading companies with linguistically fluent and technically accurate Canadian French translation services so they can grow business in Canada and globally with confidence and speed.
Accurate Canadian French Translations Delivered Fast
In today's rapidly growing digital economy, companies need a variety of content (websites, technical documents, software apps, and marketing collaterals) translated into Canadian French with quality and speed. This is why you need Stepes, the language industry leader for superfast and professional Canadian French translation services for the best ROI. Stepes has one of the largest teams of professional native Canadian French linguists and subject matter experts who specialize in our clients' industry fields to deliver the highest level of linguistic quality and technical precision. At the same time, our cutting-edge language technologies allow Stepes to achieve the fastest translation turnaround time, enabling our customers to beat the competition and accelerate business growth in Canada and globally.
Consistent, high quality translations between English and Canadian French is a product of linguistic experience, localization best practices, subject matter expertise, and increasingly, AI powered translation technologies that harness the best capabilities of machine-human solutions. Stepes leads the translation industry with next-gen language innovations, enabling our Canadian French linguists to easily post-edit MT output, look up terminology in real-time, leverage translation memory on the cloud, and perform linguistic review in context. Our AI enabled translation management system automatically checks for linguistic consistency, missing translations, mistranslations, number mismatches, and many other language related issues. The result is significantly improved language quality without sacrificing speed.
Read More Read Less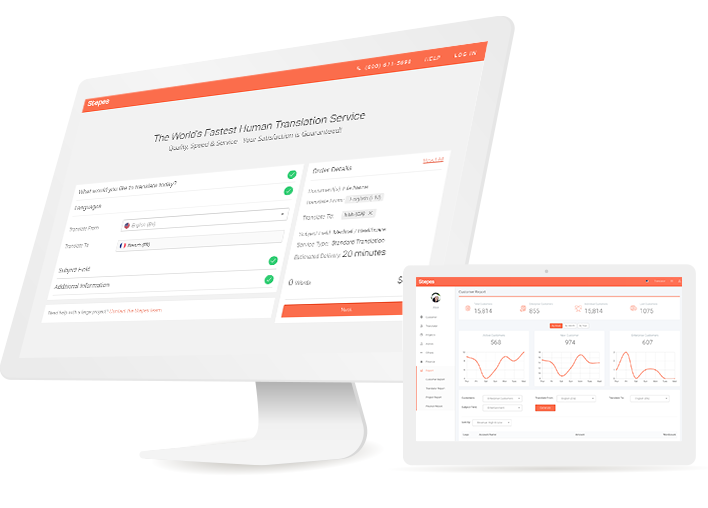 How It Works
Stepes has greatly simplified the process for our customers to obtain quality Canadian French translation services by employing an easy to use online model. Simply drag and drop your document to our online portal and specify the right subject matter field. Stepes will generate an instant translation quote for your review and approval. You can track the progress of your translations at any time via desktop or mobile devices. Download the translated files with the click of a button.
Upload
Track Progress
Download
Canadian French Medical Translations
Stepes provides ISO 9001:2015 and ISO 13485:2016 certified Canadian French translation services for the life science industries. Our professional Canadian French linguists and subject matter experts are trained to deliver accurate translations for pharmaceutical, medical device, biotech, and healthcare industries. Whether you need to translate your patient reported outcomes, device IFUs (information for use), drug inserts, product labels, or regulatory submission documents, we have the right linguistic talents and cutting-edge technologies to ensure unrivaled translation performances in quality, speed, and competitive services. To learn more about Stepes full service medical translation solutions, please click here.
Canadian French Translations for Financial Services
Do you work for an international bank, insurance company, or financial institution in need of accurate Canadian French translation services? Then look no further than Stepes. We have a large team of Canadian French translators and bilingual subject matter experts focused on the financial services industry to deliver high quality translations that meet your standards. Stepes owns one of the world's largest multilingual financial terminology dictionaries with thousands of financial terms collaboratively developed by language professionals and technical experts from around the world. This unique capability allows Stepes to consistently deliver high quality financial translations between English and Canadian French that drive our clients' global success. To learn more about Stepes expert financial services translation solutions, please click here.
Canadian French Legal Translations
Stepes provides certified legal translations from English to Canadian French and from Canadian French to English. We have in-depth experience translating a variety of legal documents such as privacy policies, terms of use, patents, legal contracts, as well as litigation support documentation. In addition to employing some of the best Canadian French legal linguists the language industry has to offer, Stepes has also developed innovative technologies that leverage OCR and text search so we can translate large number of scanned (PDF) legal documents with quality and speed. Stepes helps top legal firms and corporate legal departments succeed in Quebec and Canada. To learn more about Stepes full set of legal translation solutions, please click here.
Need Fast & Professional Canadian French Translations?