Engage Chinese Customers with the Best Cantonese Translation Services
Stepes (pronounced /steps/) provides accurate Cantonese translation services with speed so you can grow your Cantonese business with confidence.
Professional Cantonese Translations You Can Trust
Finally, getting your documents translated between English and Cantonese quickly and accurately is a reality. Stepes has redefined professional Cantonese translation services at the very highest level of localization performance. Having one of the largest teams of professional Cantonese linguists and subject matter experts who specialize in a variety of industries and technical fields, Stepes is able to consistently deliver high quality Cantonese translations for business documents, websites, and eLearning materials. At the same time, we support our Cantonese translators with next-gen language technologies so they can translate efficiently.
Your international brand depends on consistent and quality language translations to achieve business success among Cantonese customers. The last thing you want is to work with an average translation company that produces poor linguistic quality, resulting in lost business opportunities and a tarnished brand name that can take years to recover. This is why you need Stepes. We serve some of the world's most successful companies, enabling faster and better customer communications between English and Cantonese. As an ISO 9001:2015 company, Stepes consistently delivers accurate and certified Cantonese translations on time and on budget.
Read More Read Less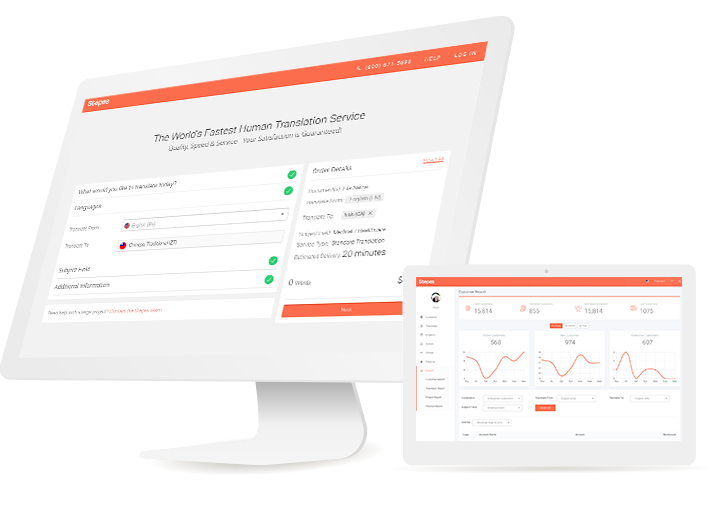 How It Works
We've made it easy for you to obtain quality Cantonese translations by simply dragging and dropping your documents onto our online project portal. Stepes supports all types of content formats and our AI-powered language management system is able to produce a translation quote instantly. Upon your confirmation, Stepes pre-approved native Cantonese linguists are immediately assigned to work on your project. For enterprise customers, we assign dedicated linguists to your myTranslator team, allowing the same Cantonese translators to work on the translation all the time for consistency and quality. Simply download your translated files with the click of a button.
Upload
myTranslator
Download
Professional Cantonese Medical Translations
Are you looking to translate your medical documents such as IFUs (information for use), product labelling, clinical documents, or patient informed consent forms between English and Cantonese? Then look no further than Stepes. As an ISO 13485:2016 certified translation company, we have the linguistic resources, localization processes, and language technologies to deliver the highest level of Cantonese quality on a consistent basis. Stepes professional life science translators and subject matter experts are the best in the language industry, translating medical terminology with accuracy for a variety of healthcare fields. At the same time, our AI-powered translation technologies ensure our Cantonese medical linguists are able to achieve the highest localization efficiency. To learn more about our medical translation services, please click here.
Cantonese Financial Translations
Stepes provides certified financial services translations in Cantonese to some of the leading banking firms and financial institutions in the world. As one of the world's major financial hubs, Hong Kong processes a large volume of financial information which often needs to be translated into multiple languages. Stepes is the undisputed leader in providing high quality financial services translations between English and Cantonese, and over 100 other languages. We have the linguistic experts and financial services professionals to translate all your financial content (bank statements, annual reports, balance sheets, etc.) with accuracy and speed. Stepes owns one of the world's largest financial terminology databases so we can consistently translate your technical content with confidence. To learn more about Stepes financial translation services, please click here.
Cantonese Legal Translations
Stepes provides a full spectrum of Cantonese legal translation services covering international patents, multilingual privacy policies, English-Cantonese license agreements, bilingual business contracts, and cross-language litigation support. We serve some of the leading law firms and legal departments within top multinational corporations by providing accurate English-Cantonese translations with speed. Stepes has simplified professional Cantonese legal translation services by allowing our clients to easily receive translation quotes in real time. Our cloud translation model also enables our clients to securely manage bilingual legal documents in English and Cantonese online. Stepes industry-leading translation management system makes it easy to leverage legacy legal translations for improved linguistic consistency and reduced turnaround time. To learn more about Stepes legal translation services, please visit: https://www.stepes.com/legal-translation-services/.