全球用户体验快速翻译
数字经济已经彻底改变了客户对交付时间的期望。 快速的翻译交付不再意味着几天或几小时; 现在是以分钟和秒钟计算。 Stepes 基于移动设备,实时解决方案可帮助企业加速全球上市时间,从而改善国际业务成果。有时效的翻译服务的公司将能够击败其竞争对手并在全球市场保持领先。
How It Works
第二步
Stepes 即时发送推送给相关行业的专业译员。专业译员可在几分钟内开始工作,在我们移动或桌面版本。
第三步
您会实时收到完成通知,以便您立即下载翻译的内容。之后,您还可以给语言学家的表现评分。 5 星级翻译将成为您专门的语言学家。
 Throughout the translation process, you can track project progress.
Estimated turnaround times for your translation requests:
Use Cases of Real Time Translation
Today's translation requirements are complex, stemming from multiple channels, and need high-quality services. Stepes combines the power of mobile, machine cognitive services (artificial intelligence) and expert human translations to deliver the fastest language solutions. Here are some applications of our translation services:
Fast content delivery in all languages to create the best user experience
Real-time business intelligence translations for improved bottom line
Live customer support
On-demand translation of user generated content (UGC)
Rapid localization of software strings required by today's agile development
Multilingual press releases and digital marketing campaigns
Time-based financial information translation for improved international regulation compliance
Fast stock market translations for improved investment decisions on a global scale
Just-in-time social media translation for global product and service launches
Medical emergency translations
Test Our Instant Online Translation
Loading Live Human Translation Widget...
Stepes Machine-Human Solutions
Stepes redefines real-time translation by bringing human translators into our localization pipeline to deliver both speed and quality while achieving scalability. This is made possible by Stepes' unique mobile translation technology. For the first time, we are able to connect to our linguists on-demand while they can work anywhere and anytime using their mobile devices or their desktop computers.
Multichannel Commerce Meets Real-Time Translations
There are numerous business requirements today that need real-time translation solutions. Companies create multi media content around the clock and want to reach out to their world wide audience in real time. The multi channel nature of today's business environment requires agile and on-demand translation solutions that are faster than ever. Companies that take advantage of Stepes' real time translation capabilities will be able to attain success on a global scale.
Introducing Stepes Real Time Translation App
Stepes disrupts the traditional localization model to deliver real-time human translation and interpretation services around the clock and around the world.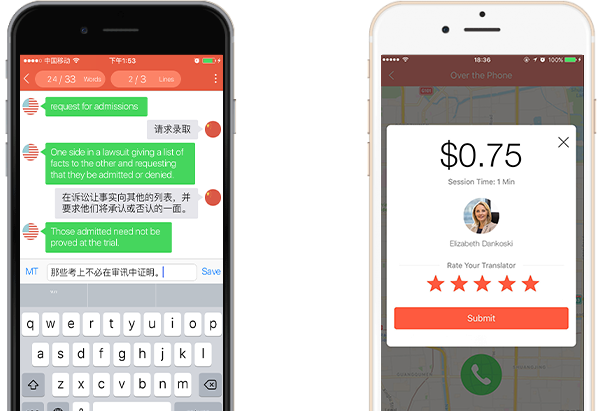 Q&A: What Is Real Time Translation?
Real Time Translation (RTT) is a process which enables rapid human translation of documents and texts on-demand. Real time means that the translation occurs while the source content is being created or immediately after, thereby significantly reducing time to market for the translated content. Real-time language translation services today use a variety of technological solutions such as machine translation post editing (MTPE), mobile notifications, TM leverage, and automated project management to ensure super-fast turnaround times. With RTT, companies can expect quality human translations of their content in a few minutes or hours instead of days or weeks using conventional localization models.