Put Your DTP Skills to Work with the World's Leading Document Translation Company
We're hiring expert desktop publishing specialists and graphic design professionals to support multilingual document DTP in a variety of languages. Put your document formatting skills to work and earn money.
Quality Freelance Desktop Publishers Wanted
If you have at least 3 years of experience working as a desktop publisher or document formatting specialist using MS Word, InDesign, FrameMaker, PowerPoint, or QuarkXpress, then we have the right DTP jobs for you. Stepes (pronounced /steps/) is a fast-growing translation and localization company, employing an excellent team of multilingual DTP professionals to serve the world's leading businesses with exceptional document localization services. We regularly help our clients translate and format marketing brochures, technical documents, or training materials in over 100 languages. We produce both print-ready PDFs and/or XML based documents published on the web. We've simplified the document DTP process so you can perform desktop publishing tasks using next-gen, on-demand document publishing system.
We're only looking for professional, experienced desktop publishers who take great pride in delivering the highest quality formatting services. Since most of Stepes DTP formatting tasks are performed in foreign languages, linguistic skills will be a plus. We prefer DTP specialists to work in their native languages to ensure the best results. Each desktop publishing job your complete will be rated. The higher your star ratings, the more DTP jobs you'll receive. Consistent quality and on-time delivery of well formatted documents is a great way to improve your standings on the platform. If you believe you meet these qualifications and have what it takes to succeed in a fast-paced working environment, we invite you to apply for our DTP job openings today.
Read More Read Less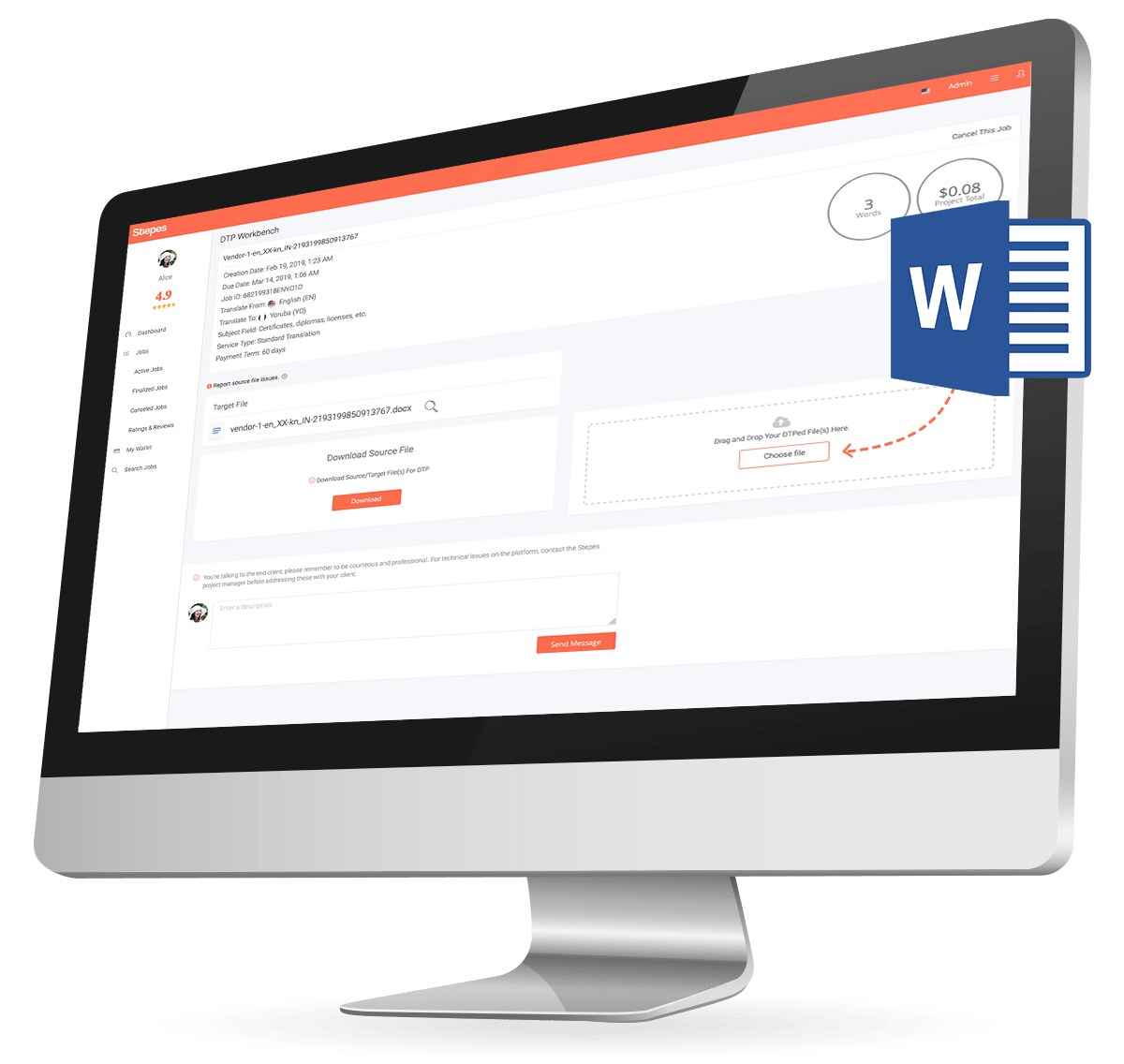 How Does It Work?
Stepes is a modern, cloud translation company. Our intelligent online translation management system streamlines each step of the document translation lifecycle from initial translation, linguistic review, to desktop publishing. All you need to do to receive Stepes DTP jobs is to sign up for a Stepes DTP operator account and complete your profile. Please make sure to include publishing tools you use such as MS Word, Adobe InDesign, or FrameMaker. Please also indicate the languages you speak.  Next, your professional profile will be reviewed and, if approved, you'll be contacted via mobile notification or email when we have DTP jobs matching your qualifications. You can also check Stepes translation and DTP job portal for on-going formatting jobs proactively.
Once you receive a DTP project, simply download the source files and translated documents. Stepes AI-powered translation management system is able to generate localized files with source formatting layout intact. However, due to language expansions (such as German, Dutch, and Spanish) as well as font changes for Asian languages (such as Chinese, Japanese, and Korea) translated documents must be further adjusted or formatted. This is also true for bidirectional languages like Arabic and Hebrew. Your job is to go through the document page by page to clean up text, fix truncations and spacing issues, as well as reformat tables, charts, and paragraph spacing, etc. You may also need to replace graphics with localized text. Upon completing your DTP job, simply upload the formatted files to the project portal for the client to download.
Read More Read Less
We're Looking for DTP Publishers in These Languages
Stepes provides professional translation services to the world's leading companies in over 100 languages. As such, we're looking for expert desktop publishers who speak one or more of the following languages for the highest quality multilingual publishing support.
Arabic (AR)
Chinese, Simplified (ZS)
Czech (CS)
Danish (DA)
Dutch (NL)
English (EN)
English, UK (UE)
Finnish (FI)
French (FR)
German (DE)
Italian (IT)
Japanese (JA)
Korean (KO)
Norwegian (NO)
Polish (PL)
Portuguese, Brazilian (PB)
Russian (RU)
Spanish (ES)
Swedish (SV)
Thai (TH)
Vietnamese (VI)
More Languages Fewer Languages
Afrikaans (AF)
Albanian (SQ)
Amharic (AM)
Armenian (HY)
Azerbaijani (AZ)
Basque (EU)
Belarusian (BE)
Bengali (BN)
Bhutanese (BT)
Bihari (BH)
Bosnian (BS)
Breton (BR)
Bulgarian (BG)
Burmese (MY)
Catalan (CA)
Chinese, Hong Kong (ZH)
Chinese, Traditional (ZT)
Croatian (HR)
English, Australian (AE)
English, Canadian (CE)
Estonian (ET)
Faroese (FO)
Filipino (TL)
French, Canadian (CF)
Frisian (FY)
Galician (GL)
Georgian (KA)
Greek (EL)
Guarani (GN)
Gujarati (GU)
Hausa (HA)
Hawaiian (HW)
Hebrew (IW)
Hindi (HI)
Hungarian (HU)
Icelandic (IS)
Igbo (IG)
Indonesian (ID)
Interlingua (IA)
Irish (GA)
Javanese (JW)
Kannada (KN)
Kashmiri (KS)
Kazakh (KK)
Khmer (KM)
Kirundi (RN)
Kurdish (KU)
Laothian (LO)
Latin (LA)
Latvian (LV)
Lingala (LN)
Lithuanian (LT)
Luganda (LG)
Macedonian (MK)
Malagasy (MG)
Malay (MS)
Malayalam (ML)
Maltese (MT)
Maori (MI)
Marathi (MR)
Moldavian (MO)
Mongolian (MN)
Montenegrin (ME)
Nepali (NE)
Norwegian Nynorsk (NN)
Pashto (PS)
Persian (FA)
Persian, Dari (DR)
Portuguese (PT)
Punjabi (PA)
Romanian (RO)
Rwandan (RW)
Scots Gaelic (GD)
Serbian (SR)
Sesotho (ST)
Shona (SN)
Slovak (SK)
Slovenian (SL)
Somali (SO)
Spanish, Latin American (XL)
Sundanese (SU)
Swahili (SW)
Tajik (TG)
Tamil (TA)
Tanchangya (TC)
Telugu (TE)
Tibetan (BO)
Tonga (TO)
Tswana (TN)
Turkish (TR)
Uighur (UG)
Ukrainian (UK)
Urdu (UR)
Uzbek (UZ)
Valencian (VA)
Welsh (CY)
Yiddish (YI)
Yoruba (YO)
Zulu (ZU)
We're looking for DTP Specialists for These Tools
Stepes works with a variety of desktop publish tools such as MS Word, PowerPoint, Madcap Flare, and Adobe InDesign. If you work with these tools, we invite you to apply and qualify for our on-going multilingual DTP jobs.
MS Word
PowerPoint
InDesign
FrameMaker
Madcap Flare
QuarkXpress
Microsoft Publisher
XML DITA
Articulate
Excel
Are you an experienced freelance multilingual DTP specialist? Then join Stepes and put your DTP skills to work. We're constantly looking for talented DTP publishers and formatting specialists to layout multilingual documents in MS Word, PowerPoint, Adobe InDesign, FrameMaker, Illustrator, and other desktop publishing tools.
Registering with Stepes DTP program is easy, just upload your CV, select the DTP tools you work with, and then specify your target languages. Once approved, we'll match your qualifications with the most appropriate job offers.
We're only looking for serious and professional DTP publishers who take great pride in delivering the highest quality work on time.
Are You a Professional Translator?
Stepes is a fast-growing online translation company. We're looking for professional native translators in a variety of languages and subject matter fields to provide top-notch document translation services to our clients. If you have the linguistic skills and experience to deliver highly accurate translations on time, register with Stepes to receive translation job offers in your language pairs.