Accurate Human Resource Translations You Can Trust
Are you a human resource management professional looking to translate your organization's employee handbooks, human resource policies, or talent training programs between English and Spanish, English and Chinese, or English and Canadian French? Then look no further than Stepes. We provide accurate human resource translation services in over 100 languages with efficiency. Stepes has the linguistic resources, localization best practices, and language technology solutions to accurately translate and localize a variety of human resource content covering all aspects of employment, such as compliance documents with international labor laws, employee benefits plans, confidentiality agreements, and workforce skills training courses.
Stepes only uses professional native human translators with the right subject matter expertise to translate our clients' HR materials to deliver the highest linguistic accuracy. At the same time, we use industry-leading localization technology solutions that enable our professional linguists to translate with efficiency and scale. Stepes intelligent online translation platform supports translation memory and terminology management in real time, allowing consistent and quality human resource translation solutions at a competitive price. Don't just take our word for it, try Stepes professional HR translation today. We offer a complete customer satisfaction guarantee.
Read More Read Less
Multilingual Talent Management for Global Success
Are you a Chief Development Officer, Chief HR Officer, or Chief Learning Officer? Chances are you're working with an international workforce that needs to be effectively engaged, motivated, and empowered to achieve their highest potential in order to deliver the best human capital essential to your organization's business success. This is why you need Stepes. We provide expert human resource translation services in over 100 languages. Stepes has experience translating a variety of content for global talent management, including enterprise learning, leadership training, and international employee development programs. Stepes has a large team of professional native linguists and multilingual HR subject matter experts to translate all your human resources materials with certified accuracy. Whether you need your global talent training programs, employee handbooks, on-boarding procedures, or HR performance reviews translated into Spanish, Chinese, or Arabic, count on Stepes to deliver the best linguistic results.
Stepes offers a full range of multilingual HR translation and localization solutions to meet all of your human resource translation needs. In addition to standard document translation services, we also help our clients localize enterprise HR software applications as well as multinational employee training materials. We've developed the industry's leading translation management platform so you can centrally manage HR related terms and documents in multiple languages. At the same time, our on-demand translation technologies allow your HR or legal department personnel to answer your international employees' questions in their own languages in real time. Stepes serves some of the world's leading brands for their HR related translation requirements.
Read More Read Less
A Few of Our HR and Workforce Management Clients
Stepes is proud to serve some leading companies in the international HR and workforce management industry. The following are just a few of our HR customers.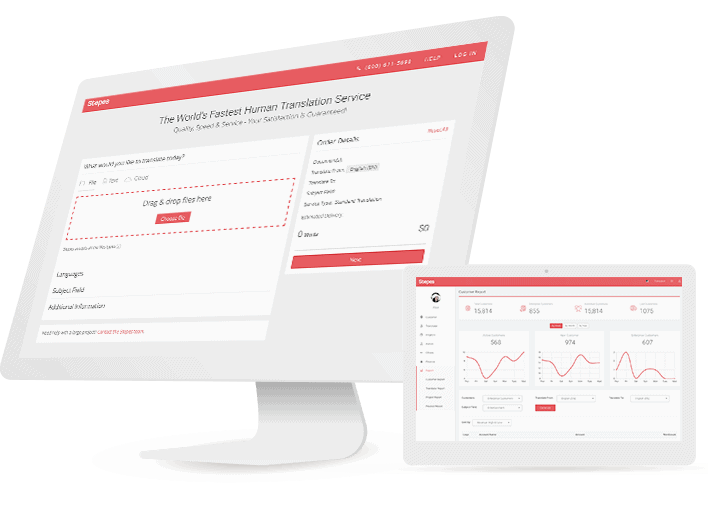 How It Works
Stepes has greatly simplified professional human resources translation services on our easy-to-use cloud localization platform. Simply drag and drop your HR documents and forms onto our online portal to receive an instant translation quote. Upon your approval, our pre-approved professional translators and bilingual HR subject matter experts are immediately assigned to begin translating. You can track the progress of your projects at any time on both desktop and mobile devices. Next, download translated files with the click of a button.
Drag & Drop
Progress Tracking
Download
International Employee Training Translations
Do you need to train your international employees in order to achieve the most optimal business outcomes globally? Chances are you need to translate your corporate HR eLearning courses into different foreign languages so your international workforce are equipped with the right knowledge to succeed. Stepes offers a full spectrum of eLearning and training translation services for all your multilingual HR localization needs. In addition to language translations, our HR training translation solutions also cover voiceover, subtitling, video/audio editing, and multimedia programming. To learn more about Stepes eLearning translations, please click here.
HR Software Localization
Stepes has detailed experience localizing human source and talent management software in Spanish, Chinese, Portuguese, and all major European and Asian languages. Stepes has developed industry-leading software translation solutions so our linguists can view GUI strings in-context during translation, allowing them to deliver superior linguistic accuracy and speed. We work with all HR software platforms on both the cloud and mobile. In addition to language translation, we also provide software localization testing (linguistic QA and cosmetic validation) as well as localized screenshot capture. To learn more about Stepes software localization solutions, please click here.
International Talent Retention
In order to ensure international employee satisfaction and reduce overseas staff turnover, companies must regularly communicate with foreign employees about corporate development goals and growth plans in order to engage and motivate employees to perform at their best. Studies find that such communications are much more effective when conducted in the employee's native language. This is why you need Stepes. We help some of the world's leading companies translate their corporate communication materials in over 100 languages.