Professional Hungarian Translations Online and On-Demand
Stepes helps companies succeed in international markets with technically accurate and linguistically fluent Hungarian translation services. Our innovative language translation technologies accelerate turnaround time so our clients can go to market fast.
Accurate Hungarian Translations Realized
Technically accurate Hungarian translation service is a result of linguistic capabilities, subject matter expertise, professional localization methodologies, and increasingly, language technology innovations that harness the power of the best machine-human solutions. Stepes AI-powered localization solutions redefine language translations from static, ad hoc, and inconsistent workflows, that are not only too slow, but often produce less than perfect linguistic results, to real-time and agile processes. Stepes raises professional Hungarian translation services to a higher level of language localization performance by going beyond terminology management, translation memory, and MT post-editing to provide the best machine-human results throughout the entire translation lifecycle. Stepes helps global enterprises accelerate international success with on-demand Hungarian translation services that deliver certified quality and technical precision.
Looking for accurate English to Hungarian translation services fast? Get an instant quote by click here.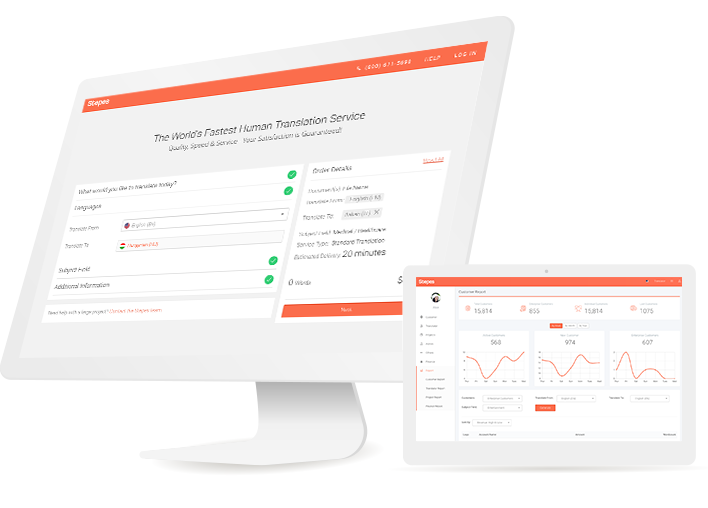 How It Works
Finally, getting your documents professionally translated into Hungarian doesn't have to be a drag on your global product launches. Gone are the situations when you have to send files through email or FTP, and then wait for hours if not days to receive even the simplest translation quotes. Stepes has simplified the entire translation management process so all you need is to drag and drop your files onto our AI-powered online translation portal to receive an instant quote. Start the translation by simply clicking a button and our pre-approved Hungarian linguists will start translating immediately.
Upload
Monitor
Download
Hungarian Document Translations
Stepes translates all business documents from English into Hungarian and vice versa, including user manuals, business contracts, online help, training courses, and case studies. Our intelligent multilingual document parser is able to dynamically extract content from a variety of document formats such as MS Word, PDF, PowerPoint, Adobe InDesign, FrameMaker, DITA, XML, scanned documents, and more. As a cloud translation platform, Stepes is able to leverage translation memory and then perform translation pre-processing using different MT (machine translation) engines before our professional Hungarian translators begin translating or performing MT post-editing for the highest linguistic quality and project efficiency. To learn more about Stepes document translation service, please click here.
Professional Hungarian Medical Translation Services
Stepes provides certified Hungarian medical document translation services to some of the top global life science companies. Stepes owns the world biggest multilingual medical terminology database (dictionary) so our Hungarian linguists can translate with accuracy and speed. In addition to written translation work, Stepes also provides medical interpretation services to help bridge the gap between doctors and clinicians with Hungarian patients using our modern mobile and location-based translation system. Our large team of professionally trained Hungarian linguists are able to translate all major life science disciplines such as pharmaceutical, medical device, healthcare, and biotechnology. Stepes has expert experience translating IFUs (information for use), medical device manuals, drug labels, informed patient consent forms, clinical studies, and medical publications. To learn more about Stepes medical translation solutions, please click here.
Hungarian Legal Translations
Stepes provides a full suite of legal translation services from technology patents and privacy policies to legal contacts and litigation support documents. We have highly experienced Hungarian linguists and subject matter experts who specialize in a variety of legal fields to deliver linguistically accurate and technically precise English-Hungarian judicial translations. Stepes also owns one of the largest multilingual legal terminology databases to help our Hungarian linguists translate accurately with confidence and speed. To learn more about Stepes legal translation services, please click here.