Engage Customers in Iceland and Globally with the Best Icelandic Translations
Stepes (pronounced /steps/) helps the world's leading companies to most effectively conduct international business operations with fast and accurate English to Icelandic translation services.
Accurate Icelandic Translations for Your Global Success
Stepes provides high quality English to Icelandic and Icelandic to English translation services that are certified under the ISO 9001 standards. We have one of the largest teams of professional Icelandic translators and subject matter experts to deliver linguistically accurate and technically precise document and website translations to multinational companies in a variety of industry fields, including life sciences, finance, legal, technology, ecommerce, and manufacturing. Stepes owns one of the largest multilingual terminology dictionaries collaboratively developed from the ground up by the best linguists and industry subject matter experts, allowing our Icelandic translators to confidently translate your documents with speed.
Consistent, quality Icelandic translation is a result of linguistic experience, subject matter expertise, and increasingly modern, smart translation technologies that use AI to automatically check for a variety of linguistic properties, such as terminology accuracy, sentence consistency, as well as mistranslations or grammar issues. Stepes' fully automated translation workflow removes many of the manual tasks, eliminating potential human errors and achieving localization results that're better than ever. Stepes is a leader in next-gen cloud-powered translation solutions, enabling our Icelandic linguists to deliver unrivaled English-Icelandic localization performance with the best language accuracy and efficiency.
Read More Read Less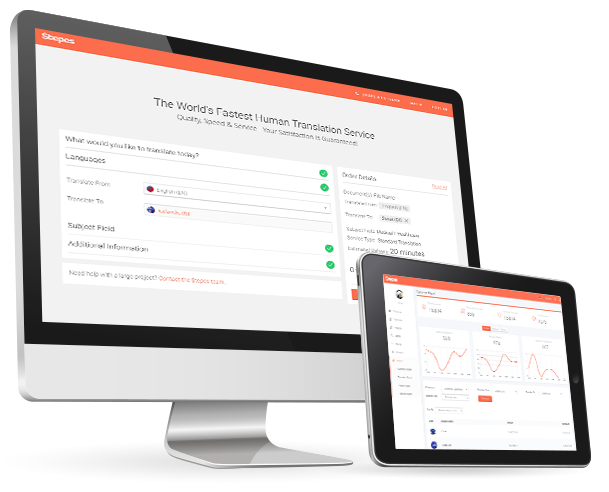 How It Works
With Stepes, translating your documents in Icelandic is as easy as dragging and dropping your files to our online translation portal. Our AI powered translation management platform is able to analyze your content and provide a quote in real time. Upon your approval, our pre-approved Icelandic linguists with the right subject matter expertise are immediately assigned to start translating. Since Stepes is the first translation company to support mobile. You can track the progress of your project at any time on both desktop or mobile. Simply to download your translated documents with the click of a button. In today's rapidly growing digital economy, more and more companies rely on Stepes for simper, faster, and more cost-effective Icelandic translation services.
Upload
Track
Download
Icelandic Life Science Translations
Are you looking for high quality English-Icelandic translation services for your life sciences business expansion internationally. We have the linguistic experience and subject matter expertise in pharmaceutical, medical devices, healthcare, and biotech fields to deliver perfect Icelandic translations. Stepes owns the language industry's largest life sciences terminology database, allowing our professional in-country Icelandic translators and medical subject matter experts to confidently translate your health related content with accuracy and speed. To learn more about Stepes exceptional medial translation solutions, please click here.
Certified Icelandic Translations for Financial Services
As an ISO 9001:2015 certified translation company, we provide certified Icelandic translation services for banking, insurance, international accounting, and investment industries. Our professional native Icelandic linguists are specially trained to translate a variety of financial services documents, such as bank statements, balance sheets, profit and loss reports, as well as business contracts with the highest level of linguistic and technical accuracy. In addition to our excellent Icelandic translation solutions, we also provide financial services companies with virtual data rooms for the secure management of their multilingual financial documents. To learn more about Stepes expert translation solutions for financial services, please click here.
Icelandic Legal Translation Services
Stepes provides highly accurate Icelandic translation solutions for the legal field. Whether your need your terms of use, privacy policy, technology patents, non-disclosure agreements, or business contacts translated with quality and speed, we have the legal linguistic experts and cutting edge technologies to ensure your legal documents are translated right every time. We have streamlined the Icelandic translation process so translating your legal documents with accuracy doesn't have to break your bank. Don't just take our word for it, try our high efficient Icelandic legal translation services today. We offer complete customer satisfaction guarantee.