Your PowerPoint Presentations Translated Right
Stepes (pronounced /steps/) provides fast and accurate PowerPoint translation services so companies can confidently communicate with international audiences for global success.
Accurate Translations of PowerPoint Slides
Stepes is a professional language translation and localization company certified under the ISO 9001 quality standard. We have one of the largest teams of professional in-country linguists and multilingual subject matter experts, helping our clients to accurately translate a variety of business communications content including Microsoft PowerPoint or Apple Keynote documents into over 100 languages. Whether your PowerPoint deck is a company marketing pitch, technical presentation on your products and services, or user instructional and training manuals, Stepes has the best translation solutions to meet all of your PowerPoint translation needs with quality and speed. Simply drag and drop your .ppt or .pptx files onto our online translation portal to receive an instant quote. Upon your confirmation, our pre-approved linguists are immediately assigned to begin translating.
Quality PowerPoint translation is a product of linguistic experience, subject matter expertise, and increasingly, digital translation technologies that combine the power of machine-human solutions. With Stepes, our intelligent translation management system is able to automatically process all versions of PowerPoint files—extracting the text content for an instant online quote, parsing the text for translation leverage, and allowing our linguists to efficiently translate the content with accuracy. Stepes provide end-to-end PowerPoint translation services including language translation, formatting, and publishing the localized slides to eLearning systems and SlideShare websites.
Read More Read Less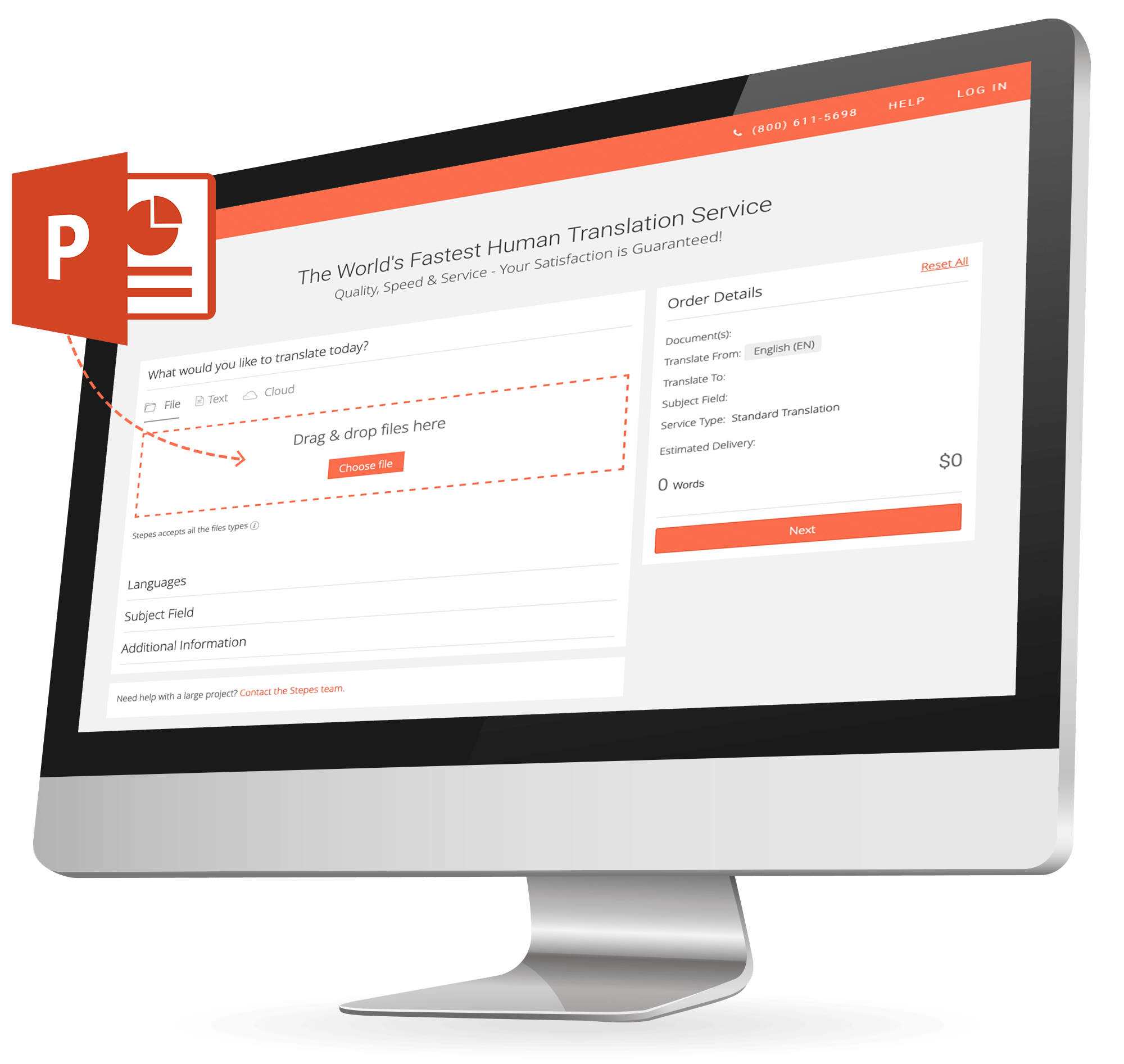 How It Works
With Stepes, translating your PowerPoint presentations from English into Chinese, German, Spanish, and all European and Asian languages is quick and easy. Simply upload your slide deck onto our online portal to receive an instant quote. Upon your approval, our pre-approved, professional linguists are immediately assigned to begin translating. You can track the translation progress in real-time using your online dashboard. Download your translated PowerPoint files with the click of a button.
Upload
Track
Download
Multilingual PowerPoint DTP
In addition to translating PowerPoint slides with the highest level of linguistic quality, Stepes also provides expert desktop publishing services (DTP) for localized presentations so graphics, document layout, and animation effects look professional in the target language(s). Stepes' highly trained DTP specialists are familiar with foreign language fonts, international typographical rules, and graphic design best practices. We're able to format PPT files in all languages including double-byte languages such as Chinese, Japanese, and Korean, as well as bidirectional languages like Arabic and Hebrew.
PowerPoint Localization for Major Industries
Stepes provides accurate PowerPoint translations by professional linguists and subject matter experts for all major industries.  Whether your presentation is for life sciences, finance, technology, or manufacturing, we have the linguistic experience and subject matter expertise to deliver the most accurate translations. Don't just take our word for it. Try Stepes PowerPoint translation services today for unrivaled localization performance. If you're not completely satisfied with our quality, we'll gladly refund your money. We deliver complete customer satisfaction.
Need Professional PowerPoint Translation Services?