Rapid Content Translation Is the New Global User Experience
The digital economy has radically changed customer expectations with regards to turnaround times. Fast translation delivery no longer implies days or hours; it is now minutes and seconds. Stepes mobile-powered real-time language solutions help businesses accelerate global time to market so they can improve business outcomes internationally. Companies that employ read-time translation services will be able to beat their competitors and stay ahead in global markets.
How It Works
Step 2
Upon your approval, translation kicks off right away with Stepes sending out mobile notifications instantly to pre-qualified translators matching the subject field you specify. It then allows them to translate immediately on their mobile devices or desktop computers anywhere.
Step 3
You get a real time job completion notification on your mobile or desktop so you can download your translated content. You also get a chance to rate the linguist's timely performance.
 Throughout the translation process, you can track and monitor project progress in real time online or via your mobile phone.
Estimated turnaround times for your translation requests:
Use Cases of Real Time Translation
Today's translation requirements are complex, stemming from multiple channels, and need instant high-quality translations. Stepes combines the power of mobile, machine cognitive services (artificial intelligence), and expert human translations to deliver the fastest language solutions the world has ever seen. Here are some applicatoins of our real time translation services:
Fast content delivery in all languages to create the best user experience globally
Real-time business intelligence translations for improved bottom line
Live international customer support
On-demand translation of user generated content (UGC)
Rapid localization of software strings required by today's agile development
Multilingual press releases and digital marketing campaigns with speed
Time-based financial information translation for improved international regulation compliance
Fast stock market translations for improved investment decisions on a global scale
Just-in-time social media translation for global product and service launches
Medical emergency translations
Try Our Instant Online Translation Now
Loading Live Human Translation Widget...
Stepes Machine-Human Solutions
Stepes redefines real-time translation by bringing human translators into our localization pipeline, to deliver both speed and quality while achieving scalability. This is made possible by Stepes unique mobile translation technology. For the first time, we are able to connect to our linguists on-demand via smartphones and allow them to translate anywhere and anytime, from their mobile devices in addition to their desktop computers.
Multichannel Commerce Meets Real-Time Translations
There are numerous business requirements today that need real time translation solutions. The digital revolution means companies now create content through all channels such as mobile, call centers, over the Web, Internet of Things, social media, SMS, email, and on-demand advertising in order to stay current with market development. The multichannel nature of today's business environment requires agile and on-demand translation solutions that are faster than ever. Companies that take advantage of Stepes real time translation capabilities will be able to attain success on a global scale.
Introducing Stepes Real Time Translation App
Stepes disrupts the traditional localization model to deliver real-time human translation and interpretation services around the clock and around the world.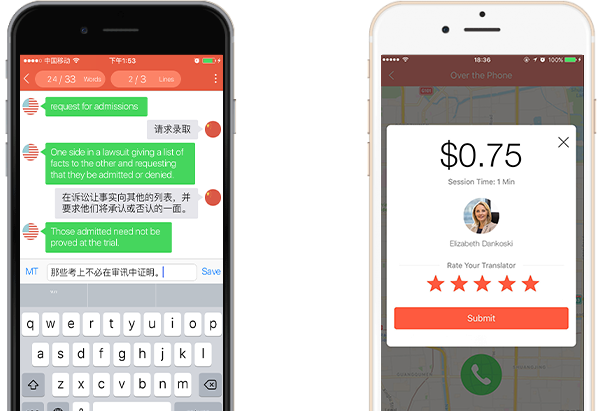 Q&A: What Is Real Time Translation?
Real Time Translation (RTT) is a process which enables rapid human translation of documents and texts on-demand. Real time means that the translation occurs while the source content is being created or immediately after, thereby significantly reducing time to market for the translated content. Real-time language translation services today use a variety of technological solutions such as machine translation post editing (MTPE), mobile notifications, TM leverage, and automated project management to ensure super-fast turnaround times. With RTT, companies can expect quality human translations of their content in a few minutes or hours instead of days or weeks using conventional localization models.