Engage Slovakia Customers and Business Partners with the Best Slovak Translation Services
Stepes translates fast with quality so our clients can confidently grow their business in Slovakia and other Eastern European countries. Our agile, on-demand, and professional Slovak translation services are second to none.
Fast & Accurate Slovak Translations
Looking for a reliable language partner for your Slovak document translation needs? Then look no further than Stepes. We're helping hundreds of companies grow business in Slovakia and globally with the best Slovak translation solutions that deliver linguistic accuracy and fast speed. Stepes is one of the largest translation companies in the world providing global enterprises in medical, financial, legal, manufacturing, and technology industries with on-demand and scalable Slovak translation services. Stepes disrupts old fashioned, slow, and expensive translation models with our modern online ecosystem that makes language localization simpler, faster, and more cost-effective. Stepes is powered by thousands of professional native in-country Slovakian translators who are supported by our modern translation management technologies for the most efficient language services the industry have ever seen. Try Stepes today and take your Slovak translations to a whole new level of performance.
How It Works
Translation services have gotten away from the mission of helping businesses communicate most efficiently across languages. Instead, language services are increasingly becoming overly complicated, too slow, and excessively expensive. This is why you need Stepes. We've worked hard to simplify and accelerate professional translations so you get what you need translated on-demand and easily. Simply follow the three easy steps below to get your documents translated into Slovak fast  and hassle-free.
Upload File
(We support all files formats such as Word, PDF, InDesign, PowerPoint, and Excel.)
Specify Subject
(Tell us the industry or subject matter of your content and Stepes will match the right Slovak linguists)
Download Translations
(Download your translated documents with the click of a button.)
myTranslator – Your Dedicated Slovak Translation Team
Stepes believes that consistent and quality translations require dedicated linguists who understand your project requirements and industry background. This is why we build a team of dedicated linguists for each of our enterprise customers to support their language translation needs on an ongoing basis. myTranslator is a feature of the Stepes AI-powered translation management system that most efficiently organizes and manages our customers' dedicated linguistic teams. It uses data-driven solutions to monitor our linguists' translation performance in real time. Each linguist is evaluated based on linguistic quality, turnaround time, and responsiveness on a continuous basis. Build your extended Slovak translation team with Stepes is easy. All you need to do is to start using our translation services and the linguists you rate 5 star will automatically become your myTranslator members.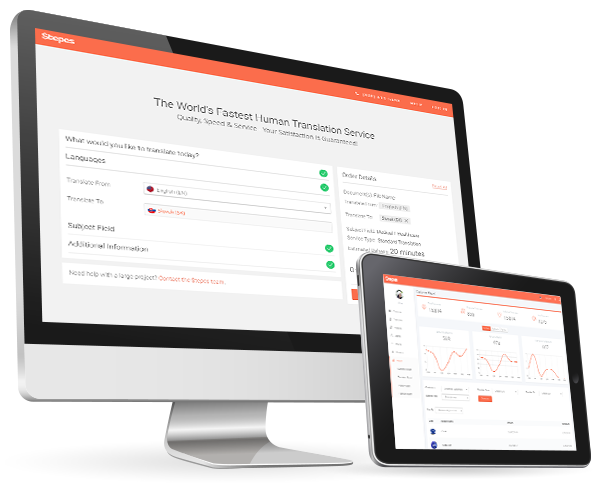 Slovak Online Translations
The Internet is transforming many industries and the best language translation services are shifting online. This is because the cloud combined with AI and APIs hold the key for next-gen enterprise translation solutions for unrivaled performance and scalability. Stepes online Slovak translation model is all about using AI and big data to deliver simplicity and speed. We've streamlined the entire document translation lifecycle and use HTML5 and RESTful APIs to create a seamless user experience. Stepes is able to connect to a variety of CMS systems such as WordPress, Drupal, and customized CMS solutions for a fully automated Slovak online translation workflow. Click here <add new link> to get an instant Slovak translation quote and test drive our online translation solutions today.
Slovak Medical Translations
Looking for ISO 13485 certified medical translations in Slovak? No problem. We have the linguistic professionals and subject matter experts to translate your life sciences documents with precision. Our intelligent translation ecosystem is able to provide our medical linguists with real-time terminology lookup, concordance search, and automatic spelling, grammar, and punctuation checks to ensure the most efficient localization process. Stepes provides expert medical translation services for device manuals, clinical documents, regulatory submissions, medical marketing materials and more. Talk to our sales about your Slovak medical translation needs to develop a customize localization solution tailored to your specific needs.
Slovak Translations for Financial Services Industry
At Stepes, we translate for all areas of the financial services industry from English to Slovak as well as from Slovak to English. Our highly trained financial linguists understand the importance of translation accuracy to our clients' bottom line. Stepes owns one of the language industry's largest financial terminology databases for unrivaled Slovak localization performance. We translate banking documents, insurance policies, corporate finance reports, and all other content materials for the financial services sector with accuracy and speed. To learn more about Stepes financial services language solutions, please click here.