Fast, Accurate Slovenian Translations by Language Professionals
In today's globalized economy, companies must engage international customers in their own languages in order to achieve business success on a global scale. This is why you need Stepes, the leading online translation company for fast and professional English-Slovenian translation services. Stepes employs a large team of professional native Slovenian linguists and subject matter experts who specialize in our clients' industry fields such as life science, finance, technology, legal, manufacturing, and more. We further support our Slovenian translators with innovative translation technologies, allowing them to efficiently translate with accuracy.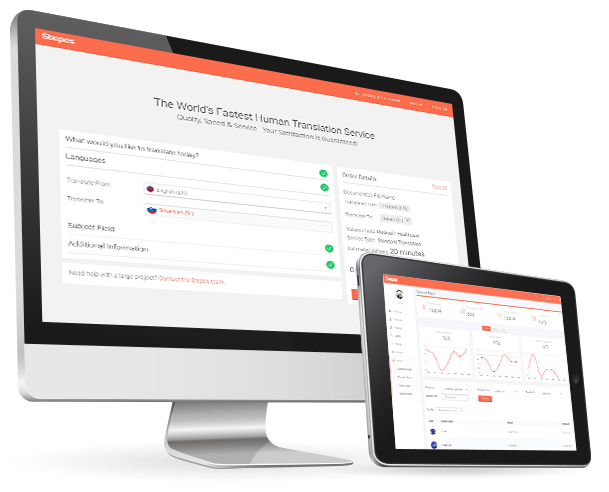 Online Slovenian Translations
The Internet has transformed many industries and localization services, including English-Slovenian translations, are shifting online. Stepes is an undisputed leader in next-gen online translations, delivering agile language localization solutions that enable modern businesses to accelerate international business growth. Compared to traditional offline translation models, Stepes provides simpler, faster, and more cost-effective Slovenian translations. Our online translation ecosystem supports a number of different translation solutions such as on-demand, continuous, and automated language localization via APIs.
With Stepes, getting your documents translated is as simple as a few mouse clicks. Simply drag and drop your files onto our online portal to receive an instant quote. Upon your approval, our pre-approved Slovenian translators with the right subject matter expertise start translating right away. Stepes supports a variety of translation best practices such as translation memory, terminology management, and modern MTPE (machine translation post-editing.) Upon completion of your translation project, you can download the translated documents with the click of a button.
Read More Read Less
Automated Slovenian Translation Workflow
Let's face it, translation services have become too slow and costly due to the large number of manual human touch points associated with old fashioned translation processes. Tasks such as pricing calculation, file preparation, project assignment, linguistic query management, and billing/invoicing can all be automated using modern online technology, similar to how Amazon has automated the shopping process. Stepes has streamlined professional Slovenian translation services so companies can get their documents translated fast and hassle free, at a fraction of the cost traditional localization models charge. Stepes is the first enterprise translation management system that employs modern AI to deliver the best Slovenian translation solutions the language industry has ever seen.
Slovenian Medical Translations
Stepes provides ISO certified Slovenian translations for the life sciences including pharmaceutical, medical devices, healthcare, and CRO industries. We understand the importance of linguistic accuracy to our life science clients and this is why we hire the best medical Slovenian linguists the language industry has to offer and then support them with industry leading translation technologies to consistently deliver the highest level of linguistic quality. Stepes owns the world's largest medical terminology database so our Slovenian translators can translate accurately with confidence without sacrificing speed. Our intelligent cloud translation ecosystem is able to check for a variety of language issues in real time, achieving unrivaled Slovenian localization performance. To learn more about Stepes medical translation services, please click here.
Slovenian Financial Translations
Modern financial services such as international banking, global merger & acquisition, and overseas finance all require highly accurate language translations without sacrificing security and speed. This is why you need Stepes. We've revolutionized the way financial documents are translated from English to Slovenian online. Our highly secure virtual data rooms allow our financial services clients to confidently manage confidential multilingual documents with peace of mind. Stepes employs some of the best professional native Slovenian linguists who specialize in all areas of financial services. To learn more Stepes financial translation solutions, please click here.