Accurate Swahili Translations Online and On-Demand
Stepes (pronounced /steps/) provides fast and quality Swahili document translation services to leading international companies so they can confidently engage customers in Africa.
Professional Swahili Translations by Native Translators
Are you looking for accurate English-Swahili translation services you can trust for your international business operations in Africa? Then look no further than Stepes. We have one of the localization industry's largest teams of professional, native Swahili translators to meet all of your document translation needs in Swahili and 100 other languages. Stepes has the linguistic experience, subject matter expertise, and the latest localization technology tools to deliver the best Swahili translations in terms of quality, speed, and competitive service. Don't just take our word it, try our professional Swahili translation solutions today risk free and take advantage of our 30-day customer satisfaction guarantee.
Stepes provides certified Swahili translations to top Fortune 500 companies in life sciences, financial services, manufacturing, legal, and government sectors. Our English-Swahili linguistic experts and localization production teams work hard around the clock and around the world to ensure your English documents are most accurately translated into Swahili on time and on budget. This is why once a customer has used our Swahili translation service, they stay with Stepes. In addition to our experts' linguistic capabilities, Stepes also trains our native Swahili translators to employ next-gen cloud translation technology to achieve unrivaled localization speed and scalability.
Read More Read Less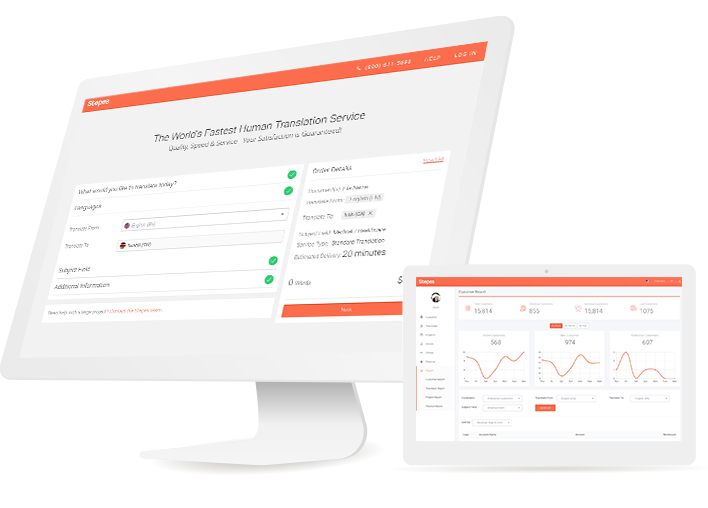 Online Swahili Translation
Stepes has greatly simplified the way you order, track and receive Swahili translations. Our industry leading online translation solutions simplify the entire Swahili translation process so getting your documents translated with quality and speed is only a few clicks away. Just drag and drop your files onto our online translation portal, specify the target industry, and our intelligent translation management system will immediately create a translation quote for your review. Upon your approval, our professional Swahili translators with the right subject matter expertise are assigned to translate your documents immediately using translation memory and terminology systems. Simply download the translated files with the click of a button.
Swahili Document Translations
Stepes translates a variety of business documents from English into Swahili, including technical manuals, product user guides, legal contracts, financial reports, and training courses. Our intelligent, cloud-based translation management system is able to extract content from MS Word, PowerPoint, InDesign, and PDF files automatically to generate an instant translation quote. Stepes also supports translation memory so the same sentences are never translated twice for cost savings and improved linguistic consistency. Stepes has a large team of professional Swahili linguists specializing in a variety of industry fields to produce technically accurate document translations for our clients document localization needs. In addition to language translation, Stepes also provides expert desktop publishing services so the localized documents are professionally formatted to the exacting standards. Simply drag your files onto our online portal to receive an instant Swahili quote.
Swahili Life Sciences Translations
Finally translating your medical documents with quality and speed is a reality. Stepes has streamlined professional medical localization services to deliver quality English-Swahili translations without breaking the bank. We do this by automating much of the translation process to remove unneeded human touch points. At the same time, we employ the best professional Swahili linguists with life sciences backgrounds to translate all of your medical documents with the highest level of linguistic accuracy. Stepes provides ISO 13485 certified translations to leading companies in pharmaceutical, medical devices, healthcare, CRO, and biotech industries. To learn more about Stepes medical document translation services, please click here.
Swahili Financial Services Translation
Stepes understands the importance of linguistic and technical accuracy to our financial services clients looking to translate their business documents from English into Swahili. This is why we have developed one of the largest financial terminology databases within the language localization industry in order to allow our professional Swahili translators to consistently deliver the best results. Stepes only uses professional Swahili linguists with subject matter expertise in banking, investment, insurance, and corporate finance to translate our client's financial documents. Our cloud-based translation management ecosystem automates much of the translation workflow so we can deliver high quality results with efficiency. To learn more about Stepes financial services translations, please click here.