Quality Tagalog Translations by Professional Native Translators and Subject Matter Experts
Stepes (pronounced /steps/) delivers fast and accurate English-Tagalog translation services you can trust. Your complete satisfaction is guaranteed.
Engage Filipino Customers with the Best Tagalog Translations
Officially named Filipino, Tagalog is spoken by 70 million people in the Philippines and worldwide. Stepes has the linguistic experience and language technology solutions helping global businesses to effectively market to and engage Filipino customers with fast and quality Tagalog translation services. We have thousands of professional native linguists with subject matter expertise in medical, financial, legal, manufacturing, and travel industries to deliver linguistically fluent and technically accurate translations you can tr
We've redefined professional Tagalog translations so getting your documents and website translated right is only a few mouse-clicks away. Simply drag and drop your files onto our online portal to receive an instant quote. Upon your confirmation, our expert Tagalog linguists will begin translating immediately. Simply download your translated files with the click of a button.
Read More Read Less
5-Star Native Tagalog Translators
High quality Tagalog translations can only be achieved by experienced native translators with the right industry and subject matter expertise. Stepes employs a large team of professional Tagalog linguists in the Philippines who are specially trained to work with the latest online localization technology tools to achieve the best translation efficiency. Our AI-powered translation management system supports our Tagalog linguists with real-time terminology look-up and concordance search of previously translated text for the best translation productivity and linguistic consistency. Stepes also provides our clients with MTPE (machine translation post-editing) on desktop and mobile, allowing our translators to deliver the best Tagalog translation results at scale. As a business customer, you have the ability to rate the performance of our Filipino translators after each project. The linguists you consistently rate 5 stars will automatically become your myTranslator members for future projects.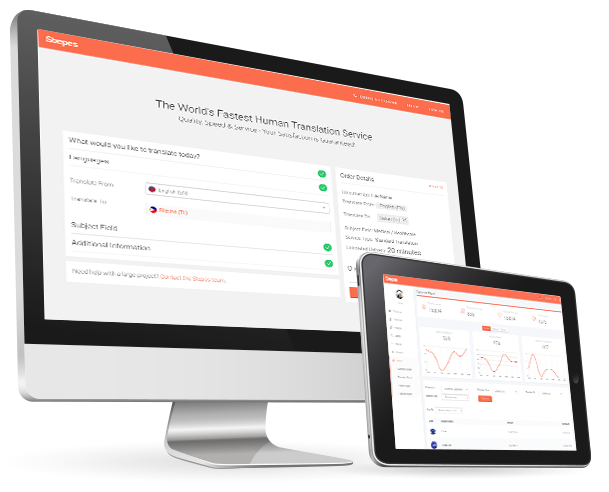 How to Easily Translate Documents in Tagalog?
Let's face it, translation services have become overly complicated, too slow, and unduly expensive. The digital transformation compels companies to find better translation solutions that are simpler, faster, and more cost-effective. This is why you need Stepes. We help international businesses to effectively market their products and services in Tagalog. Simply upload your documents onto our online portal. Stepes intelligent translation system will automatically extract the text to create an instant quote. Upon your approval, translation starts immediately with our pre-approved English-Tagalog linguists.
Our Tagalog linguists translate your content using our online workbench powered with the latest web technology. Customers and translators can directly communicate with one another via Stepes' project message (chat) window for linguistic queries. Throughout the translation process, our HTML5 powered linguistic review portal allows the Tagalog text to be proofread in context and in real time. Next, Stepes document publishing system automatically generates the translated file with the right layout and format for the customer to download. The entire process is fully automated for a lean localization model. This is why Stepes delivers faster, better, and more affordable Tagalog translation services on a consistent basis.
Read More Read Less
Tagalog Translation Q&A
We've compiled a list of common Tagalog translation questions and answers to help guide you on finding the best language solutions for all your business communication needs in the Philippines.
What is the difference between Tagalog and Filipino?
Technically there is no difference between the two language names as far as translation and localization services are concerned. Tagalog is the language that's native to a big part of the Philippines for centuries. Filipino is the standard and formal version of Tagalog with the Spanish influence. Since 1987, the name Filipino has been formally adopted to refer to Philippines' official language.
Do I need to translate into Tagalog if everyone speaks English in the Philippines?
The answer is yes if you want to create consumer products that truly resonate with locals. Even though English is an official language, it doesn't mean everyone speaks English in the country. With the renewed cultural identity awareness push, products localized into Tagalog are gaining better customer loyalty with enhanced user experience.
Is Tagalog only spoken in the Philippines?
The Philippines has the largest number of native speakers of Tagalog. However, the language is also spoken by immigrant communities in the United States, Saudi Arabia, Australia, Canada, and China. Worldwide, there are over 70 million Tagalog speakers, representing a significant market for language translations between English-Tagalog, Japanese-Tagalog, Spanish-Tagalog and others.
Need Professional Filipino Translation Survives?