Professional TikTok Video Translations in over 100 Languages
Stepes (pronounced /'steps/) provides high quality TikTok video translation services for subtitles, captions, and voice-overs so you can engage international audiences across languages and market your business brands globally.
Your TikTok Videos Can't Engage International Audiences If They Don't Speak the Right Language
TikTok is a rapidly growing global social media network powered by short, creative videos that attract and engage audiences from around the world. Indeed, TikTok videos often come in short, bite-sized clips that can become quite addictive, capturing audience attention in unique ways as compared to other video platforms such as YouTube and Vimeo. Smart businesses are taking advantage of this tremendous marketing opportunity by producing creative TikTok videos to promote their brands in a variety of languages. This is why you need Stepes. We help companies translate subtitles and captions, as well as multilingual voiceover in over 100 languages with quality and speed.
TikTok is billed as the next Snapchat or Instagram, having captured nearly two billion users worldwide in as little as three years and rapidly growing. Compared to other social media networks, TikTok has a younger clientele which is more inclined to view videos in their own languages. This means businesses must localize their TikTok videos to achieve global success. The good news is translating your TikTok videos with quality and speed doesn't have to be a complicated undertaking or break the bank. Stepes has greatly simplified TikTok video translations onto the cloud. Just drag and drop your TikTok video onto our online portal or provide us with the URL, we'll take care of the rest.
Read More Read Less
Accurate TikTok Video Translations You Can Trust
Are you distributing your TikTok videos to international audiences to market your brands in global markets? Stepes provides exert video translation services by professionally trained human translators and subject matter experts. We translate a variety of TikTok videos such as brand marketing, business explainer, or product demos with quality and speed. You've spent time and money producing your English video content and the last thing you want is to work with an average translation company to localize your TikTok videos with mediocre quality. When it comes to international customer engagement, professionally translated videos can make or break your brand. We're so confident you'll be impressed with our video translations that we offer our clients complete satisfaction guarantee.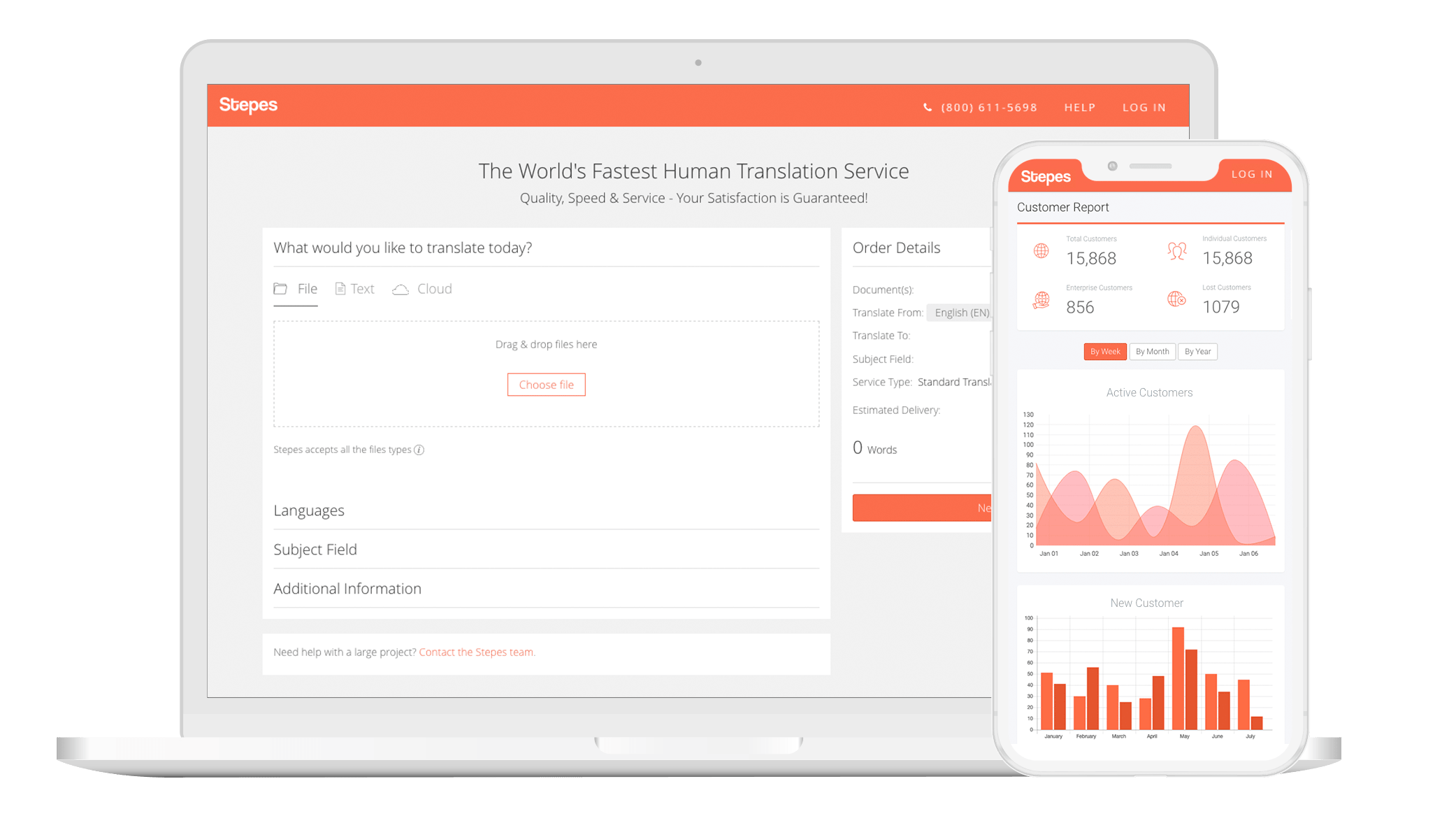 How It Works
Translating your TikTok videos with Stepes is easy. Simply drag and drop your TikTok videos (you can also provide a link to your TikTok video) onto our online translation portal. Next specify the desired languages. Stepes will analyze your video files and generate a translation quote in real time. Upon your approval, Stepes will automatically transcribe the audio script for our linguists to translate into the target languages. We'll output fully translated videos with multilingual subtitles or voiceover based on your specifications. Download the translated videos with the click of a button.
Upload
Transcribe and Translate
Download
YouTube Translation Service
In addition to TikTok translations, Stepes also helps our clients translate YouTube videos such as training videos, product demos, and marketing promotions. We have one of the largest teams of professional in-country linguists and voice-over talents to deliver high quality subtitle translations and dubbing services in all European, Asian, Latin American, and African languages. Stepes owns a fully automated translation management system on the cloud that's purposely developed to streamline video translation to deliver unrivaled efficiency and speed. We help the world's leading companies achieve greater international success with on-demand YouTube translation services, one accurately translated video at a time.
Advertising Videos Translated Right
TikTok has a become an important social marketing platform for businesses to advertise their products and services on a global scale. Companies can either use ad videos created internally or videos that are user generated to promote their brands. In either case, these ad videos must be accurately translated into Spanish, French, or Chinese in order to be searchable in their own languages by international users. Stepes offers both advertising video translation as well as multilingual SEO services to help our clients achieve the best ROI for their TikTok marketing campaigns. Talk to one of our advertising translation consultants today to learn how Stepes can help your business achieve multilingual TikTok advertising success globally.
AI Powered Translation Services
TikTok employs AI (artificial intelligence) and machine learning to analyze users' preferences through their interactions with the video content and then feeds selected videos tailored to each user's interests. This makes it ideal for businesses to create marketing videos that better target the right audience for the best business outcomes. Stepes is ideally positioned to translate such videos because we've also developed an AI powered translation management system, allowing the right translators with the related subject matter expertise to translate your subtitles and captions for superior linguistic results. Stepes leads the language industry with next-gen AI powered translation solutions.
Need Professional TikTok Translation Services?