Accurate Transportation Translations You Can Trust
Are you engaged in the transport business of moving people and/or goods across international borders and need professional language translation services to localize your transportation documents between English and Chinese, English and Spanish, or English and Vietnamese? Then look no further than Stepes. We help the world's leading transportation and logistics companies localize a variety of technical documents such as product manuals, training documents, air waybills, bills of lading, commercial invoices, or combined transport documents (CTD) with accuracy and speed.
Stepes has one of the largest teams of professional translators and multilingual subject matter experts who are highly skilled at translating for all transportation sectors including air, rail, road, water, and pipeline transport. We help global transportation companies turn their translation spend into strategic investment for global success by deploying quality multilingual documents to international customers and partners most efficiently.
Stepes industry leading translation management technology solutions are purposely built to support global transport enterprises to manage translation memory, terminology glossaries, and multilingual localization projects on the cloud to achieve unrivaled quality performance at speed and scale.
Read More Read Less
A Few of Our Transportation Customers
Stepes is proud to provide language translation services to many transportation and logistics companies globally. The following are just a few of our transportation clients.
Transportation Technologies Translated Right
Like many other industries, technology innovations are helping transportation and mobility companies discover new business models to accelerate business growth globally. Autonomous driving, GPS powered with 5G, AI-enabled freight deliveries, and shared transport services are redefining the transportation industry around the world. These technology solutions generate a large amount of content such as product documentation, training courses, and regulatory documents that all need to be made available in multiple languages. This is why you need Stepes. We help transport companies localize transportation technologies into over 100 languages with quality and speed so they can stay ahead of the competition on international markets. Stepes has expert experience translating software apps, websites, and training courses between English and all European, Latin American, and Asian languages.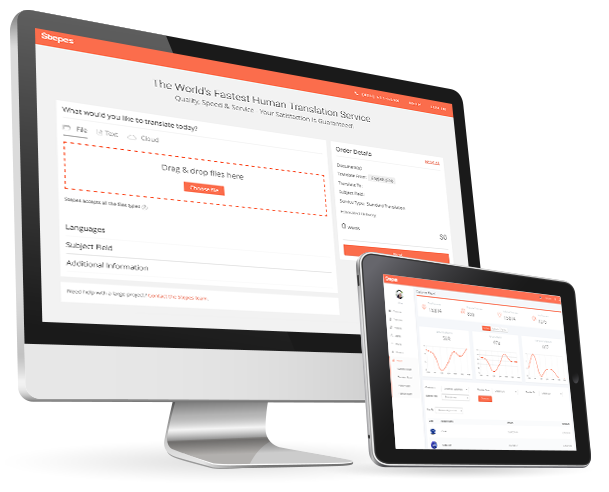 How It Works
Stepes has greatly simplified the process to get your transport business related documents translated with quality and speed. Simply drag and drop your documents and specify the target languages to receive a free instant quote online. Once you confirm the project, Stepes will immediately assign the translation to our pre-approved linguists with the right subject matter expertise to start translating. You can download the translated documents with the click of a button.
Upload
Monitor
Download
Professional Translations for the Railroad Industry
The railroad industry has come a long way from traditional locomotives powered by diesel engines to modern electric high-speed trains that are capable of traveling at 230 miles per hour or faster. This creates ample opportunities for railway companies engaged in the design and manufacture of a variety of rail transport technologies and products to grow business on a global scale. Stepes provides linguistically fluent and technically accurate translation services for all types of railroad transport systems and products from signaling to motive power, as well as rail tracks and freight carriages. To learn more about our professional rail industry localization solutions, please visit Stepes Railroad Translation Services.
Multilingual Translation for International Shipping Services
In today's global digital economy, more and more goods are purchased online and then shipped to customers from around the world. This is why shipping services such as FedEx, DHL, and UPS are all growing their multinational operations to meet the demand of international markets. This means shipping services increasingly need a variety of technical documents and business content translated from English into Spanish, English into French, and English into Japanese. Stepes provides fast and professional language translations for the world's leading shipping companies on the cloud. Simply drag and drop your documents onto our online translation portal to receive an instant quote. Upon your confirmation, our pre-approved linguists will immediately begin translating.
Transportation Translation in 100 Languages
Stepes provides high quality language translation services for the transportation industry in over 100 languages. Our cloud-based translation management system allows our transportation clients to manage all of their multilingual documents online in one central location. The following is a list of languages we support.
Arabic (AR)
Chinese, Simplified (ZS)
Czech (CS)
Danish (DA)
Dutch (NL)
English (EN)
English, UK (UE)
Finnish (FI)
French (FR)
German (DE)
Italian (IT)
Japanese (JA)
Korean (KO)
Norwegian (NO)
Polish (PL)
Portuguese, Brazilian (PB)
Russian (RU)
Spanish (ES)
Swedish (SV)
Thai (TH)
Vietnamese (VI)
Afrikaans (AF)
Albanian (SQ)
Amharic (AM)
Armenian (HY)
Azerbaijani (AZ)
Basque (EU)
Belarusian (BE)
Bengali (BN)
Bhutanese (BT)
Bihari (BH)
Bosnian (BS)
Breton (BR)
Bulgarian (BG)
Burmese (MY)
Catalan (CA)
Chinese, Hong Kong (ZH)
Chinese, Traditional (ZT)
Croatian (HR)
English, Australian (AE)
English, Canadian (CE)
Estonian (ET)
Faroese (FO)
Filipino (TL)
French, Canadian (CF)
Frisian (FY)
Galician (GL)
Georgian (KA)
Greek (EL)
Guarani (GN)
Gujarati (GU)
Hausa (HA)
Hawaiian (HW)
Hebrew (IW)
Hindi (HI)
Hungarian (HU)
Icelandic (IS)
Igbo (IG)
Indonesian (ID)
Interlingua (IA)
Irish (GA)
Javanese (JW)
Kannada (KN)
Kashmiri (KS)
Kazakh (KK)
Khmer (KM)
Kirundi (RN)
Kurdish (KU)
Laothian (LO)
Latin (LA)
Latvian (LV)
Lingala (LN)
Lithuanian (LT)
Luganda (LG)
Macedonian (MK)
Malagasy (MG)
Malay (MS)
Malayalam (ML)
Maltese (MT)
Maori (MI)
Marathi (MR)
Moldavian (MO)
Mongolian (MN)
Montenegrin (ME)
Nepali (NE)
Norwegian Nynorsk (NN)
Pashto (PS)
Persian (FA)
Persian, Dari (DR)
Portuguese (PT)
Punjabi (PA)
Romanian (RO)
Rwandan (RW)
Scots Gaelic (GD)
Serbian (SR)
Sesotho (ST)
Shona (SN)
Slovak (SK)
Slovenian (SL)
Somali (SO)
Spanish, Latin American (XL)
Sundanese (SU)
Swahili (SW)
Tajik (TG)
Tamil (TA)
Tanchangya (TC)
Telugu (TE)
Tibetan (BO)
Tonga (TO)
Tswana (TN)
Turkish (TR)
Uighur (UG)
Ukrainian (UK)
Urdu (UR)
Uzbek (UZ)
Valencian (VA)
Welsh (CY)
Yiddish (YI)
Yoruba (YO)
Zulu (ZU)
More Languages Fewer Languages