Fast & Professional Ukrainian Translations for the Digital Economy
Stepes (pronounced /steps/) provides global companies in medical, financial, legal, manufacturing, and IT industries with linguistically fluent and technically accurate Ukrainian translation services they need to grow their business in the digital age.
Engage International Customers with the Best Ukrainian Translations
Are you looking for a professional localization company to provide accurate English-Ukrainian translation services on-demand? Then you've found the perfect partner. Stepes has redefined professional Ukrainian translations with our industry-leading language automation solutions on the cloud. In today's globalized economy, there is no better way to improve foreign customer satisfaction than translating your documents and marketing content with accuracy and speed. This why you need Stepes, the leader for simpler, faster, and better Ukrainian translation solutions that the world's leading companies trust.
Stepes online localization model is all about making professional Ukrainian translations more efficient and cost-effective. We've automated much of the traditional localization process while allowing our native Ukrainian linguists and subject matter experts to deliver language results that are better than ever. With Stepes, getting professional Ukrainian translation services is only a few clicks away. We're so confident you'll be impressed with our services that we offer our clients a risk-free guarantee. Say Hello to your customers in Ukraine with confidence.
Read More Read Less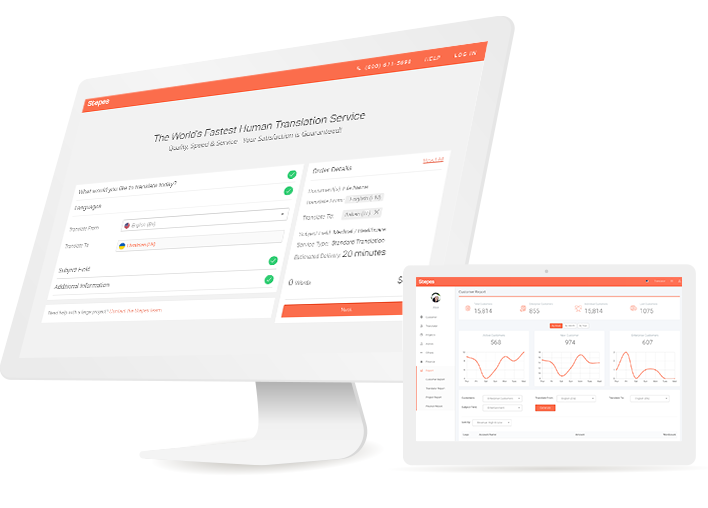 How Do We Translate?
Gone are the days when you had to wait for 24 hours or longer to get even a simple document translation quote. Stepes has been developed using the latest Web 3.0 technology, HTML5 and modern AI to deliver the best online performance. Simply drag and drop your files onto our online portal to receive an instant English-Ukrainian translation quote. Next, click the Confirm button to kick off the project immediately. Stepes is designed to match your translation requests with our pre-approved Ukrainian linguists having the right subject matter expertise automatically.
For enterprise customers, Stepes supports myTranslator, a feature that allows the same dedicated linguists to continuously work on a customer's translations all the time for the best linguistic consistency. We further support our linguists with translation memory, terminology lookup, and concordance search in real time so they can translate with confidence at high speed. Stepes built-in online linguistic review portal allows our linguists to review translation in context with layout for the most efficient linguistic output. Download your translated documents with the click of a button. Stepes translates fast so our clients can beat their competition and get ahead faster in international markets.
Drag & Drop
Review
Download
Ukrainian Medical Translation
Stepes provides certified Ukrainian translations for the life science industry. As an ISO 9001 and ISO 13485 certified company, Stepes has developed a complete spectrum of medical translation solutions. Our Ukrainian medical linguists and subject matter experts are the best in the industry, ensuring all your medical terms are translated accurately and consistently. Better yet, our online based terminology management system lets you easily build your own English-Ukrainian medical glossary. Stepes translates a variety of medical documents such as IFUs, medical device manuals, patient consent forms, medical patents and more with quality and speed. To learn more about Stepes life sciences translations for pharmaceutical, medical devices, and healthcare industries, please click here.
Ukrainian Financial Translations
Do you need your financial documents translated accurately from English to Ukrainian or vice versa? Then look no further than Stepes. We provide certified financial translations for international banking, insurance, merger and acquisition, and corporate finance. Simply upload your finance documents to our highly secure online platform to receive an instant quote. Stepes professional Ukrainian linguists and financial subject matter experts specialize in a variety of financial services disciplines to provide technically accurate and culturally adapted translations. We understand the importance of accuracy and security for multilingual financial content and have developed our cloud based virtual data room. Don't just take our word for it. Try Stepes today and see how we can help you raise your financial services translations to a higher level of performance. Click here to learn more about Stepes financial services translation solutions.
Ukrainian Ecommerce Translation
Do you need continuous translation solutions for your ecommerce platform? Stepes provides agile and on-demand English-Ukrainian translations with RESTful translation APIs. We can easily integrate with your ecommerce platform to receive source text and then return translated content back in a fully automated localization workflow. Better yet, our system allows our Ukrainian linguists to see the context for each segment as they translate, resulting in higher quality linguistic output. Stepes on-demand localization methodology means we can turn around accurate Ukrainian translations of digital content in near real time. Stepes provides three levels of ecommerce translation services, including MT, MTPE (machine translation plus human post editing) and full human translation. To learn more about Stepes ecommerce translation solutions, please click here.