Engage Uzbekistan Customers with the Best Uzbek Translations
Stepes (pronounced /'steps/) provides fast and professional Uzbek translation services online and on-demand. We help our clients engage international customers in Uzbekistan with confidence, one accurately translated Uzbek document at a time.
Accurate Uzbek Translations You Can Trust
Are you looking for a professional translation company to translate your technical documents, websites, and legal materials from English into Uzbek or from Uzbek to English? Then look no further than Stepes. We are an ISO 9001:2015 certified translation company; we have the linguistic experiences, best-in-class processes, and modern language technologies to deliver the highest level of translation accuracy with speed. Some of the world's leading companies rely on Stepes for linguistically fluent and technically precise translations for their medical, legal, financial, and manufacturing content. We help our clients accelerate their business success in Uzbekistan and all other Central Asian Countries.
Stepes has one of the largest teams of professional English-Uzbek native translators and multilingual subject matter experts who are trained at translating technical documents, marketing collateral, software, and eLearning content with quality and speed. We lead the language services industry with next-gen, cloud-based translation management solutions that enable our Uzbek linguists to translate a variety of technical content with efficiency. Stepes supports translation memory, terminology management, and in-context linguistic review on the cloud so our clients can get their business documents translated fast with quality, 24/7. We are so confident you'll be impressed with our exceptional translation service; we offer our customers complete satisfaction guarantee.
Read More Read Less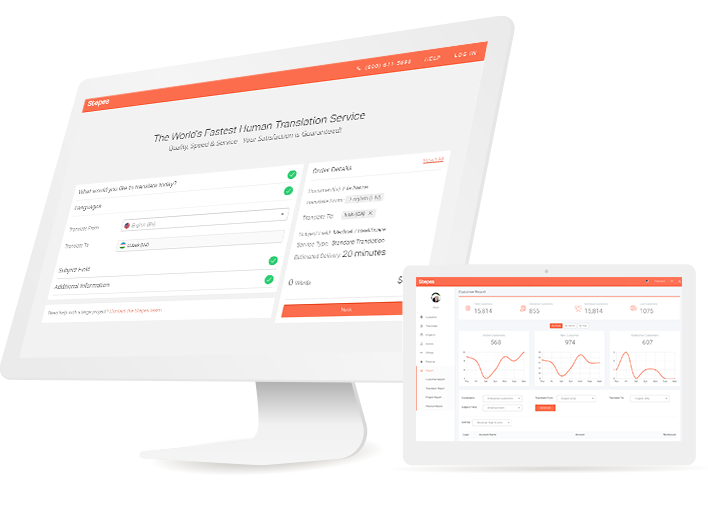 How It Works
With Stepes, translating your technical documents into Uzbek with quality and speed is easy. We've modernized professional language translations onto the cloud so getting your content translated is just a few mouse clicks away. Better yet, you're always on top of the translation progress and the entire localization workflow at any time, from both desktop and mobile devices. Simply follow the three steps below to get your content translated fast and professionally.
Professional Uzbek Medical Translation
Stepes provides ISO 13485:2016 certified medical translation services from English into Uzbek and vice versa. We have a large team of professional Uzbek linguists and subject matter experts who specialize in translating life sciences materials such as IFUs, clinical studies, drug packaging labels, patient forms, and medical trial documents with accuracy and speed. Whether you're a pharmaceutical company, medical device manufacturer, CRO organization, or biotech firm, Stepes has the right language localization solutions all of your Uzbek medical document translation needs. To learn more about Stepes professional medical translation services, please click here.
Uzbek Legal Translation Services
Are you looking to translate legal documents such as business contracts, joint venture agreements, privacy policies, or technology patents between English and Uzbek? Stepes has the linguistic resources, localization best practices, and industry-leading language technologies to deliver highly accurate translations for all of your legal document localization needs. Unlike other types of content, quality legal translations require strong subject matter expertise in the legal field in order to provide consistent, accurate language translations that are compliant with local regulations. This is why you need Stepes. We work with some of the most experienced legal linguists with specialized trainings in both international and local laws to produce the most precise legal translation work. To learn more about Stepes full service legal translation solutions, please click here.
English-Uzbek Financial Translations
Stepes provides expert financial services translation solutions between English and Uzbek to our clients in banking, credit card, insurance, international investment, and corporate finance fields. In addition to having one of the largest teams of professional financial translators in Uzbek, Stepes owns the language industry's largest multilingual terminology database with thousands of highly technical terms and nomenclature for international finance and global banking, allowing our team to deliver the most accurate financial services translations with efficiency. We're also one of the first translation companies to support localization for modern fintech based financial technologies such as blockchain, cryptocurrency, and mobile payment.
Consistent and accurate financial translation services between English and Uzbek increasingly depend on integrating modern translation technologies within the localization workflow. Stepes supports translation memory, terminology management, and automated in-context linguistic review on the cloud, allowing our clients to receive the best Uzbek financial translations at scale. To learn more about Stepes professional financial translation solutions, please click here.
Read More Read Less