Get Your Documents Translated Automatically with Stepes Machine Translation
Need to translate your documents with quality and speed but don't want to pay the high cost of human translation? Stepes' (/'steps/) AI-powered machine translation (MT) delivers the best of both worlds—quality and price, at scale.
Automatic Translation that Works
Do you need automatic, affordable, and scalable document translation solutions with sufficient quality for your internal or external communications? Look no further than Stepes. We provide automatic translation services from English into Spanish, English into French, English into Chinese, and many other languages at a fraction of full-service human translation costs. Stepes' AI-powered machine translation solutions use the latest neural algorithms and deep learning to produce the best linguistic results the language industry has to offer. We further improve translation quality and technical accuracy by pre-processing the content with subject-matter based terminology management and translation memory before translating it with MT, allowing our clients to obtain automatic translations they can depend on for multilingual communication success.
Automatic translation services have come a long way since the advent of the first machine translation engine. They are now able to achieve 90% - 95% accuracy for certain types of content, which is why many companies now use automatic translations for general purpose multilingual communication. However, for mission critical or regulated content such as legal or medical documents, post-editing by a professional human translator is recommended. Stepes' easy-to-use and flexible automatic translation system incorporates all standard document localization features such as multi-file format support, word count analysis, quotation, translation memory leverage, and layout formatting, and is capable of delivering near-human-level translation quality with speed and at scale, without breaking our customers' bank. Our machine translations are widely used in a variety of business applications such as international customer support, multilingual knowledge bases, and large volume localization in order to provide ultra-fast multilingual content automatically, 24/7. To learn more about how Stepes' enterprise automatic translation solutions can help your business accelerate multilingual content delivery at a low cost, please speak to one of our business development managers today at sales@stepes.com.
Read More Read Less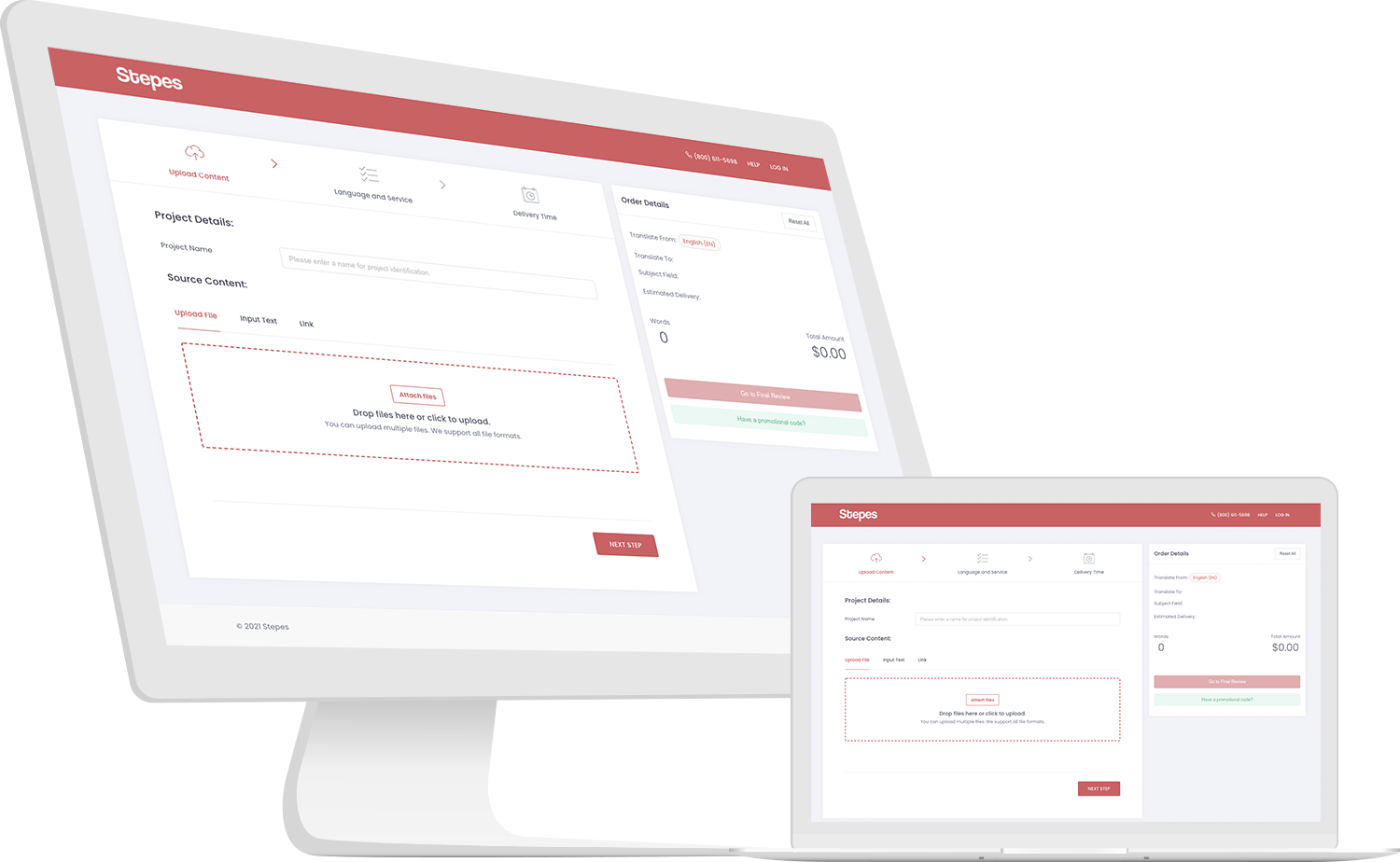 How It Works
It's easy to get your documents translated with Stepes' automatic translation platform. Simply drag and drop your files (PDF, Word, Excel) into our online translation portal. Next, specify the target languages and subject matter field to obtain a translation estimate instantly. Upon your confirmation, Stepes will immediately begin translating with our machine translation engine. Better yet, our automated translation solutions also include formatting translated documents automatically so you can immediately distribute translated materials to your international audiences. Just download the translated documents with the click of a button.
Machine Translation Post Editing, Automated
In addition to offering fully automatic translation services, Stepes also provides machine translation post editing (MTPE) for companies that wish to further improve the MT output. With MTPE, Stepes uses our professional human translators with the right subject matter expertise to proofread and edit the auto-translated results, so the final translated content has the highest level of technical accuracy. We have also fully integrated MTPE into our automatic translation solutions for companies that wish to take advantage of our MTPE solutions without having to order the services separately. To learn more about Stepes' expert MTPE solutions, please click here.
Automatic Knowledge Base Translation
Automatic translation solutions are ideally suited for multilingual knowledge base development, where a large volume of content must be translated from English into Spanish, English into Chinese, or English into Portuguese. Full-service human translation models are too costly for most companies' localization budgets and too slow to meet international customer expectations. This is where Stepes' automatic translations can help. We translate knowledge base content with quality and speed in over 100 languages, enabling our clients to accelerate international market success.
Automatic Translation Services with API
In addition to translating content using machine translation engines, Stepes offers automatic translations with professional human translators using our RESTful translation APIs. More and more companies are employing agile, devOps processes for content development. Stepes' fully automated human translation solutions using APIs are perfectly designed to translate small, micro-sized content without human intervention. However, in this case, instead of using MT to convert the text from one language to another, our professional human translators translate it for the highest linguistic and technical accuracy. To learn more about Stepes' API translation solutions, please click here.
Automatic Customer Support Translation
Are you running customer support operations that need to communicate with international customers in a variety of languages? Chances are you need automatic translation services between English and Spanish, English and Japanese, or English and German in real-time. Stepes provides automated translation solutions for live chat messages, customer support emails, and over-the-phone interpretation. To learn more about Stepes' customer support translation services, please click here.
Machine Translation
Stepes provides quality machine translation services in over 100 languages. For enterprise clients that also use Stepes for full-service translation work with professional human translators, we're able to leverage terminology management and translation memory before applying MT processing. The result is a much more accurate machine translation output. In addition to offering MT, we also provide the option for our enterprise clients to select different machine translation engines such as Google Translate, Bing Translator, or IBM Watson, as well as working with our clients' own MT engines to provide post-editing service. To learn more about Stepes' MT solutions, please click here.