Fast & Accurate Croatian Translation Services for Your International Success
Powered by our industry-leading language technology innovations, Stepes helps top companies in life sciences, legal, finance, and manufacturing industries accelerate business growth with the best Croatian translation services.
Fast and Accurate Croatian Translations
In today's rapidly growing digital economy, companies need their business documents translated from English to Croatian or Croatian to English quickly with quality in order to meet international customer expectations. Professional Croatian translation services are no longer only judged on linguistic output alone. Instead, speed and competitive services are increasingly the deciding factors for success. Stepes is a next-generation translation company that combines the power of professional human translation with AI-powered language automation solutions to deliver faster, better, and more cost-effective Croatian translations. We're able to achieve the highest level of linguistic accuracy efficiently because we empower our professional Croatian linguists with innovative language technologies that drive results.
Consistent and accurate Croatian translation is a product of linguistic knowledge, subject matter expertise, mature localization processes, and increasingly, AI-powered language technologies that deliver the best human-machine solutions. Stepes on-demand, cloud-centric translation ecosystem supports a variety of real-time linguistic validation technologies that dynamically check for terminology inconsistencies, missing translations, grammar/spelling errors, and language expansion restrictions. This is why global companies trust Stepes for their mission-critical Croatian translation needs to deliver the highest quality results.
Read More Read Less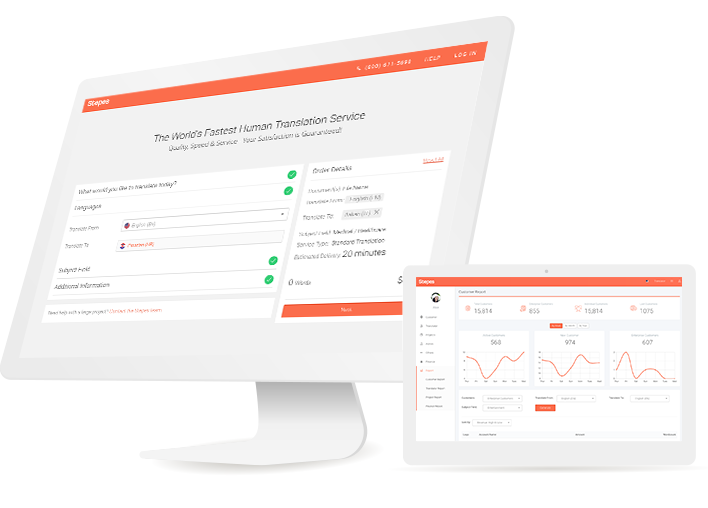 How It Works
Stepes has simplified professional Croatian translation services on our easy to use online model. Simply drag and drop your documents onto our online portal to receive an instant quote. Upon your confirmation, our pre-approved Croatian linguists start translating immediately on both desktop and mobile devices. Simply download your translated documents with the click of a button. For more complex projects, Stepes dedicated project managers will work with our clients to design the best localization process.
Drag & Drop
Review & Approval
Download
Croatian Medical Translation
Are you looking for accurate Croatian translation services that are delivered on-time and on budget? Then you've found the perfect language partner. Stepes is powered by one of the largest teams of professional Croatian medical linguists with subject matter expertise in a variety of life science fields such as pharmaceutical, medical device, CRO, and healthcare. In addition to our expert linguistic capabilities, Stepes also has experience working with regulatory compliance requirements such as the new The European Union Medical Device Regulation (EU MDR). Top international life science companies rely on Stepes to engage their customers in Croatia and in Eastern Europe across languages.
Croatian Legal Translations
Stepes provides certified legal translations between English and Croatian to corporate legal departments and leading law firms. We have experience translating a variety of legal documents from business contracts, purchase agreements, and patents, to terms of use and privacy policies. Stepes owns the largest multilingual legal terminology database within the localization industry. We only use professional Croatian linguists with specialized legal expertise to translate your legal documents for the most accurate results. Our modern translation technology is able to leverage legal expressions across languages to help our linguists achieve both linguistic consistency and localization efficiency. To learn more about Stepes legal translation solutions, please click here.
Croatian Financial Translation Services
Stepes AI-powered, on-demand English-Croatian translation solutions disrupt old fashioned financial services translations to achieve unrivaled linguistic accuracy and localization speed. Modern digital technologies (Fintech) are transforming the financial services industry in how they conduct international financial operations. Translation is no exception to this unprecedented digital revolution. This is why top financial services companies are coming to Stepes for agile, and on-demand financial translation services that help them get ahead faster in Croatia and globally. To learn more about Stepes financial services translations, please click here.
Rush Croatian Translations
Stepes is the undisputed leader in providing superfast localization solutions to meet our clients' urgent Croatian translation requirements. The localization industry is witnessing a fundamental shift in the way translation activities are conducted. More and more translation projects are for smaller size content that needs to be turned around quickly, often in hours or even minutes instead of days. This is why Stepes just-in-time translation solutions is such a game changer.