Professional Translation for JSON Data Interchange Format
Stepes (/'steps/) provides expert translation services for JSON based applications in over 100 languages so software companies can release their Internet applications in international markets with speed and confidence.
Accurate JSON Translations You Can Trust
Are you looking for an experienced translation company to translate JSON (JavaScript Object Notation) text strings with accuracy and speed in Spanish, Chinese, French, Japanese? Look no further than Stepes. We provide linguistically fluent and technically accurate JSON translation services in all Asian, European, and Latin American languages. Stepes has extensive experience working with JSON, XML, YAML, and other server-to-browser data exchange formats, enabling our customers to release Internet applications in international markets across all languages with quality and speed. Stepes' intelligent online translation platform converts JSON files to translatable text in real time while supporting translation memory and terminology management, allowing our professional translators to deliver localized JSON files that are linguistically and functionally perfect.  Our online translation ecosystem provides JSON validator and JSON viewer functionalities in over 100 languages and our browser-based workbench acts as a JSON editor, making the entire translation process seamless.
Accurate JSON text translation requires expert linguistic resources as well as software localization experience. Stepes has in-depth experience translating software applications for the Web, mobile, and client-server architecture. Our intelligent JSON parser automatically extracts text strings for translation, then automatically creates the localized JSON files in the right character encoding and syntactical format. Our industry-leading software localization best practices include UI string translation, linguistic validation, and cosmetic testing to ensure localized JSON software is of the highest quality across all languages and platforms. Specifically, we have expert knowledge in processing international character encoding so foreign text displays correctly across all browsers and systems. We also help our clients perform length checking to resolve text truncation (due to language expansion) and other formatting anomalies. To learn more about Stepes' comprehensive software localization capabilities, please click here.
Read More Read Less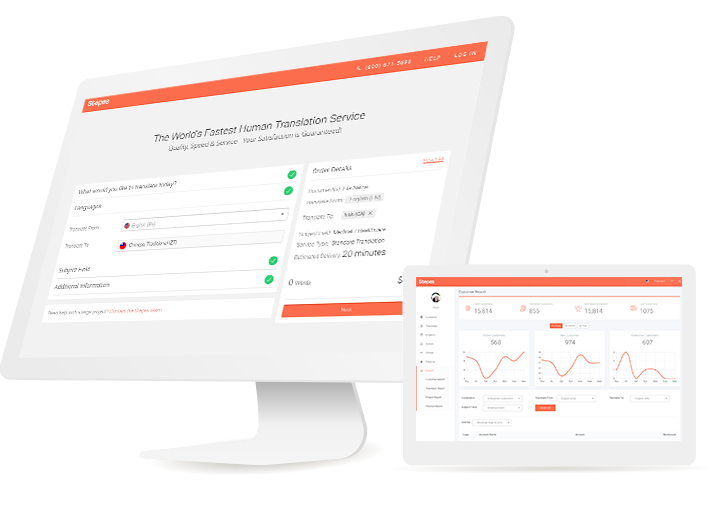 How It Works
Stepes has greatly simplified professional translation services for JSON, XML, and a variety of data exchange file formats so the entire localization process is fast and hassle-free. Companies can simply drag and drop their JSON files onto our online translation portal and then specify the required languages to receive an instant quote. Upon client approval, Stepes' dedicated professional translators with the right subject matter expertise are immediately assigned to begin translating. Our clients can track progress in real time, then simply download the translated JSON files with the click of a button.
Upload
Translate
Download
Stepes Translation APIs
JSON (JavaScript Object Notation) has gained much popularity due to its ease of use and versatility as a data interchange format for server-browser communications. This is why most of today's web-based applications use APIs written in JSON format to send requests and receive responses. Stepes' own translation APIs are also written in JSON format, allowing our customers to seamlessly integrate Stepes' powerful human translation capabilities with their own content management systems (CMS) for a fully automated translation workflow. Having the engineering experience working with JSON API development makes Stepes the ideal choice for translating your web-based applications for the best results. To learn more about Stepes' translation APIs, please click here.
YAML Translation Services
As in integral component of our professional JSON translation solutions, Stepes also localizes YAML (Yet Another Markup Language) documents to meet our clients' software internationalization requirements. As a superset of JSON, YAML translation workflows closely follow the JSON localization process. Stepes' intelligent online parser can dynamically process YAML key-value pairs for linguistic production by our professional translators for quality and efficiency. Upon translation review and validation, Stepes automatically generates the localized YAML files for our clients to immediately deploy with their web-based applications. For clients that require full-service YAML localization support, we also provide both localization and functional testing. To learn more about Stepes' YAML translation capabilities, please click here.