Accurate User Manual Translations You Can Trust
As an ISO 9001:2015 certified company, Stepes provides high quality user manual translation services for a variety of technical systems and engineering products such as industrial machines, vehicles, computer peripherals, electronics, home appliances, and software applications. We have the linguistic resources, localization best practices, and modern language technologies to deliver the best user guide and instruction manual translations on-time and on budget. Our large team of highly experienced professional linguists and subject matter experts are specially trained in technical writing in their respective native languages, allowing Stepes to consistently deliver high quality language translations for all major industry fields.
We understand the importance of accurate communication of highly technical information across languages to our clients' international business. This is why we've developed industry leading user manual translation solutions that support our linguists with real-time terminology lookup, automated in-context linguistic review, and dynamic consistency check. For each user manual, we select the best linguists with the right subject matter expertise to achieve the highest technical accuracy the first time.
Read More Read Less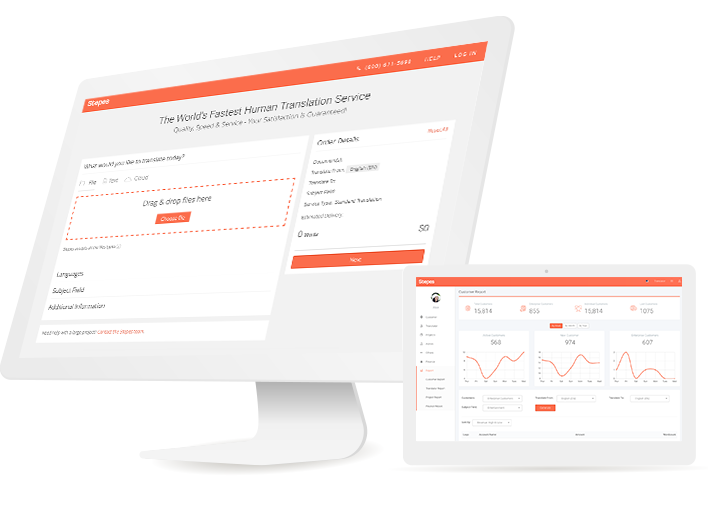 How It Works
Stepes has greatly simplified user manual translations onto the cloud. To get your user manuals translated into Spanish, Chinese, German, or Japanese, simply drag and drop your files (Word, InDesign, FrameMaker, or Madcap Flare) onto our project portal. Our AI-powered TMS will analyze the document and generate a quote for your review instantly. Upon your confirmation, Stepes pre-approved linguists are immediately assigned to begin translating. For user manuals with graphics, tables, and charts, we also offer DTP (desktop publishing services) so the localized manuals look professional. Download the print-ready PDF files with the click of a button.
Upload English Manual
Translation
Download Translation Manual
We Translate All User Manual Formats
Stepes provides professional translation services for user manuals authored in Microsoft Word, InDesign, PowerPoint, FrameMaker, HTML and other technical writing tools. Our translation technology is able to automatically extract text, graphics, and illustrations from your document files before leveraging existing translation memory to provide you with the most efficient translation execution and competitive service.  Stepes innovative user manual translation solutions also allow our linguists to dynamically view the target text in-context within the original layout to achieve the highest level of linguistic accuracy. We have experience translating user guides developed using single source publishing and conditional text in order to output localized documents for a variety of product configurations.
Multilingual User Manual DTP
In addition to language translations, Stepes provides desktop publishing services (DTP) so localized user manuals look professional. We have a large team of DTP specialists who excel in page layout, graphic design, and international typesetting. Our desktop publishers are trained to work with double-byte or bidirectional languages to ensure localized documents are professionally formatted to the highest quality standards. Stepes supports DTP services for all major publishing tools such as MS Word, Adobe InDesign, and FrameMaker.
User Manual Translation for Medical Devices
Also called Information for Use or IFU, medical device user manuals must be translated accurately to ensure patient safety as well as international regulatory compliance. Stepes has experience translating IFUs for a variety of medical devices such as diagnostic instruments, medical imaging equipment, and radiotherapy machines. Our professional life sciences linguists and subject matter experts utilize our online terminology management system and HTML 5 based linguistic review portal to deliver quality user manual translations in all European, Asian, and Latin American languages. To learn more about Stepes medical device translation services, please click here.
User Manual Translation for Manufacturing
The manufacturing industry is one of the biggest sectors that depends heavily on user manual translation services for international success. Manufactured products such as machinery tools, appliances, vehicles, and computer peripherals must be accompanied by clear user instructions in their own languages to ensure important operating procedures and safety measures are strictly followed to achieve the best customer experience. This is why you need Stepes, as we have complete end-to-end user manual localization solutions that deliver the best technical communication across all languages. Whether you need your quick start guide, owner's manual, or instruction material translated in German, Chinese, or Spanish, we have the linguistic resources, technical expertise, and industry leading localization technologies to ensure the best quality and speed.
User Manual Translation for Software
The language industry saw rapid growth during the 1990's when software companies (Microsoft, Adobe, Oracle, and Macromedia) all demanded language translations for user manuals and online help systems for various computer programs. Unlike other types of user guides, software user manuals often include screenshots that present unique challenges for quality translations. To properly translate software user manuals, the main software program must first be localized. Next, localized screenshots are captured so they can be used for the translated user manuals. The translated user interface strings must be used to create a glossary to ensure linguistic consistency between the software GUI and documentation. Stepes has expert experience translating a variety of software user manuals for leading software companies in ERP, CRM, CAD, and office automation. To learn more about Stepes software localization solutions, please click here.
XML DITA Based User Manual Translation
User manual development has come a long way in order to achieve content reuse and cost savings. Modern authoring tools employ XML DITA and topic-based authoring methodologies that are ideal for downstream translation services. For example, instead of sending the entire manual to be translated each time, XML based authoring tools are able to export only new or changed content for translation. This dramatically reduces translation costs and turnaround time. XML also eliminates DTP, further reducing localization costs. Stepes has developed streamlined processes for translating XML DITA based user manuals with quality. Contact Stepes sales team for a technology demo today.
MadCap Flare User Manual Translation
MadCap Flare is a popular user manual authoring tool on the market for its simplicity and rich set of technical authoring capabilities. However, to effectively translate MadCap Flare projects, the translation company must have experience working with content exported using MadCap Lingo, the built-in translation management tool. During the translation process, content tags and entity variables may be affected, causing import failures that can be quite time consuming to troubleshoot. This is why you need Stepes. We help the world's leading companies localize their MadCap Flare user manuals with efficiency.
User Manual Development in English
In addition to translating user manuals, Stepes helps our clients create product user manuals in English. We have one of the largest teams of professional technical writers who're highly experienced with topic-based authoring techniques like XML DITA or writing using control language or simple English. For each product manual, our technical writers work with your product engineers to fully understand each function in order to create clear and concise user instructions. To learn more about Stepes technical writing services, please click here.
Need Fast and Professional User Manual Translations?