Engage Indian Customers with the Best Bengali Translations
Stepes (pronounced /steps/) provides accurate Bengali translation services with speed so companies can confidently communicate with local customers in India across languages.
Accurate Bengali Translations You Can Trust
Stepes is an ISO 9001 certified localization company providing enterprise level Bengali translation services to the world's most successful brands. We're one of the fastest growing major language services providers (LSP), delivering a full set of professional Bengali language translation solutions spanning product documentation, website, software, video, voice localization, and in-person interpretation. Stepes is powered by the world's largest team of professional in-country Bengali translators and bilingual subject matter experts who specialize in our customers' technical fields to provide linguistically accurate translations that are second to none. Our next-gen, cloud-based translation management solutions are what separates Stepes from legacy language service companies for unrivaled Bengali localization efficiency and scalability.
Bengali Accuracy Achieved
We are able to translate more accurately because we employ the best Bengali linguists the language industry has to offer and then support them with modern, machine-assisted translation technologies. Our AI-powered translation solutions are able to leverage translation memory, terminology management, dynamic linguistic validation, and online language review to ensure concise and consistent translations without sacrificing speed. Stepes also owns the world's largest multilingual terminology database with glossaries in over 1,700 categories and over 100 languages. As an ISO 9001 certified company, Stepes has mature localization processes and quality assurance methodologies to continuously deliver the highest quality Bengali translation services to leading international companies across multiple industry fields.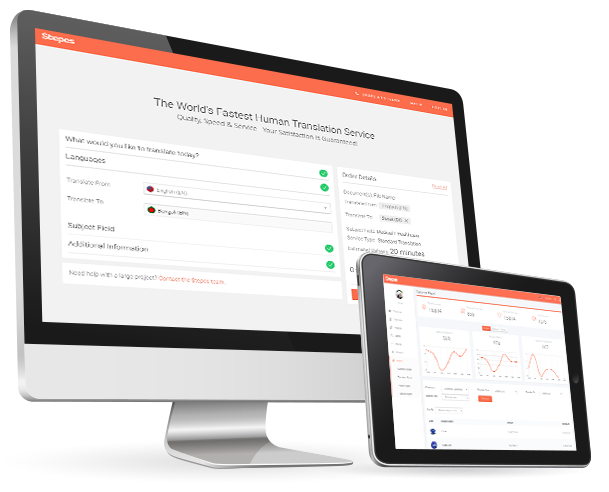 How It Works
Are you looking for professional Bengali translation services with fast turnaround and affordable prices? Then look no further than Stepes. In addition to quality, speed, and price, we've greatly simplified the way our customers obtain Bengali translations. Simply drag and drop your files onto our online translation portal and select your target industry fields. You will be presented with an instant translation quote. Upon your approval, our pre-approved Bengali linguists are assigned to work on your project right away. You can track the progress of your project at any time. Download your translated files with the click of a button. For enterprise customers, Stepes will automatically assemble a dedicated team of Bengali translators using the myTranslator feature to provide consistent translation results on an on-going basis. To learn more about myTranslation, please click here.
Bengali Medical Translations
Stepes is an ISO 13485 certified translation company. This means we have the methodologies and stringent quality assurance processes within the translation workflow to ensure the most accurate Bengali life sciences translation services. Our professional Bengali medical translators specialize in a variety of life sciences fields such as pharmaceutical, medical devices, biotech, CRO, and healthcare industries. Stepes also owns one of the largest multilingual medical dictionaries online that allows our Bengali linguists to validate medical terms and nomenclatures in real time as they translate. To learn more about Stepes expert medical translation solutions for the life science industry, please click here.
Bengali Financial Services Translation
Stepes provides certified Bengali translations to leading companies in banking, credit cards, insurance, investment, and international accounting industries. We have a large team of Bengali linguists who specialize in English to Bengali and Bengali to English translations for banking statements, foreign exchange documents, investor annual reports, balance sheets, auditing reports, and business contracts, as well as SEC filing materials. To support our financial services clients in securely managing multilingual documents online, Stepes has developed virtual data rooms to offer the complete spectrum of financial translation solutions. To learn more about Stepes expert localization solutions for the financial services industry, please click here.
We Translate Into All Major Indian Languages
Stepes provides quality translation and localization solutions in all major Indian languages, including Hindi, Bengali, Kannada, Tami, Marathi and more. We have experienced native linguists in India specializing in a variety of industry and subject matter fields to deliver the highest quality linguistic results. Talk to us today for your Indian language translation needs.

Marathi (MR)

Telugu (TE)

Tamil (TA)

Gujarati (GU)

Kannada (KN)

Odia (OR)

Malayalam (ML)

Punjabi (PA)

Sanskrit (SA)