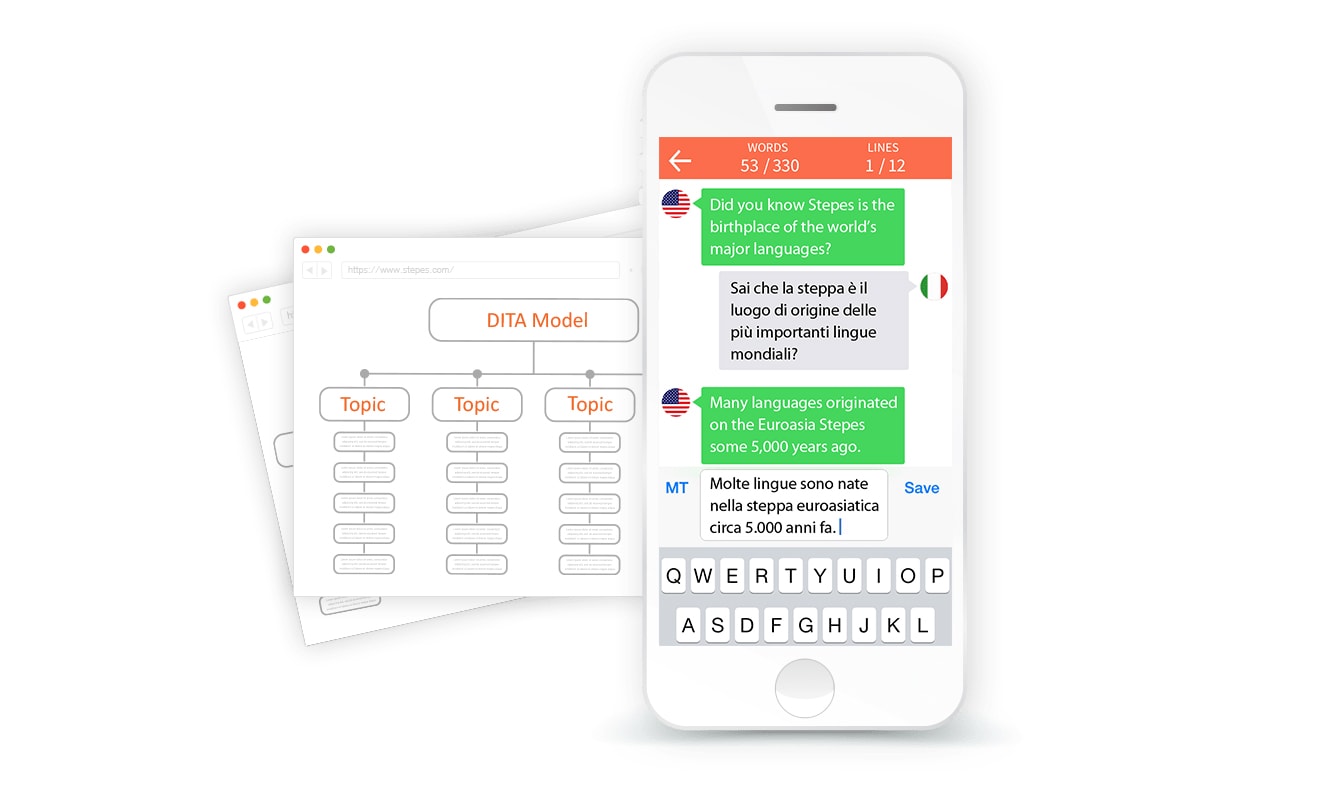 Finally, a DITA translation solution that works like DITA.
San Francisco, CA and Beijing, China (November 24, 2016) – Stepes (pronounced /'steps/), the leader in mobile translation, has announced that it will present DITA Meets Mobile Translation, an agile and always-on localization solution for the modern enterprises at the Gilbane Digital Content Conference in Boston on November 29-30, 2016 .
In today's digital economy, enterprises must develop information fast while ensuring content consistency and linguistic quality across languages in order to achieve the best customer experience globally. Content creation and management have come a long way from static authoring using word processing tools like Word and FrameMaker to dynamic XML/DITA and object-oriented content development methodologies. These new technologies allow content to be created on a topic level and subsequently reused among content writers for improved consistency and efficiency.
"DITA and topic based authoring are ideally suited for mobile translation solutions that are optimized for translating small and fragmented content," commented Carl Yao, Stepes' visionary. "Mobile translation offers global businesses an enterprise translation solution that delivers the speed and scalability of machine translation but with human linguistic quality," continued Yao.
Stepes is the world's first mobile translation ecosystem powered by professional human translators from around the world. It enables translators to receive instant notifications of new translation requests and allows them to confidently translate anywhere and anytime, all from their smartphone.
Attended by technical communications professional as well as translation service buyers and providers, this year's Gilbane Digital Content Conference will feature discussions on the latest trends and technologies in web content management, user experience management, new information frameworks, analytics, tag management, social media, and advertising tools, as well as ecommerce, CRM, and translation solutions.
"We're excited to see disruptive innovations such as Stepes join this year's Gilbane Digital Content Conference," announced Frank Gilbane," founder of the Gilbane Conference. "Each year, content professionals, marketers, technologists, and business executives come together to learn and share discussions on content development best practices, capabilities, and technologies," concluded Gilbane.
Stepes will discuss its game-changing mobile translation technology for agile content development on a global scale in the Discovery Track. Stepes is powered by more than 60,000 in-country human translators who complete the entire translation process from their smartphones, tablet or PC, resulting in faster turnaround times and more accessible translation costs for global clients.
About Stepes
Stepes is the world's first mobile translation platform powered by human translators and interpreters from around the world. Stepes advances the traditional translation model, enabling just-in-time translation services in a matter of minutes rather than days. Stepes delivers translation on-demand in 100+ languages. By seamlessly connecting businesses with the larger pool of translators and bilingual subject matter experts around the world, Stepes break down language barriers between businesses and their customers and among nations and people. The word Stepes stands for Social Translation Experiment Project and Eco System.
About CSOFT
CSOFT International Ltd. is a world leader in localization and globalization consulting services, providing turnkey solutions for companies facing the challenges of engaging customers and markets across linguistic and cultural barriers. Recognized as one of the Top Innovative Companies in 2011 by IDC we have an award-winning international team. In 2012, the company's CEO was named one of Fortune Magazine's 10 Most Powerful Women Entrepreneurs and a Tech Disruptor by CNN Money.
Media Contacts:
Megan Robinson
+1-415-889-8989 (U.S./Europe)
Contacts
Rajan Shah
+86-10-5736-6000 (Asia)