Urgent Translation Projects? No Problem.
Stepes (pronounced /steps/) is a leader in on-demand, urgent translation services for global companies facing the challenge of finding quality, rapid human translation solutions. Our industry leading language translation technologies allow our professional linguists to translate with accuracy and speed so our clients can beat their global competition.
Rapid Professional Translations You Can Trust
At Stepes, we not only translate fast, but deliver the highest linguistic quality. We understand companies often have urgent translation needs to get their documents translated rapidly with technical accuracy. This is why we've invested heavily in next-gen translation management solutions that automate many of the unneeded manual touch-points within the traditional translation process to deliver unrivaled project turnaround time. At the same time, we use the best professional human translators the language industry has to offer to translate your text to ensure the best linguistic quality without scarifying speed. Simply drag and drop your files onto our online translation portal to receive an instant quote.
3 Hour Translations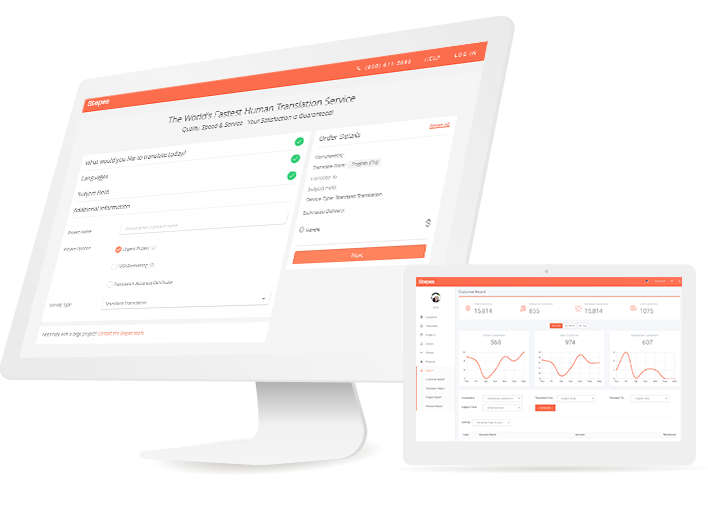 How Does It Work?
Stepes has streamlined traditional translation processes into our highly automated online model, allowing us to provide 24/7 translation support to global companies looking to get their documents translated fast and around the clock. We're able to do this because we've employed AI (artificial intelligence) to automate the translation workflow, such as file analysis, quotation generation, translator assignment, project tracking, delivery, and invoice/billing, for unrivaled efficiency. At the same time, we employ one of the largest teams of professional in-country translators and subject matter experts who are instantly notified of your translation requests anytime and anywhere. Our linguists can immediately translate from both mobile and desktop platforms for the fastest translation executions. Stepes is second to none for urgent translation services which companies increasingly depend on in today's fast paced digital economy.
Urgent Document Translation Services
Stepes provides accurate and superfast translation services to our clients in a number of industries such as life sciences (medical), finance, legal, manufacturing, and technology. In addition to translating simple text on-demand (often within the hour), we also provide urgent translation services for large business documents. Our system automatically breaks down large files into smaller projects so multiple pre-approved linguists can translate simultaneously. Stepes uses real-time translation memory and terminology management to ensure linguistic accuracy and consistency across multiple translators. Upon completion, our system is able to combine the translated components into the final document dynamically, delivering the fastest document translation services on the market.
Need a customized solution for your urgent translation needs? Contact our Sales today. We have translation APIs that allow continuous translation solutions for Enterprise localization needs, on-demand
.
Changing Customer Expectations
The digital transformation has fundamentally changed customer expectations with regards to project delivery time. Translation is no exception. More and more companies need their business documents translated urgently in order to meet international customer demands and stay ahead of the competition. This is why you need Stepes, the agile translation company for accelerating our client's business growth across languages. We're disrupting the translation field with our just-in-time, always-on, and continuous human translation solutions.