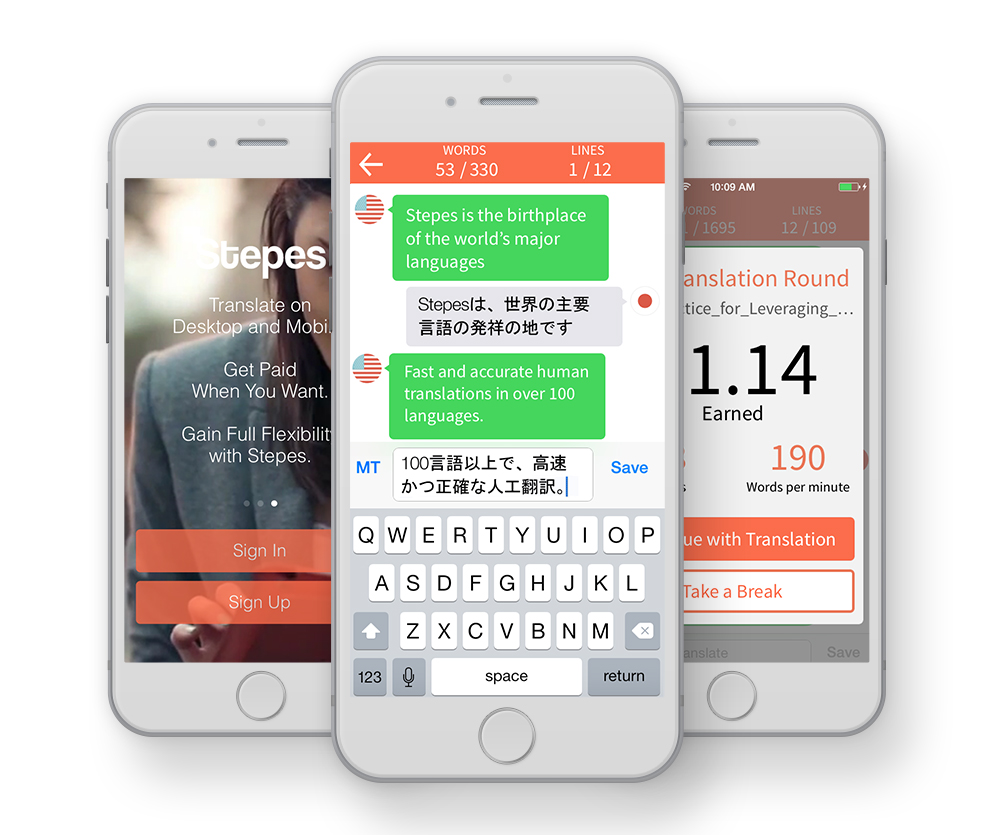 Language: it is the hidden side of globalization, the less glamorous but often crucial piece of a company's globalization strategy.
As companies like Huawei and Amazon gone global, they have relied more and more on localization companies to internationalize their products and services. In turn, localization companies have had to innovate the tools they use to accommodate this new demand.
Stepes, a chat-based messaging app, aims to give the localization and translation industry with a much-needed boost while making translation more accessible to both translators and businesses.
"Localization is so much more than translation," explains Carl Yao, an executive vice president at CSOFT International, a localization company headquartered in Beijing and San Francisco. "That's why we created Stepes, a mobile translation app that is the first to use a texting-based interface to help with localization."
Stepes, mobile app works like this. First, a large translation project gets divided up into smaller components and given to individual translators. Companies can view the profiles and selected translation samples of all Stepes translators, who come from a worldwide pool of 100,000+ translators assembled by Stepes' partner site, TermWiki.com.
Stepes – and the emergence of various online human translation services – represents a shift in strategy among businesses. Spurred on by globalization and slower domestic consumer spending, Asian companies and firms have sought to expand their global market shares. Going global however, requires translating all their products, interfaces, and websites into tens of different languages simultaneously. In particular, many companies looking to globalize are in the technology and e-commerce, raising new challenges like creating appealing product names, translating technical manuals, and constantly updating online content in several languages at once. As a result, the translation and localization industry is predicted to grow to $39 billion by 2018, and a large portion of that growth will come from Asian companies looking to expand globally.
"There's incredible potential for innovation in localization right now," said CSOFT's Yao. "That's why we need to be able to scale-up translation to meet globalization needs."
Currently, there are only 2100,000 professional translators worldwide for nearly 6,500 languages. The vast mismatch in the supply and demand for translation has resulted in much higher translation costs for businesses, slower turnaround time for projects, and a lack of coverage for lesser known languages. Traditional translation tools are usually desktop-based and require some technical knowledge of software, slowing down the translation process and also turning away many would-be translators.
Yet Yao notes that over half the world speaks at least two languages, if not more; that's up to 3.65 billion people who have the potential to be translators, at least part time. Stepes targets these bilingual speakers and hopes that by providing free and easy to use translation tools directly through smartphones, more people will begin translating in their spare time. Collectively, even if each person only contributed a few sentences at a time, Yao believes that our translation capacity would still grow exponentially to meet true translation needs today.
Yao calls this expansion of our translation capacity a "big translation" approach. By harnessing the collective language talents of people around the world, he hopes to drive down translation costs for businesses while also empowering bilingual people to translate in their free time and earn money. In this way, Stepes users can "share" and pool language abilities that would otherwise have gone underutilized to tackle large translation projects for globalizing businesses.
Apps like AirBnB and Uber have already (successfully) tried this sharing economy model with travel accommodations and taxi rides. Could it work for translation? That is still unclear, but Stepes may be our best bet so far.
Read the original article on AsiaToday