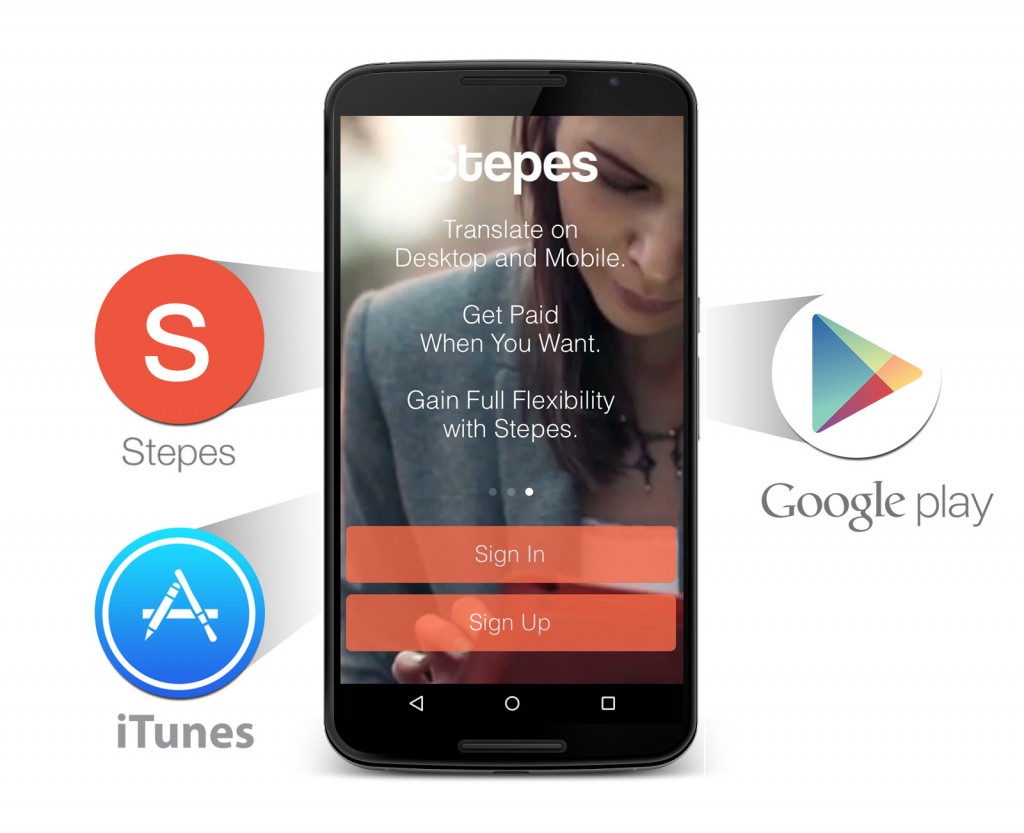 Translation is now more accessible than ever
Stepes, the world's first chat-based translation software provider, announced today that its chat-based translation software can now be downloaded as a free mobile application from both Google Play for Android devices and the Apple iTunes Store for iOS devices. A browser version of Stepes launched worldwide last month.
The mobile app is geared towards enabling anyone in the world with bilingual language ability to become a translator and earn money translating for businesses in their free time. Approximately 3.65 billion people – about half of the world's population – speak more than one language.
With Stepes now available on both the world's largest mobile software platforms, any multilingual person can access free and intuitive translation software and become a translator – all from their smartphone. By expanding the scope of who can be a translator, Stepes aims to provide a seamless and affordable solution to overcoming the communication barriers that globalizers face today.
"So many people could be translators but don't have access to expensive translation software. That has driven up the cost and complexity of translation," explained Carl Yao, the app's founder. "It's why Stepes is a game changer."
The app features several patent-pending technologies to simplify translation on mobile and accelerate translation speed. Long texts are broken down into smaller segments and given to translators line-by-line in a chat-based interface, enabling translators to work from their mobile anywhere, anytime. Swiping left and right allows translators to see the entire original text or the compiled translated text thus far. Human translators can use Stepes' built-in machine translation function to instantly translate terms and basic phrases and then edit the results to ensure grammar and accuracy. Uniquely, Stepes users can also "translate by speaking;" the app leverages speech recognition technology so that users no longer have to key in translations, increasing text input speeds by at least 30%.
"Stepes is ideal for business applications that require large amounts of content translated in real time and with good quality, such as large ecommerce sites where user added information must be translated on-demand or international call centers providing customer support across borders, to name just two examples," added Yao.
Stepes plans to release a client module of its mobile translation software geared towards globalizers that would make uploading and monitoring translation projects – including web-based content – much easier. The client module would also give businesses a way to make online payments to translators and rate or browse translator profiles.
To learn more about Stepes, please visit www.stepes.com/mobile-translation/.
About Stepes
Stepes is the world's first chat-based translation app. Stepes unlocks on-demand and accurate human translation services not yet witnessed from a mobile device. Stepes stands for Social Translation Experiment Project and Eco System and also refers to the Eurasian steppes, where the world's 400 major languages originated from some 5,000 years ago. By seamlessly connecting businesses with the world's translators through its translation eco-system, Stepes helps break down language barriers between businesses and their customers and among nations and people.
Media Contacts
Elena McCoy
+1-415-889-8989 (U.S./Europe)
elena.mccoy@csoftintl.com
Emily Feng
+86-10-5736-6000 (Asia)
emily.feng@csoftintl.com