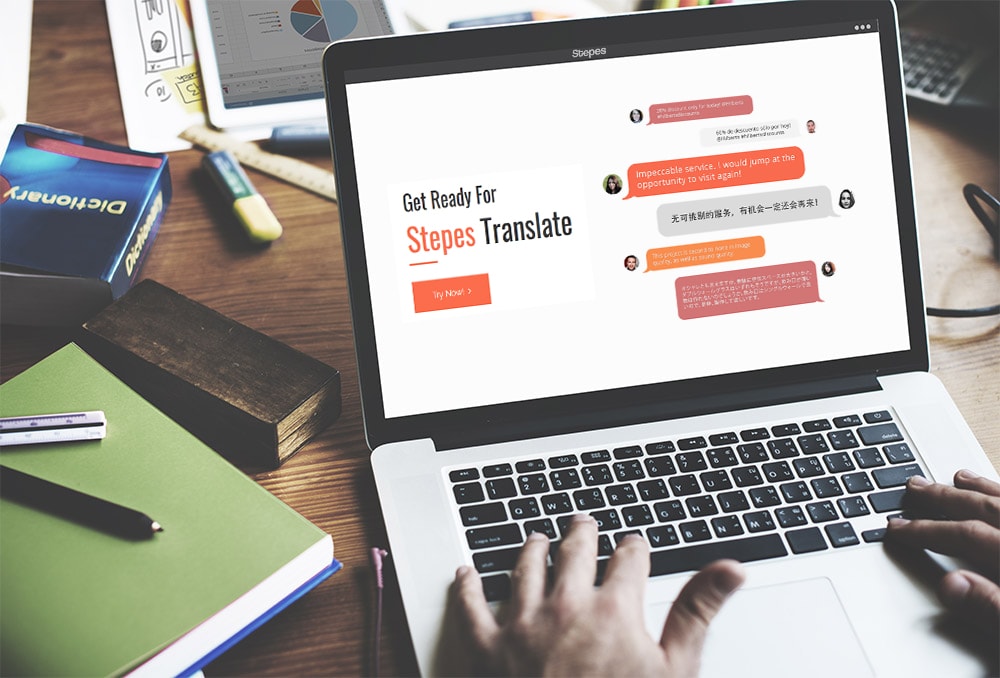 Mobile translation leader launches real-time human translation
San Francisco, CA and Beijing, China (May 10, 2016) – Stepes (pronounced /'steps/), the leader in mobile translation, has officially launched the beta version of Stepes Translate, the world's first live human translation platform that expands the capabilities of on-demand machine translation systems such as Google Translate and Bing Translator. With Stepes Translate, businesses and individuals can now obtain instant quality human translations of text directly on their smartphone or desktop PC anywhere and at any time.
Despite the tremendous growth and popularity of machine translation (MT), it still lags far behind human translation in quality. Businesses still opt for paying for higher quality human translation for all customer-facing content but the slower speed of human translation remains a constraint. Stepes Translate fills this critical void by providing human translation service in real-time to clients around the world.
"In the information age, the speed of multilingual communication matters most in global markets," said Carl Yao, Stepes' founder. "Human translation service with near-simultaneous turnaround is increasingly becoming the norm rather than the exception. We are very excited to provide the world with a true on-demand human translation service."
Stepes Translate uses the familiar side by side interface of machine translation platforms like Google Translate. Anyone requesting translation simply enters their text into the source field. Next, Stepes immediately identifies an appropriate translator from its network of more than 60,000 in-country translators through mobile notification. The translator begins to translate immediately on his/her smartphone while the requesting user can see their progress live. For most requests, the translation is completed within minutes and appears in the target field for the requesting user to see.
Launched in January 2016, Stepes broadens the scope of quality translation by providing a mobile platform for clients and translators. Whereas traditional translation software is overly technical and thus not easily accessible to many translators, Stepes' mobile technology makes translation tools intuitive and free, driving instant human translation services to global clients around the clock.
To try out the beta version of Stepes Translate, please visit: https://translate.stepes.com/. You can also visit https://www.stepes.com/translate/ to learn more.
About Stepes
Stepes.com is the world's first chat-based translation app. Stepes unlocks on-demand and accurate human translation services not yet witnessed from a mobile device. Stepes stands for Social Translation Experiment Project and Eco System and also refers to the Eurasian steppes, where the world's 400 major languages originated from some 5,000 years ago. By seamlessly connecting businesses with the world's linguists through its translation eco-system, Stepes helps break down language barriers between businesses and their customers and among nations and people.
About CSOFT
CSOFT International Ltd. is a world leader in localization and globalization consulting services, providing turnkey solutions for companies facing the challenges of engaging customers and markets across linguistic and cultural barriers. Recognized as one of the Top Innovative Companies in 2011 by IDC we have an award-winning international team. In 2012, the company's CEO was named one of Fortune Magazine's 10 Most Powerful Women Entrepreneurs and a Tech Disruptor by CNN Money.
Media Contacts:
Megan Robinson
+1-415-889-8989 (U.S./Europe)
Emily Feng
86-10-5736-6000 (Asia)
emily.feng@csoftintl.com