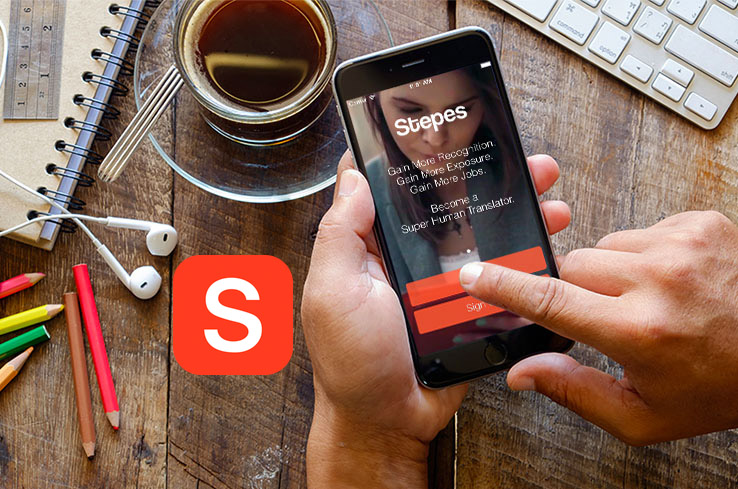 Technology has potential to provide new sources of income for 3.6 billion people
Stepes, the world's first chat-based translation software provider, announced today the official launch of its mobile application. The app connects translators with businesses to deliver high quality human translations – all through a mobile messaging like interface on a smartphone.
"Using your smartphone, you can translate anytime, anywhere," said Carl Yao, the app's creator. "Multilingual people who couldn't translate before now have an intuitive translation platform right on their phone. Stepes gives nearly half of the world an opportunity to put their language skills to work."

Stepes' patent-pending technology bypasses the clunky desktop translation software currently used by most translators. Stepes first divides a large translation project into smaller components and connects projects with the app's registered translators. Companies can view the profiles, ratings, and selected translation samples of Stepes' translators. Stepes' initial translators come from a worldwide pool of 100,000+ translators assembled by Stepes' partner site: TermWiki.com.
"With more of the world now connected by mobile, Stepes hopes to expand the world of translation by giving multilingual speakers an opportunity to earn money from their smartphones," adds Yao.
Currently, there are only 2100,000 professional translators in the world, yet nearly half of the world's population knows two or more languages. Stepes enables everyone – doctors, engineers, lawyers, professors, students and artists – to translate easily in their free time, and earn money. Bilingual speakers can now be connected to projects through Stepes and immediately begin working on their smartphones.
"First there was Uber, then AirBnB," continues Yao. "Now, translation is finally entering the sharing economy."
Stepes are available for both iOS and Android platforms with the Windows phone app coming in early 2016. To learn more about Stepes, please visit www.stepes.com/mobile-translation/.
About Stepes
Stepes is the world's first chat-based translation app. Stepes unlocks on-demand and accurate human translation services not yet witnessed from a mobile device. Stepes stands for Social Translation Experiment Project and Eco System and also refers to the Eurasian steppes, where the world's 400 major languages originated from some 5,000 years ago. By seamlessly connecting businesses with the world's linguists through its translation eco-system, Stepes helps break down language barriers between businesses and their customers and among nations and people.
Media Contacts:
Elena McCoy (U.S./Europe)
+1-415-889-8989
elena.mccoy@csoftintl.com
Emily Feng (Asia)
Phone: +86-10-5736-6000
Emily.feng@csoftintl.com