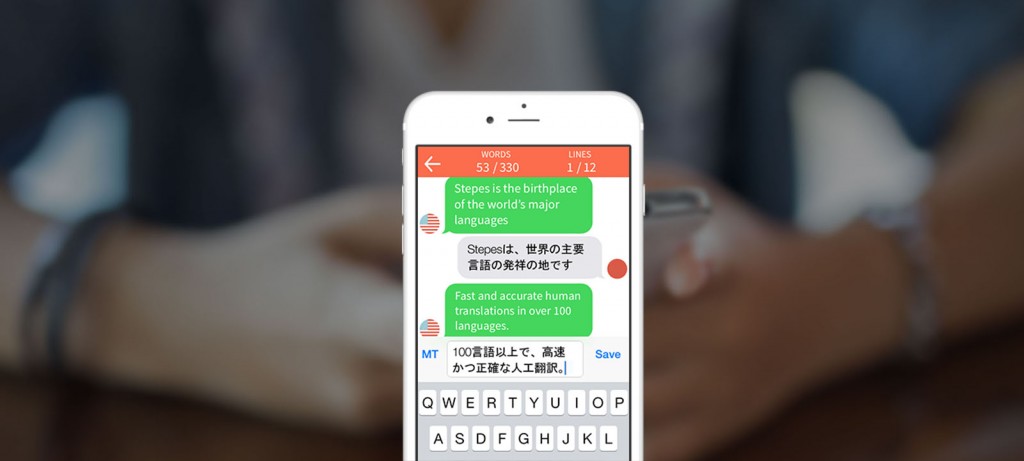 First it was Uber, then Airbnb. Now, the sharing economy has moved to translation.
Stepes, a language technology start-up, has just filed patents in the United States and China for its mobile translation technology. The technology would allow translators around the world to work on translation projects directly from their smartphones.
Previously, translation tools were desktop-based. With Stepes, translators can now earn money for work they can do while commuting or waiting in line.
The mobile app works like this. First, a large translation project gets divided up into smaller components and given to individual translators. Companies can view the profiles and selected translation samples of all Stepes' translators, who come from a worldwide pool of 100,000+ translators assembled by Stepes' partner site: TermWiki.com.The Stepes team had to drastically rethink the translation interface for its mobile app. Rather than presenting the entire chunk of text at once to be translated, Stepes feeds a text to translators line by line, which the translator then sends back translated before receiving the next line. The entire exchange looks exactly like a texting conversation between Stepes and the translator. Such a format allows translators to easily thumb back translations and work on projects incrementally on a small screen.
"The idea came to me after seeing construction workers hoisting pieces of building materials to assemble a tall skyscraper outside of my office," admitted Carl Yao, the pioneer behind Stepes. "We needed some way to make translation easy on a mobile screen, and I thought, why not make it a texting conversation?"
Stepes – and the emergence of various online human translation services – represents a shift in strategy among businesses. Spurred on by globalization and slower domestic consumer spending, companies and firms have sought to expand their global market shares. Going global however, requires translating all their products and interfaces into tens of different languages simultaneously. Nowhere is this trend stronger than in China, where the government has been encouraging companies to "go out" and globalize through supportive policies and subsidies.
"I see Stepes and the online translation industry in general becoming a massive area of growth as more and more companies require high-quality human translations of highly technical material at faster speeds. Stepes is just the first step in this development," said Yao.
To learn more about Stepes' mobile translation technology, please go here: www.stepes.com/mobile-translation/.
About Stepes
Stepes is the world's first chat-based translation app. Stepes unlocks on-demand and accurate human translation services not yet witnessed from a mobile device. By seamlessly connecting businesses with the world's linguists through its translation eco-system, Stepes helps break down language barriers between businesses and their customers, and among nations and people. The word Stepes stands for Social Translation Experiment Project and Eco System. Recent studies have found Stepes is also the place where the world's 400 major languages originated from some 5,000 years ago.
About CSOFT
CSOFT International Ltd. is a world leader in localization and globalization consulting services, providing turnkey solutions for companies facing the challenges of engaging customers and markets across linguistic and cultural barriers. Recognized as one of the Top Innovative Companies in 2011 by IDC we have an award-winning international team. In 2012, the company's CEO was named one of Fortune Magazine's 10 Most Powerful Women Entrepreneurs and a Tech Disruptor by CNN Money.