Accurate Interpretation for Your Healthcare Operations without Breaking the Bank
Are you struggling with old-fashioned medical interpretation services that are too costly or inefficient? Then you've found the perfect translation partner. Stepes is the first in the language industry to bring on-demand medical interpretation services to smart phones and iPads, allowing hospitals, nursing homes, and medical clinics to receive on-the-go language interpretation support over the phone, via video, or on-site. Our next-gen medical interpretation solutions are purposely built to take advantage of the latest mobile technologies and location-based services (LBS) so translators who are based closest to the service location are notified of your interpretation requests for the fastest response. Powered by a large team of professional, certified medical interpreters in over 100 languages, Stepes delivers unrivaled medical interpretation performance the healthcare industry has ever seen.
Medical interpretation is a major business challenge for healthcare organizations as hospitals and medical clinics increasingly serve non-English speaking patients whose native tongue may be Spanish, Chinese, Creole, or another language. U.S. laws and regulations require healthcare service providers to communicate with patients in their native language in order to obtain a clear understanding of treatment options and informed consent. This is why patient interpretation has been in such big demand. However, traditional medical interpretation models using ad-hoc processes are not only costly, but also difficult to schedule and too slow. This is why healthcare organizations desperately need a modern solution like Stepes that makes it easy to schedule for on-demand medical interpretation services anytime and anywhere. Like Uber that has modernized shared ride services, Stepes has transformed professional medical interpretation to be faster, cheaper, and better.
Read More Read Less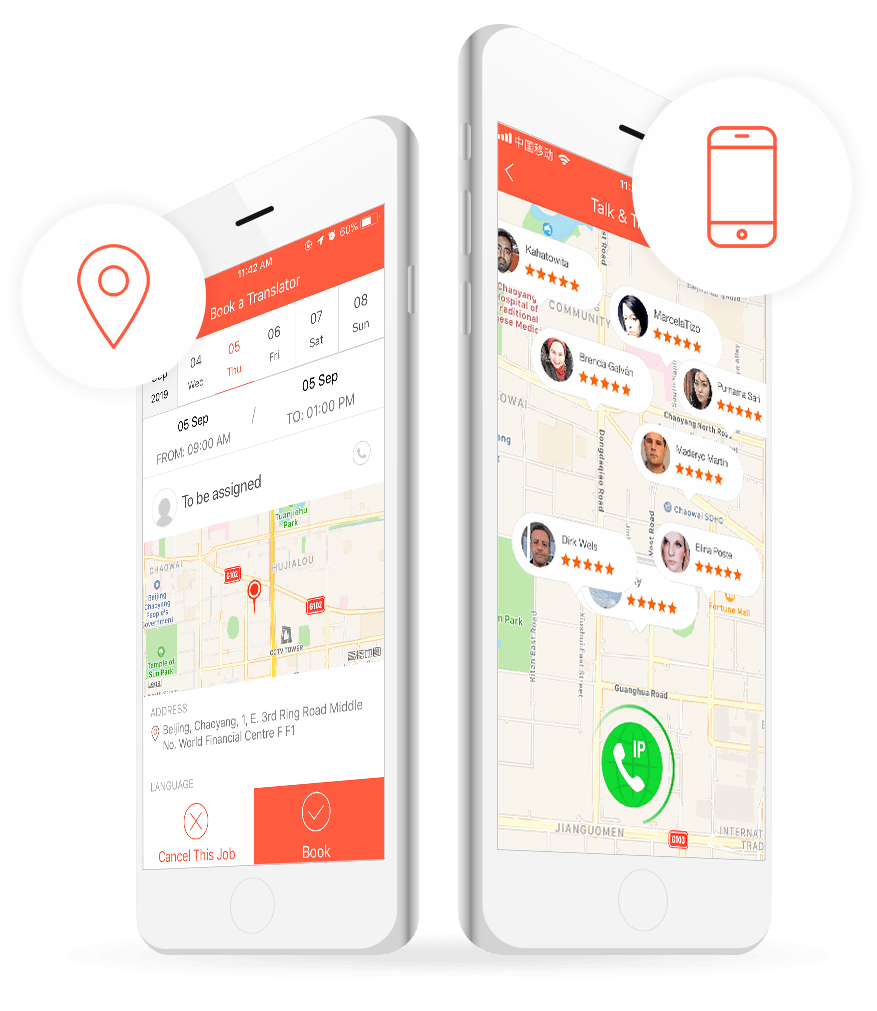 How It Works
With Stepes, it's easy to schedule your next medical interpretation session in one of three ways: over the phone, via video call, or on-site. Just download the Stepes app and specify the date, language, and location for on-site service and our pre-approved medical interpreters will be ready to meet you.
Over The Phone (OTP)
Video Call
On-Site
For enterprise clients, we also brand the Stepes app to your business identity to provide a seamless experience for your doctors, nurses, clinicians, and patients. Talk to Stepes sales today to schedule a solution demo.
Medical Interpretation over Video
Stepes modernizes medical interpretation services by bringing language professionals to your fingertips via video (FaceTime for iPhone, iPad, and Android video call for other smartphones.) Our on-demand linguistic solutions for healthcare organizations allow your medical staff to hire an interpreter from our pool of pre-approved, certified medical translators in real time by simply pressing a few buttons on their mobile devices. Video interpretation is not only fast and convenient, it also offers all the benefits of traditional in-person interpretation while reducing translation costs. Talk to our solution experts today to see a live demo of our next-gen medical interpretation solutions.
Medical Interpretation. Simplified.
Finally, getting certified medical interpreter services to support your healthcare operations has never been easier. Stepes has revolutionized the way medical interpretation is scheduled and delivered so you can achieve the best patient experience across languages.
On-Demand Medical Interpretation When You Need It
Stepes provides a full range of medical interpretation services to leading healthcare organizations that are simple, fast, and cost-effective. Our on-demand medical interpretation is delivered over the phone, on-site, in-person, or through our unique mobile translation app. Our certified medical interpreters use the Stepes App to receive live interpretation requests and then immediately provide interpretation over a mobile phone, anytime.
Location Based Medical Interpretation
Finally, Stepes revolutionizes on-site and in-person language interpretation services with the industry's first location-based solution. Since Stepes medical interpreters carry our mobile translation app anywhere (think Uber interpretation,) our customers are able to request for on-site interpretation with interpreters that are located nearest to the service location. The result is a faster and better service with the best cost efficiency.
Scheduling Interpretation Services Is Easy
Stepes has not only simplified the delivery of medical interpretation services, but also made it super easy to schedule your next interpretation request. Like booking for a hotel stay, simply go to our website or use the App to specify the date and time, as well as GPS enhanced location. Stepes will make sure our medical interpreters are ready when and where you need them.
Medical Interpretation for 100+ Languages
Stepes supports medical interpretation in over 100 languages such as Simplified Chinese, Spanish, Vietnamese, Arabic, and more.

Amharic (AM)

Australian English (AE)

Azerbaijani (AZ)

Basque (EU)

Belarusian (BE)

Bihari (BH)

Bosnian (BS)

Breton (BR)

Catalan (CA)

Chinese, Hong Kong (ZH)

Chinese, Traditional (ZT)

Faroese (FO)

Galician (GL)

Guarani (GN)

Gujarati (GU)

Latin (LA)

Latvian (LV)

Macedonian (MK)

Malagasy (MG)

Malayalam (ML)

Marathi (MR)

Moldavian (MO)

Montenegrin (ME)

Nepali (NE)

Pashto (PS)

Portuguese (PT)

Punjabi (PA)

Scots Gaelic (GD)

Serbian (SR)
Sesotho (ST)
Shona (SN)
Tajik (TG)

Tanchangya (TC)

Tibetan (BO)

Tonga (TO)

Uighur (UG)

Valencian (VA)

Welsh (CY)
Read More Read Less
Need Professional Medical Interpretation for Your Healthcare Organization?